I love a road trip day; even the mandatory mad dash to check off all items on the checklist excites me (as does loading up the car with enough beer and s'mores to last a weekend of camping in the woods!).  Speaking of the car, we had a pretty sweet ride for the adventure, the Honda Pilot, big enough to seat all six of us intrepid travellers. And our beer, of course.
My favourite thing about dipping into the east coast States is that usually it makes sense to cross the border at Niagara and Buffalo, which means an easy trip to see one of the world's most incredible sights; Niagara Falls. As we were journeying to Allegheny National Forest for a few nights under the stars, a detour to The Falls made sense.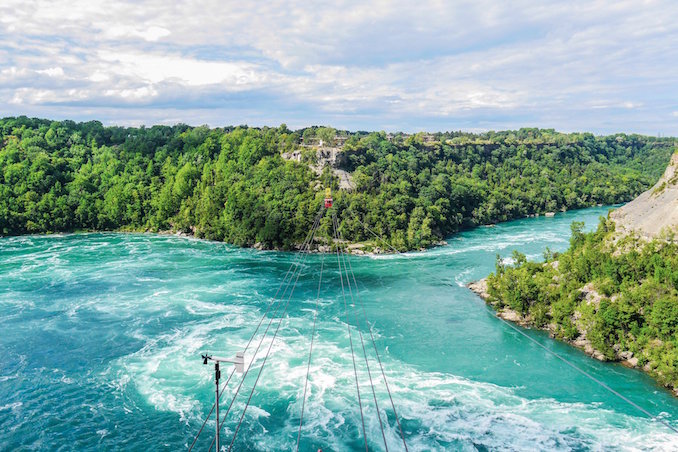 As impressive as The Falls are, a lot of us Torontonian's  may have seen them before. What you may not know, there are some equally impressive whirlpools in the area, over which you can take a cable car to get a panoramic eyeful. That is exactly what we did, and I would recommend the trip to anyone who wants to see more of this iconic and very powerful body of water.
After a quick ooh and ahh over the Horseshoe Falls (the Canadian side of The Falls IS just more impressive, isn't it!) we got back in our wagon and headed to the border.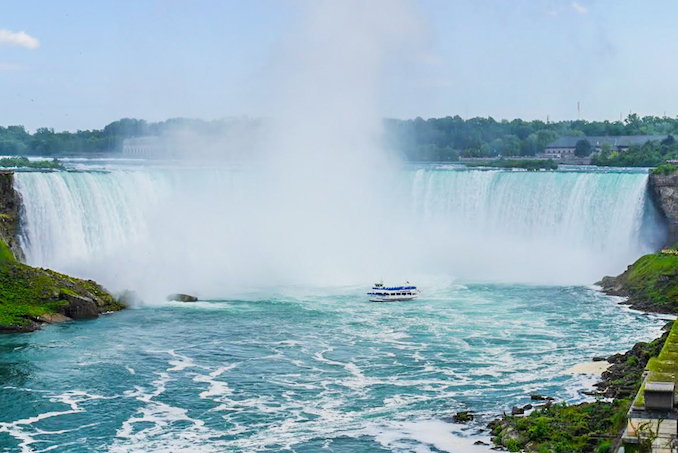 Driving through Buffalo is entertainment in itself; there is some interesting architecture and plastic buffalo grazing road-side. However the real excitement started to kick in in as we approached the New York and Pennsylvania state border and got our first glimpses of those gorgeous rolling hills.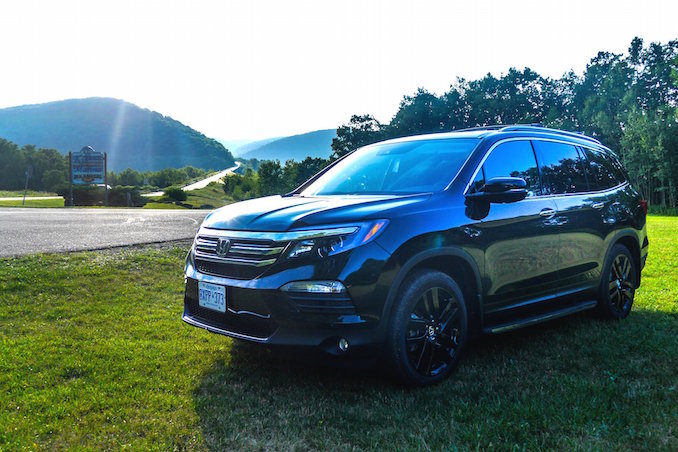 The sun began to set as we whizzed by red painted farm houses, selling corn by the road. Eventually we ducked into the Allegheny National Forest and made our way to the lovely Dewdrop Campsite (which was an absolute steal at $17 USD for all six of us per night.)
Pitching up in the dark using only our headlights and a bit of added moonshine to help us (and a couple of celebratory arrival beers!), we finally got our camp set up for the next few days.  There is nothing like some gas stove cooked pasta and a few brewskis to set you up for a nice summers snooze in the great outdoors.
The next morning we donned our walking boots and headed out on a much-anticipated hike in the forest, choosing the Morrison Trail around Rim Rock. At just under 10 miles, this hike isn't for the faint hearted, but certainly has its rewards. That said, if you were feeling less adventurous, you could opt for a 5 mile version, although that one doesn't include a glistening lake to dip in in the middle, a variation on the otherwise dense forest trail.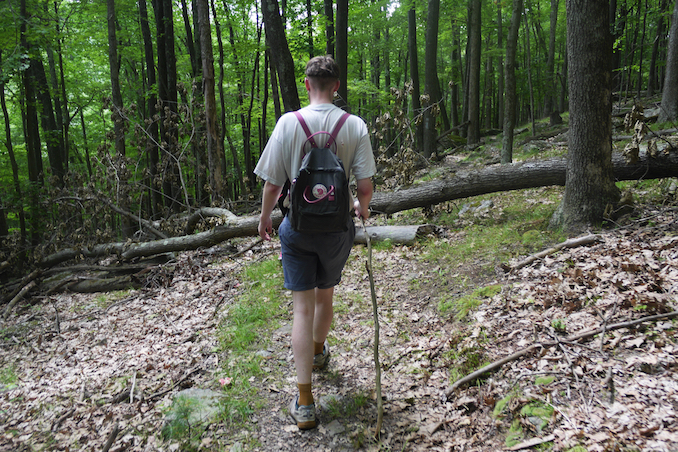 The route gave us the chance to spot plenty of woodland animals, including a chipmunk, frog and even a snake who slithered across our paths! Luckily there were no bears to be seen!
At the end of the slog, we were VERY ready to eat and had picked up a flyer for Bells Meats, located in nearby Kane. With a picture of two happy chaps yielding sausages on the front, we were sold! Bells didn't disappointed as we were greeted with friendly staff and a plethora of locally sourced produce.  There were a large number of sausages to choose from and we opted for Hot Leek, Sweet Leek and Pork and Apple. We also picked up some chicken, home-made mustard and pickle and some sourkraut for the meats.
Before we could get back to the campsite and enjoy our impending feast, we stopped by a local distillery, CJ Spirits, to buy some whiskey. CJ Spirits is Northwestern PA's first craft distillery and serves "premium spirits from grain to glass." Our young rye selection was probably a touch to classy to be swilling round the campsite, but we needed to treat ourselves after our hike!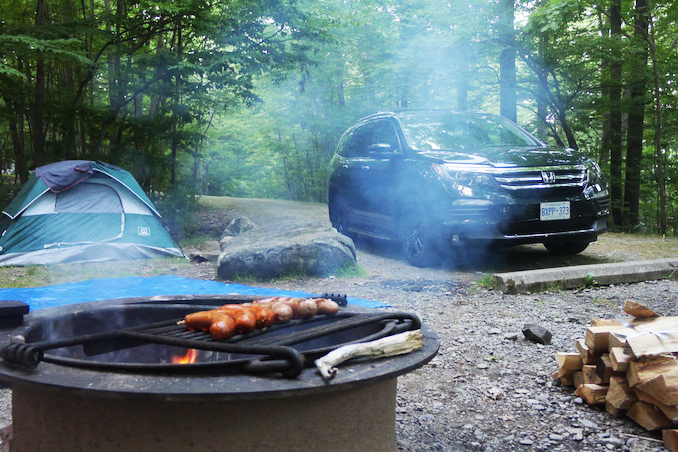 Finally, veritable feast in tow, we returned to our camp, where the lovely camp manager, Von, had delivered us some wood for a fire. Is there anything better than sausages cooked over an open fire? Yes. Sausages cooked on an open fire with a red cup of local whiskey in hand.
After our frankly delightful feast, we sat around the campfire, toasting our hiking achievements and, when our belly would allow, toasting s'mores. Life couldn't get better.
After a final night of tent sleeping, we decided for our last day in the forest that we would check out the Kinzua Bridge, an old rail bridge that had famously fallen down in 2003 amid a savage tornado.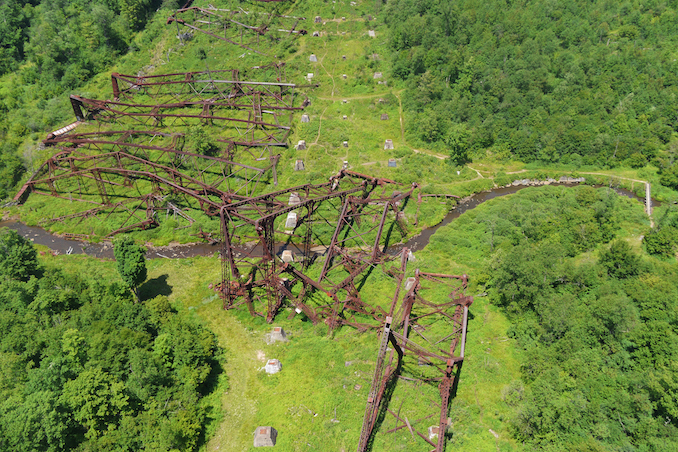 Part of the bridge has been restored to allow tourists to gawp at the Hollywood-esque damage, with more than half the bridge laying in a twisted wreck in a canyon (accessible by a foot path) some 300 metres below.
A  free-entry museum to for the bridge and its history had just been opened this summer and is well worth a look; it is both entertaining and interactive, with the ability to amuse kids and adults alike.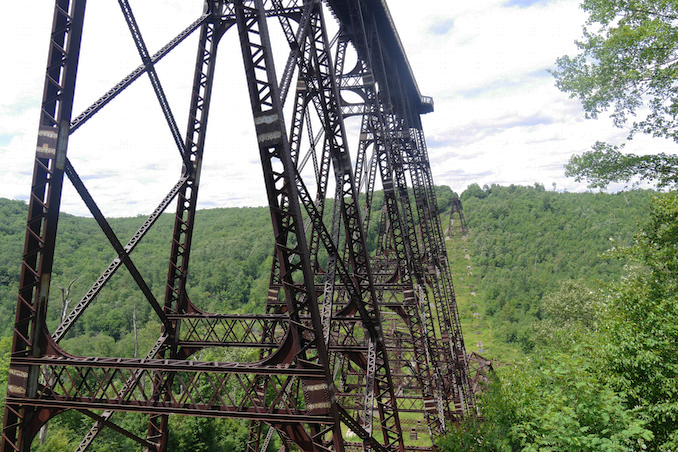 After an entertaining couple of hours spent walking both on and below the bridge, as well as buffing up on our history at the museum, we were ready to be on our way to the next leg of the adventure.
If you are looking for a long weekend away, either with friends or family, the Allegheny National Forest is an active and cheap getaway from Toronto, with around 5 hours of driving time to and from the city.