Toronto's multi-discipline art experience Luminato Festival will be celebrating their 10th anniversary this year with a residency at The Hearn Generating Station. Serving as a venue and as home base for the duration of the festival, The Hearn will also be an art installation in itself as leading design teams have unveiled their plans.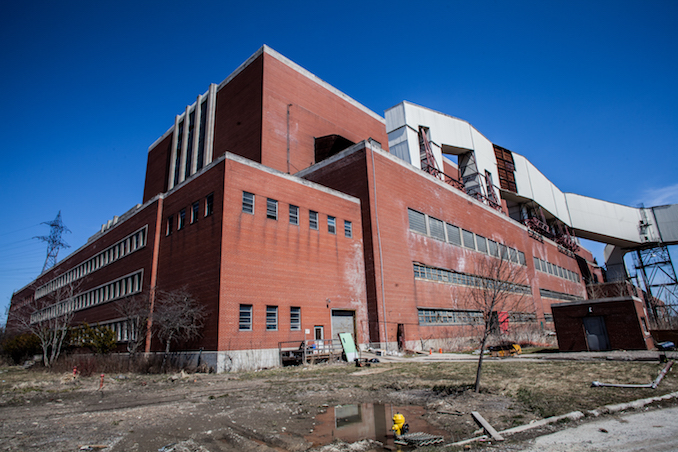 "In its first nine years, Luminato was a performing arts centre without walls. Each project found its own space, indoors or outdoors. This year, as we celebrate our 10th anniversary, we propose a new model that is an art project itself – one where everything is open, inclusive and porous. This year, together with our incredibly talented design and artistic partners, we're creating our own temporary space, concentrating the Festival in one location – the Hearn," said Artistic Director Jorn Weisbrodt.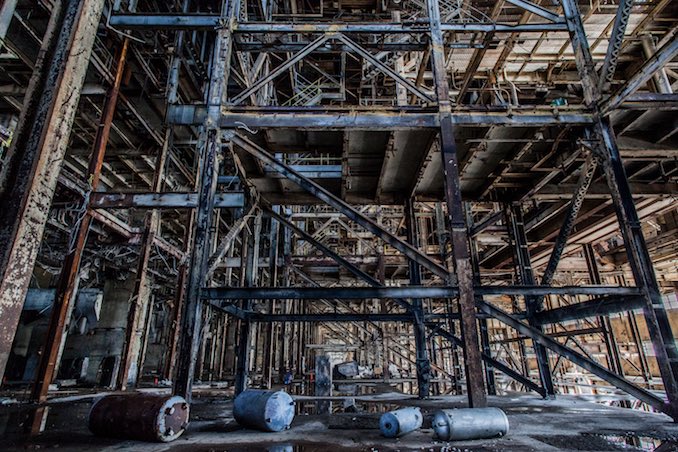 From June 10th – June 26th, The Hearn will be re-envisioned and re-purposed into a community and cultural centre that will feature concerts, art shows, dance, interactive performance, theatre and restaurants. The project was brought to life through a partnership with Toronto architecture firm PARTISANS and international theatre and acoustics consultants Charcoalblue. The representatives gave us a tour of the space today to get an idea of what we can expect from the large cavernous space.
With the large open space being part of the attraction, Charcoalblue imaged multiple performance spaces in the building that visitors will be able to pass through while exploring and enjoying the structure. Shipping containers will be used in their design which keeps with the Portlands history. The Hearn Theatre will be able to seat 1200 while the main music stage will seat 2000 but accommodate 5000 standing.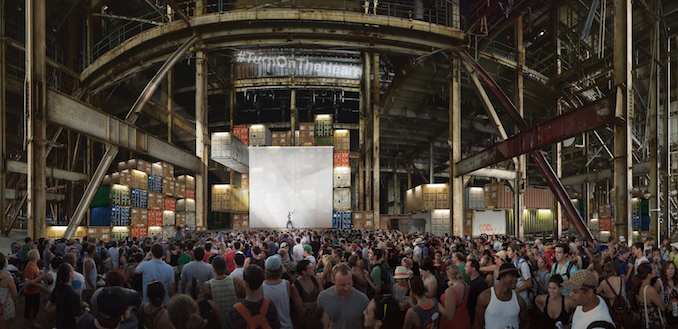 "Innovative repurposing of former industrial space, a surprising and constantly-evolving audience experience, and a potential for cross-pollination between diverse audiences, restaurant-goers, urban explorers, and curious minds. From the minute we knew about the ambition of the project, we knew we had to be involved." said Jerad Schomer, Team Leader for Charcoalblue about the project.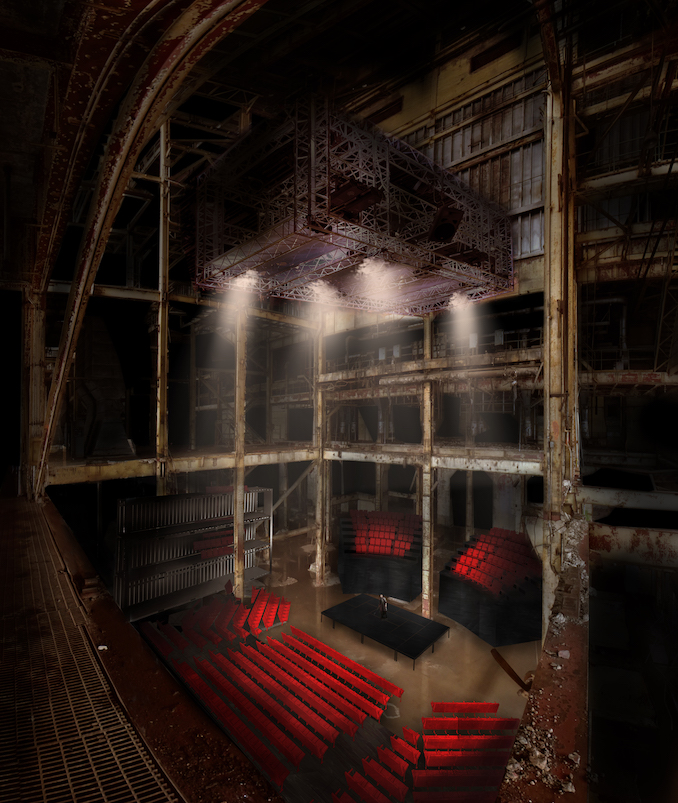 Restaurant goers will be able to try the pop-up restaurant Le Pavillon in the control room of The Hearn. Fréderic Morin of Joe Beef, Liverpool House and Le Vin Papillon and John Bil of Honest Weight will be putting on this unique French dining experience. The restaurant will be open for the duration of the festival and will cater to reservations and some walk-ins. Parts & Labour will offer a selection of sausages sides and Mill Street beers at their Bavarian style Biergarten and a Canteen will be set up to eat at with the purchase of a meal ticket.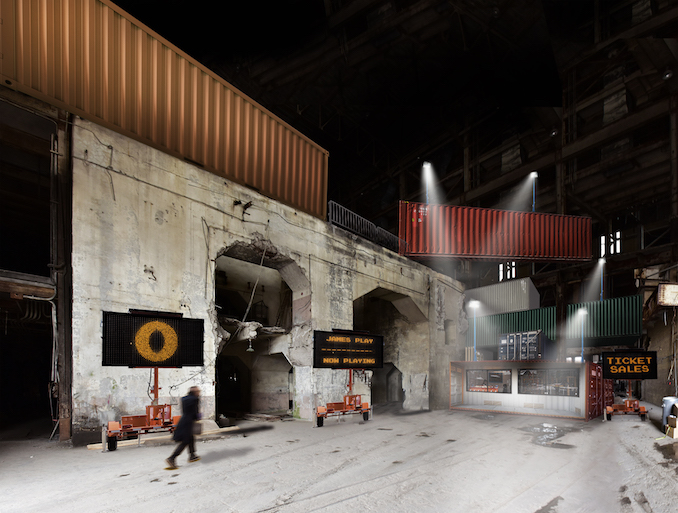 Luminato will also be curating a series of performance events and artistic activations with arts organizations across Toronto. TIFF, the Toronto Symphony Orchestra, the Art Gallery of Ontario, OCAD University, The Dietrich Group, Music in the Barns and other arts partners will have events on throughout the 17-days.
***
Here are some of the events that have been announced with a floor plan: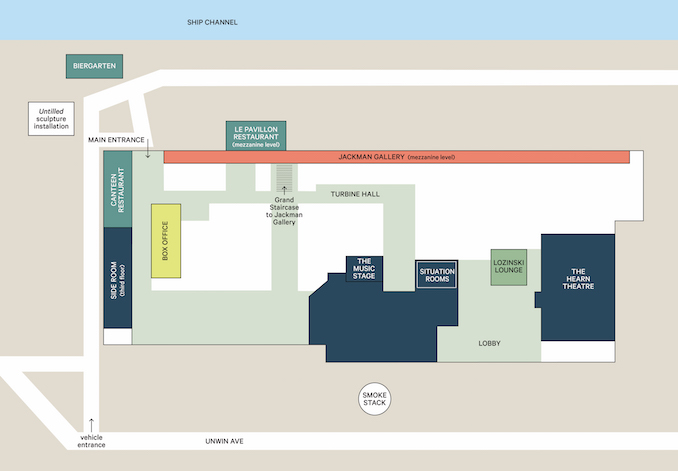 DANCE
monumental, an explosive contemporary dance show with live music from Godspeed You! Black Emperor
Sharing Spaces Productions
A Study on Effort, June 17, 6:30 pm & 9 pm, Side Room
Created and performed by Bobbi Jene Smith with live music by Keir GoGwilt
The effort of lifting… The effort of a pledge… The effort of not knowing… A Study on Effort is a col- laboration between dancer Bobbi Jene Smith and violinist Keir GoGwilt, consisting of 10 tasks that question physical, emotional and metaphoric effort. Bobbi's nine-year career at the prestigious Batsheva Dance Company (Tel Aviv) led her to consider one question in particular: how does one receive pleasure from effort? This dance work, created and performed by Bobbi, serves as a response to that very question. First presented at the Israel Museum in Jerusalem, A Study on Effort parses the concept of effort, decoupling it from burden. Through movement and sound, Bobbi and Keir aim to uncover the pleasure of effort, its pervasiveness and explore the connection between effort and our basic desires.
Dance Party, June 18, 9 pm till late, Side Room
YTB Gallery will also use the defunct power station as their hideaway for a massive post-apocalyptic, post-modern, immersive art dance party. Come dance till the world ends with up-and-coming Toronto DJs and art rebels.
***
FILM
The National Film Board of Canada and TIFF
Circa 1948, June 10–26, Turbine Hall, FREE
Enter the shadows of post-war Vancouver through this immersive, interactive, full-bodied experience co-created by internationally renowned artist Stan Douglas and the award-winning NFB Digital Studio. Discover two vibrant communities struggling through a time of unforgiving change. Though firmly rooted in the past, Circa 1948 ties economic recession to police corruption and the black-market economy, and looks at how the social dynamics of poverty and wealth influence urban planning — relevant considerations in any age. Produced by the National Film Board of Canada.
Circa 1948 is an interactive projection-mapped installation that allows you to enter the shadowy world of post-war Vancouver. Your body becomes the interface that interacts with the world, which then responds to you in real-time. Encounter conversations with the ghosts of noir-ish Vancouver, a rain- soaked city caught between the ruins of an old order and the shape of things to come. History will not be silent.
***
HEALTH
The Monkey Vault Team
Based in Toronto, The Monkey Vault Team, led by Dan "Pkdanno" Iaboni, has been teaching and per- forming parkour around North America for over 10 years. Parkour is half sport, half artistic method of training the body to overcome physical obstacles. Born in the suburbs of Paris in the 1980s, it teaches the individual to adapt their movement to absolutely any environment and any situation. The practice raises one's awareness of the inefficiency that accompanies much of our everyday movement. Parkour also elicits a sense of reclaiming public space in the city, freeing the citizen from the physical and psychological constraints prevalent in our society. Please see Luminato Festival website for details of public workshops. Monkey Vault will lead a number of Parkour workout sessions throughout the festival period at the Hearn Generating Station and will create a special performance for the Opening Party on June 9.
***
MUSIC
Unsound Toronto, Poland's electrifying music festival
Rufus Wainwright's remount of Rufus Does Judy, his sensational recreation of Judy Garland's 1961 comeback concert
Choir! Choir! Choir!
Epic! Night at the Hearn, featuring a performance of Hallelujah with a surprise guest.
June 11, 7:30 pm, Turbine Hall
Choir! Choir! Choir! is a Toronto singing group led by creative directors Nobu Adilman and Daveed Goldman. The group takes a nontraditional approach; there are no auditions, and they meet twice weekly to learn original choral arrangements of pop songs. Founded in 2011, Choir! Choir! Choir! has amassed a dedicated and passionate community of singers and a thriving international fan base on YouTube. The group has performed with Patti Smith, Tegan and Sara, and Damien Rice, and onstage at Carnegie Hall and Radio City Music Hall. Choir! Choir! Choir! exists to celebrate music and push the boundaries between practice and performance, artist and audience, offering therapeutic benefits with the ultimate side effect: a powerful community.
Yes Yes Y'all
June 17, 11 pm till late, Music Stage
Bridging the queer and hip-hop communities in Toronto for the last seven years with much-talked-about dance parties, Yes Yes Y'all teams up with DudeBox to bring you a night of hip-hop, RnB, and dancehall. Known for hosting the city's most inclusive parties, Yes Yes Y'all and DudeBox have become institutions in one of the most diverse cities in the world. With a strong community presence and mandate, both parties have donated thousands of dollars to local charities and non-profits in Toronto over the past few years. Get ready for what's sure to be one of the sweatiest dance parties of the summer with music provided by the YYY crew and a special headlining guest.
The TSO Chamber Soloists
L'histoire du soldat, June 18, 7:00 pm, Side Room
Join us for an intimate performance of Stravinsky's masterpiece L'histoire du soldat, featuring The TSO Chamber Soloists — comprising a septet of Toronto Symphony Orchestra (TSO) musicians — and narrator Derek Boyes. You will love witnessing the members of the Orchestra lend their exquisite technique and raw passion to astonishingly beautiful chamber music. One show only, hosted by Concertmaster Jonathan Crow.
Toronto Symphony Orchestra
Beethoven Symphony No. 5 & An American in Paris, June 21, 6:30 pm, Music Stage
Peter Oundjian, conductor
Experience the passionate intensity of your TSO — one of the world's leading orchestras — in a kaleidoscopic program of symphonic favourites. Join us for Beethoven's Fifth Symphony, a heartening, darkness-to-light orchestral journey, and Gershwin's An American in Paris, the rollicking, bluesy souvenir of the sights and sounds of the French capital. You won't want to miss this opportunity to hear the Orchestra shine in epic masterworks at the Hearn, for one show only!
Tafelmusik
June 19, 7:40 pm, Music Stage
Tafelmusik, Canada's award-winning period instrument orchestra and the most active period orchestra in North America, is thrilled to perform music by Bach, Handel and Telemann at the Hearn. The generating station's cavernous, cathedral-like setting will make for an exciting and thought-provoking contrast with the ensemble's baroque repertoire in a concert led by the orchestra's Chief Artistic Advisor, Jeanne Lamon. Tafelmusik is renowned for its vital, exhilarating and inclusive performance style. This is a unique opportunity to experience what Gramophone magazine names "one of the world's top baroque orchestras."
Music in the Barns
Song of Extinction
June 22, 6:30pm, Music Stage
Song of Extinction is the world premiere of a fully immersive visual and sonic experience exploring the calamitous impact humans are inflicting on the planet and its creatures. Featuring stunning large-scale projections and a tightly enmeshed score for chamber orchestra, chamber choir, live electronics and youth chorus, Song of Extinction will interweave breathtaking moving images with live surround sound for a uniquely massive, multimedia event.
The 50-minute work is a collaboration between composer Rose Bolton and filmmaker Marc de Guerre, with an original libretto by Order of Canada-appointed poet Don McKay and a live concert experience performed by Music in the Barns, curated by founder and director Carol Gimbel (creator of 1000 Strings).
Kid Koala
66 wheels, June 25
The first event of its kind: with 26 bikes, 14 turntables, 12 songs and six snacks. Follow Kid Koala on a bicycle tour across the city, stopping at some of his favourite spots for intimate music and food. The tour ends at the Hearn where participants are invited to join Kid Koala's Music To Draw To.
Music To Draw To , June 25, 4–8 pm, Side Room
Music To Draw To is a quiet-time, family-friendly event that Kid Koala started January 2009 in Montreal to chase away the Monday night winter blues. Kid Koala plays four hours of quiet-time work music. Bring your sketchbooks. Finish that screenplay. Code that video game. Finish knitting those socks. Just bring something quiet to do and get some work done! Snacks will be provided.
BATH SALTS & House of Filth
Doggie Show, June 24, 11 pm till late, Side Room
Doggie Show is a hilarious costume contest and energetic dance party hosted by Toronto's filthiest drag queens. Breeders and their bitches will walk the runway under the scrutiny of our vicious judges and hilarious commentators. Which specimen will win the blue ribbon, and who will be sent to the kennel cage to dance for their lives? The performance will be followed by live electronic and eclectic sets from our resident DJs. We invite you to dive into the glamour and grime of doggie couture and find your inner beast on our sleazy dance floor. BATH SALTS is the party crime of alien pop star JAL, described as "Electric Circus on bad street drugs," a perfect partner for the House of Filth entourage of drag at its most vulgar.
Regent Park School of Music
June 25, 6:30 pm, Music Stage, Free
Join Regent Park School of Music for an exciting musical presentation at Luminato Festival. Featuring students from the Parkdale Nonsense Orchestra, the Regent Park Wind Ensemble and more, this performance celebrates the power of community music education. Regent Park School of Music is a non-profit community music school whose goal is to help kids succeed through music.
Battle of Santiago
Fábrica de Ritmo June 25, 11 pm till late, Music Stage
Deconstructing and fabricating classic Latin rhythms from Cuba to Brazil, Fábrica de Ritmo is a multimedia and immersive experience that captures the beating soul of the Americas. Featuring a live electronic performance from the Battle of Santiago and special guest DJ Medicineman, it's your last chance to dance at the Hearn (for this year at least…). FIESTA LOCA!
***
THEATRE
The James Plays, an epic 5-star theatre trilogy
DLT
OFF LIMITS ZONE , June 11–26 (not Mondays), Every 30 minutes, from 3 pm–8 pm
OFF LIMITS ZONE is a brand new iteration of the critically acclaimed walkabout performance The Stranger, by DLT, an award-winning theatre company led by artistic director Daniele Bartolini. Designed for one participant at a time, the experience allows audience members to choose between two independent journeys inspired by the movie Stalker by Russian master Andrei Tarkovsky. In this experience, the city becomes the stage and the audience becomes the protagonist. As the lone audience member, you will be thrust into a secret world. Your objective is to reach a mysterious "zone" where the laws of reality no longer apply. You will travel to undisclosed locations and encounter characters that will both help and confuse you during your search. Lost in an urban labyrinth, you will find yourself at the centre of a narrative that blurs the lines between reality and fiction. Ready to take a leap into the unknown?
Asad Mecci
Hypnohype, June 16, 8:30 pm, Side Room
Fast-paced and action-packed, Hypnohype is a high-energy, comedy hypnosis show. Master hypnotist Asad Mecci will hypnotize volunteers from the audience to the hypnotic rhythms of expert percussionist Davidson Elie. The 60 minutes of hilarity that ensues will leave the audience speechless. Asad will give suggestions to volunteers on stage that will lead to an experience they will never forget, while entertaining and thrilling the audience.
***
VISUAL ARTS
One Thousand Speculations – Michel de Broin
For the second time, Luminato Festival will install Canadian artist Michel de Broin's One Thousand Speculations, a 7.9 metre in diameter ball made up of 1,000 mirrors — the world's largest mirror ball. Originally commissioned by Luminato for the 2013 Festival, this year it will hang inside the Hearn Generating Station. Turned on, it will transform the space into a futuristic spectacle, letting us dream about what could be.
Untilled – Pierre Huyghe
On view in Toronto for the first time since its acquisition by the Art Gallery of Ontario (AGO), Untilled (Liegender Frauenakt) daringly extends artist Pierre Huyghe's long-term interests. On site near the Hearn, within a ruined landscape of concrete rubble, weeds and gravel, the artist has placed a statue of a reclining woman, an unremarkable object but for the beehive that entirely obscures its head. Presented in partnership by the AGO and Luminato Festival.
The Dietrich Group
The Coating Project, June 10–26, FREE
Choreographer and visual artist DA Hoskins, Artistic Director of The Dietrich Group, brings his provocative sensibility to a new creation for Luminato's 10th Anniversary. An accomplished photog- rapher and video artist, Hoskins has created The Coating Project, a series of moving video portraits of some of Toronto's most accomplished and vital dance artists. In advance of this year's festival, he has collaborated with a team of photographers, video and dance artists, documenting the decommissioned industrial space of the Hearn with the vitality of naked bodies. At once a statement on sexuality and a celebration of Toronto's industrial heritage, The Coating Project will be running throughout the 17-day festival of art and creativity.
Design Exchange
Jordan Söderberg Mills, June 10–26, Turbine Hall, FREE
In a whimsical fusion of science and design, Design Exchange presents Jordan Söderberg Mills' new series of anaglyphic mirrors that play with physics, perception and colour for a new DX Satellite experience. His works unweave ambient light into spectral colour, creating cascading, stereographic reflections to capture the Hearn for an otherworldly, awe-inspiring encounter.
Jordan is a recent graduate of Central Saint Martins and has had his work presented at the Victoria and Albert Museum, London Design Festival, National Gallery of Chile and at Milan Design Week. He aspires to become a legitimate wizard one day!
OCAD University
June 10–26, Turbine Hall FREE
OCAD University powers up the Hearn with art and design by students, faculty and alumni! Expressing a diverse range of approaches, including Indigenous Visual Culture, the Digital Futures Initiative, Life Studies and varied experimental practices, this installation will generate audience participation in new sensory experiences. OCAD University is Canada's "university of the imagination," engaged in transformative education, scholarship, research and innovation. OCAD University makes vital contributions to the fields of art, design and media through local and global cultural initiatives, while providing knowledge and invention across a wide range of disciplines.
Younger Than Beyoncé (YTB) Gallery
Exhibition , June 10–26, Turbine Hall, FREE
YTB Gallery is Toronto's newest artist-run centre. A nomadic gallery, they bring the freshest art exhibitions to the city, providing professional exhibition opportunities for Toronto artists under the age of 33. This summer, they are delving into Toronto's underground art scene and moving into the Hearn with the finest, newest visual art in the city. YTB's exhibition programming is about creating survival tactics in a dystopian world. They are prospecting a new environment as a possible settlement through a series of immersive installations. These artists will be sampling, observing, map-making, and creating new protective technologies for the Hearn.
See more info on the Luminato website – https://luminatofestival.com