Two words: ball pit. If that didn't pique your interest then what about "pirate swing" or "Hercules hoist" or "cove ramp" because these are just some of the obstacles in the 160 yard course at Pursuit OCR. The 10,000 square-foot space is the first fully indoor obstacle course in Canada and since opening in October last year, they have already garnered a cult-like following. Take a look at #pursuitocr and #pursuitocrgym on Instagram and you'll see what all the hype is about.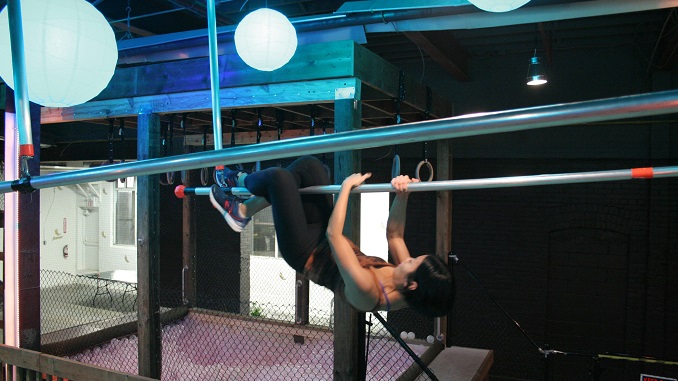 Co-owner Wil McLean designed and built the entire course, with the help of friends and volunteers. With obstacles like the over/under hurdles and ascending monkey bars, you'll be getting a workout without even realizing it. And when you fall from the rings into the 300 square-foot ball pit, you'll feel like a kid all over again. The course only takes a few minutes to complete and is completely scalable for any fitness level. If you don't like an obstacle, you have the option to go around it or you can repeat and practice anything as many times as you'd like. My favorite challenge is the cove ramp; while it's not an official obstacle in the course, I find it a great way to finish and it's hard as hell!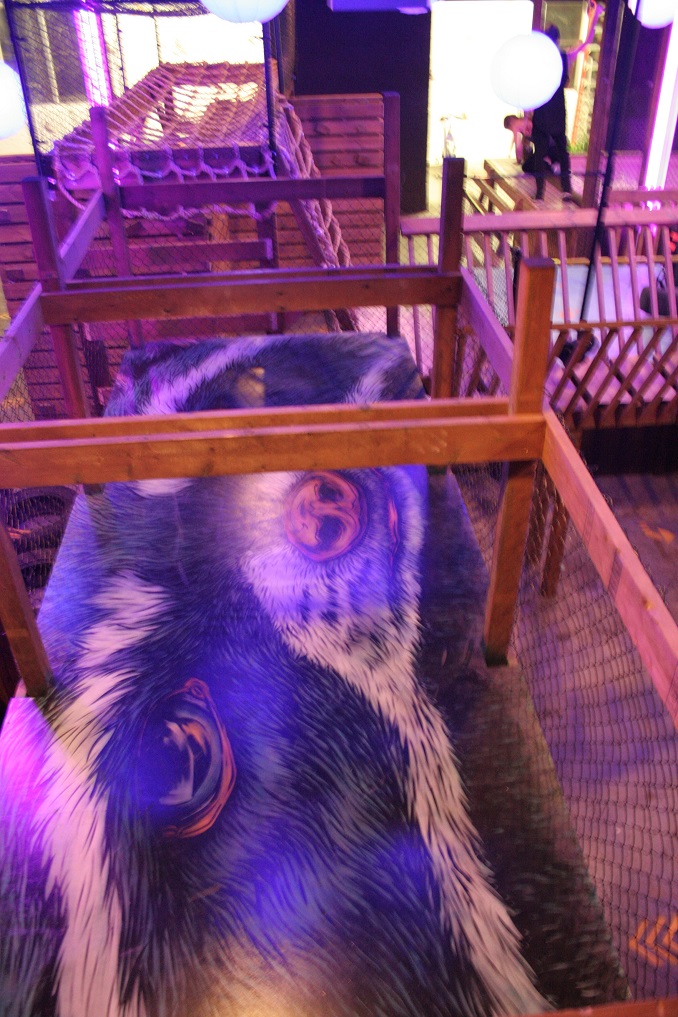 Besides the course itself, Pursuit OCR offers a unique mix of classes that combine aerial, circus, and gymnastics. I tried out three challenging yet fun-filled classes and achieved things I never thought I could! Hello #ropeclimbs!
My first class was Bar Fit with Joanne Lynn Galligan. This girl is hardcore! Just watch her demonstrate the human flag and try to tell me otherwise! Not only is Joanne amazingly fit but she is also a kickass instructor. Her fitness background is mainly in the aerial circus arts, specializing in static trapeze. She studied circus for 10 years and has been coaching others for 6 years. This past year Joanne became a certified personal trainer so she could share her knowledge of building strength and connection beyond the circus world. I liked how her class was categorized by specific muscle groups, each with its own set of warm-ups and circuits. During the core circuit, the "Dragon Flag" move supposedly invented by Bruce Lee was killer! The next day, I couldn't laugh without wincing but it was totally worth it. I even, miraculously, held an inversion on the bars. Sadly no…I didn't quite get the human flag, except when Joanne lifted my body as I held on to the bars. But there's always next time!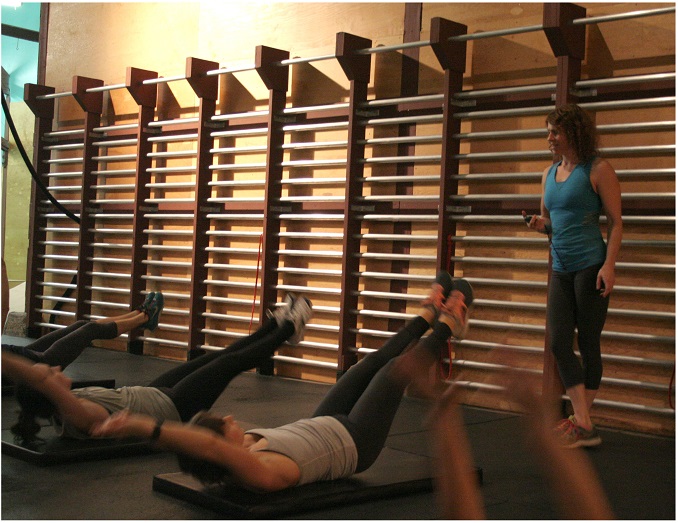 The following Tuesday, I tried Ring That Bell with Katie Perconti. I remember just last year watching people in Dufferin Grove Park climbing and wishing I had the strength and skills to do it. Well, I'm happy to report that thanks to Katie's wonderful teaching style, I can now climb a rope! I loved how she broke down the technique piece by piece. It was how she learned climbing herself in 2008: technical and methodical. We started with shoulder shrugs and scapula pulls to engage the back then went on to try three different climbs: climb wrap, toe climb and hitch climb (my personal fav). At the end of the lesson, we had a friendly race and finished with high fives all around!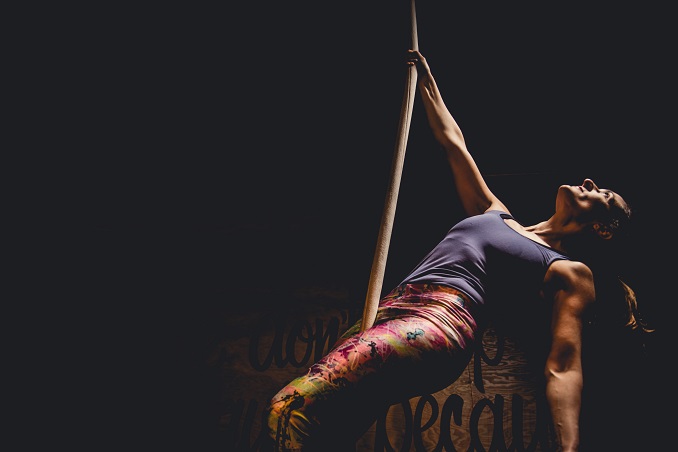 The last class I sampled was General Conditioning with Mikey Pamaputera. This class was no joke! To outsiders, one would say it was just a circuit class but it was not JUST a circuit class. It was an intense, non-stop workout that challenged every muscle in my body. Each exercise was fiercely monitored by Mikey for perfect form and technique. On the occasion that I would stop to catch my breath from dragging a 125 pound sled, Mikey would see me (from the other side of the room?!) and bark orders to keep going, not like a crazy drill sergeant but like a big brother that you wouldn't want to disappoint. And so…an hour and 15 minutes later, we finally finished! What an accomplishment!
[rspad300x250]
Mikey is the Program Director of Pursuit OCR and since 2009 has traveled to learn from other teachers/masters of their own craft. Whether it was strength training or skill development, he sought teachers with concepts that had not yet been exposed to the general public. As a POSE Method trainer, Mikey provides students the opportunity to understand how to move their body in the most efficient and safe manner possible. This encompasses running, lifting and posture. The POSE Method is a system developed by Mikey's teacher, Dr. Nicholas Romanov, in the 70s. For more information go to www.posemethod.com.
Mikey has curated some really unique classes at Pursuit OCR and I asked him how he decided what to add to the program. His response: "I wanted a space where individuals of all backgrounds could explore different aspects of Play. Too often people will say they "Work Out X amount of times" but what really are they working out on? It's important to train the mind and creativity along with the physique to get the complete package. Having a fun-filled atmosphere was important in order for everyone of all levels to be encouraged to participate in physical activities."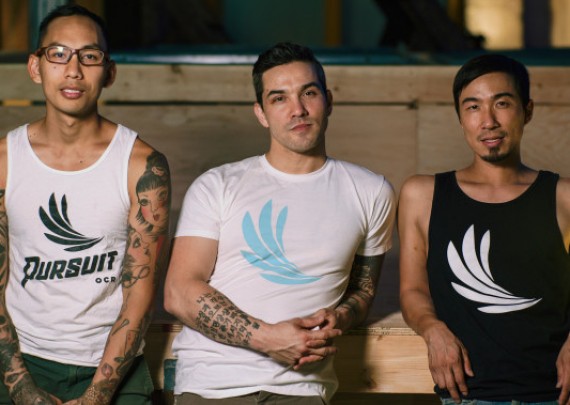 There will be a new schedule for the Winter/Spring session coming soon. Watch for a Kettlebell class as well as an endurance program to help those who need assistance for future obstacle course races. Mikey is also working on bringing a few classes outdoors.
I absolutely love Pursuit OCR and I asked the instructors why they did too!
Katie: I love Pursuit because of the open vibe in the space, mostly encouraged not only by the owners of the space, but also by the coaches. There is no feeling of competition; everyone is eager to help you learn something new, push your boundaries, and make you feel better about yourself. There is a strong focus on playing like you did as a child, which many of us forget to do in our adult lives. There is something awesome about running the course that brings you back to being in the playground as a kid. When you train at Pursuit, all your adult problems disappear for a while, and you can simply be yourself and play while getting stronger.
Joanne: I love Pursuit OCR because they are really pushing to create a community where encouragement and accomplishment are at its core. And they are focused on keeping fitness FUN, which is so important for people to stay committed.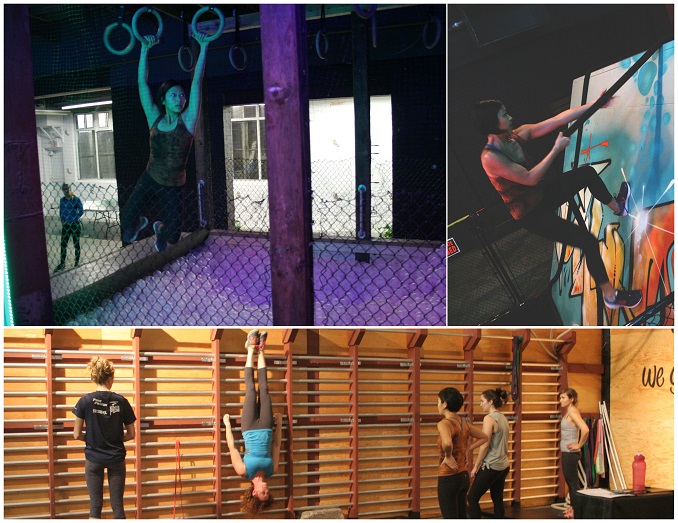 Visit www.pursuitocr.com for more information or drop in at 444 Dufferin Street and read on for my interview with Wil.
Obstacle courses are intimidating for some people. What can beginners expect and how do you coach them through it? Is it safe?
We want you to find and explore movements in a non-judgemental safe space regardless if you are an elite athlete or new to fitness. By nature of this space there are familiar movements. We all started out crawling and climbing in our lives so it's instinctive when we see these obstacles. The beauty of Pursuit OCR is that you're not trying to figure out how a machine works. As you get more accustomed to movements you start to learn tricks on how to be faster and stronger so you can really push yourself as an athlete. As a novice, we don't want you to feel defeated by the space. We don't want anyone to feel excluded. If you fall off the rings, you will try again and again because it's fun and you don't feel like you're failing.
Everyone gets a tour of the space but not everyone wants their hands held so we let you explore on your own. We encourage everyone to be kids but also be a nagging adult.
You're the first indoor obstacle course in Toronto. What makes Toronto, and specifically your location in the west end, so perfect for Pursuit OCR? 
Co-owner, Eddie Chan, and I have an established connection in this community since we've been here for a long time. We wanted to build something that would support the community and that the community would support back. We have built good relationships with people in the neighbourhood and this gave us a good launch pad to go from. Our Indiegogo campaign accessed specifically that outreach. Every business around us supported us by donating gift cards, time, etc. We are very grateful.
The space is very raw, with concrete floors and high ceilings. Tell us about the design of Pursuit OCR.
What we designed is inclusivity; antithetical to the fitness industry. We removed vanity from our infrastructure by designing a space that is gender neutral. People that don't fit into a category can come here without judgement and just play. This is not a hostile environment which is why we don't have mirrors in the facility at all. It's also a community space so people pick up after themselves and care about it as much as we do.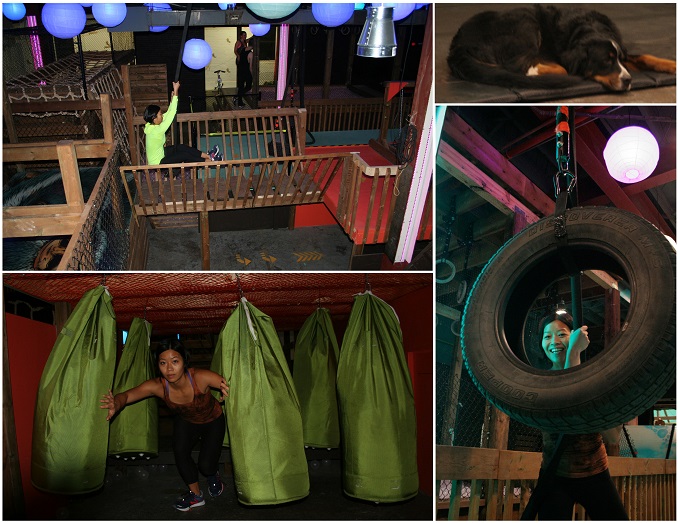 The obstacle course is obviously amazing but tell us more about the classes. These are non-traditional classes so how did you decide what to offer?
The overall mindset that we had for our classes was that we looked for instructors who had enormous amounts of knowledge and were leaders in their field. But in traditional spaces, they couldn't offer classes like this. So we found people with amazing toolsets and great ideas and we gave them the space. Like Ring the Bell class. It's not a circus class or aerial class but you need all of those movements to be able to do it. You are not a gymnast but you are learning the elements of a gymnast. We don't need to build a climbing wall because if you wanted one there are many great facilities already out there for that but we can teach you the same techniques in a different way. We asked instructors what they needed for their programs and we built it for them. There were no rules so they were allowed to be creative. No sense in offering things diluted.
Tell us about the charities you support.
We support Get REAL (thegetrealmovement.com) which is a LGBT advocacy and non-profit. They build awareness and non-exclusivity in junior and high schools. They coach students on the vocabulary to use and how to be open to all. Our Halloween event was a Get REAL event. We donated the space and helped raised $7,000 to their movement. Pursuit OCR has a skeleton staff so the money people pay for memberships and drop-ins are really going towards subsidizing charities. We also work with The Canadian Safe School Network (canadiansafeschools.com). They have a specific program called "Overcoming Obstacles" that is quite fitting.
[rspad300x250]