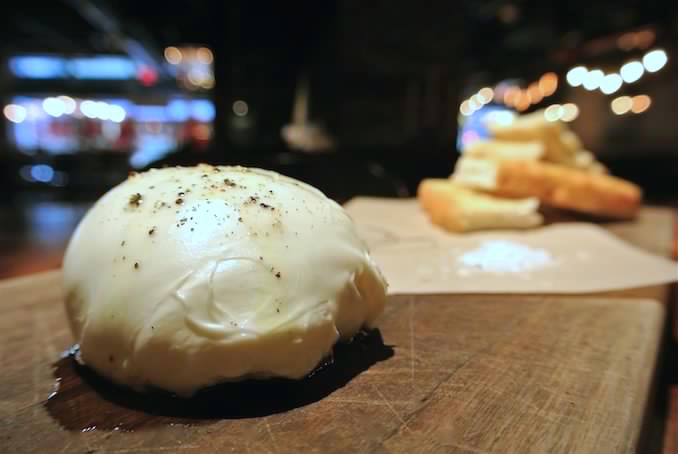 While researching places to eat for National Cheese Day (January 20th), my hunt led me to Chef Steve Silvestro at Scaddabush Italian Kitchen & Bar located at Yonge and Gerrard. Why here? Because Chef Silvestro does something pretty special for his visitors.
Slang for "a bit of everything" Scaddabush is a rustic Italian restaurant that respects the country's traditions and cooking methods. Pasta is made fresh in-house daily as are the fresh mozzarella dishes including made-to-order mozzarella balls in the evenings . Chef Silvestro tells me that each night the restaurant visitors who order one of the four signature dishes can see their mozzarella being made through the viewing area of the kitchen. "I'll actually go to the table and invite the our guests to come and see theirs being made. Everybody loves it!" Each mozzarella ball is pulled, stretched and formed into absolutely dreamy dishes. And not just that, each chef who is creating the mozzarella will literally sign each dish off before it comes to your table. "Each of us take pride and care into our work, so you will know who has created your mozzarella dish each night." Depending on the night, the restaurant makes around 100 of them fresh.
As a son of Italian parents, Chef Silvestro learned about traditional cooking techniques and appreciating the cuisine from its homeland as well as from his family. After attending the culinary program at George Brown, he moved to Italy to get some experience at some of the most beloved kitchens including Ristorante Savini in Milano and Hotel Palace Villa Corine at Simione, Lago di Garda. Here he was exposed to the finest and freshest ingredients, prepared by world-class Chefs with great passion and respect for tradition. Chef Umberto Vezzoli, and Chef Carlo Bresciani welcomed Chef Silvestro into their brigades where his training and understanding of true Italian cooking was honed.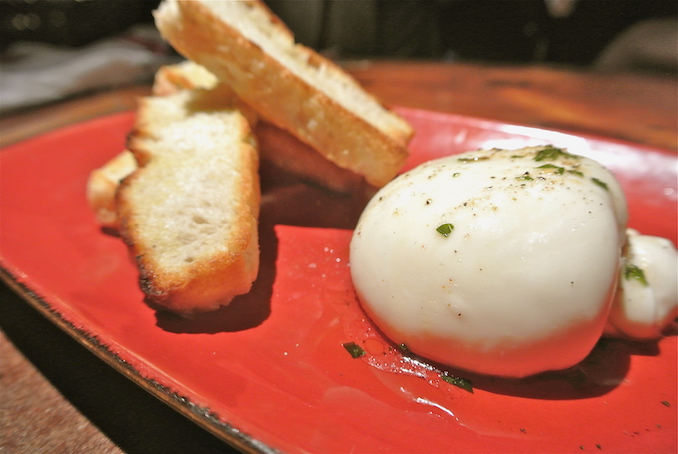 He recalls his favourite comfort food, a simple and honest Marguerita pizza. As Chef Silvestro explains, it's the experience of sharing great food with family and friends that absolutely makes a winning combination. Nothing fussy needed. There's a time and a place for that but when you have quality ingredients to work with, dishes don't need to be complicated.  Upon returning to Canada, Chef Silvestro became Executive Chef at Pastis Restaurant and has been the Executive Chef at Alice Fazooli's and Scaddabush restaurants.
Chef Silvestro invited us into the kitchen to learn how to make our own mozzarella dishes from his popular menu (FYI…the 'naked' is the best seller) and it was surprisingly easy with his trained eye guiding me over their custom-made mozzarella working station. When I asked for a recipe that we could recreate at home, he suggested a simple Calabrese salad (toss in some extra greens if you like) is the best way to enjoy fresh mozzarella at home. I figured he would.  "At home, I would make a simple Calabrese salad with the freshest tomatoes, buffalo mozzarella, basil. Drizzle good olive oil, a bit of sea salt and fresh pepper. Nothing beats a good Calabrese salad!"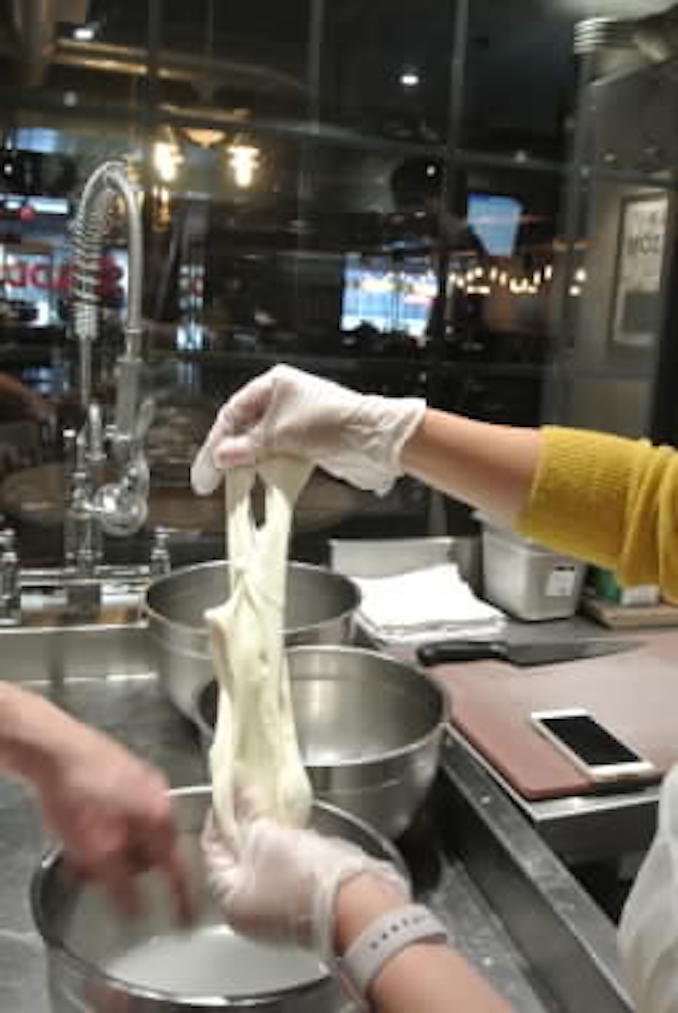 How to make your own mozzarella balls
1. Get a block of cheese curd (not the kind that is already broken up but a block) from a cheese store – you may be able to find them in St. Lawrence Market or Kensington Market. It's firm and pressed and a size of a brick that they use here. Chef Silvestro uses locally sourced Ontario Cheese Curds.
2. Cut into 1 inch cubes (FYI, you'll want about 1 and a half cups per ball)
3. Immerse the cubes in hot tap water (not boiling) in a large mixing bowl and let soften. Once you see it softening, drain and add fresh hot water. Using a spatula, begin folding until the cheese curds are soft enough to pull.
4. With your hands start pulling while keeping in mind the pliability of the cheese. When it starts getting hard to pull, simply immerse it back into the hot water for a few seconds. Continue pulling until all the lumps are smooth. As I was gathering, pulling and stretching the cheese curds, Chef Silvestro could tell just by his eyes when I needed to dip the lump back into a hot water bath before continuing.
5. Then shape into a ball. His trick is to make an "okay" gesture with one hand while pushing the cheese carefully through. Then pinch the end.
When serving, mozzarella balls are warm and very adaptable to savoury as well as sweet options. It's creamy fresh flavour is versatile. In Italy, Chef Silvestro says it's often served with honey and walnuts. He also suggests prosciutto and fig as a delicious combination.
Curious? Probably the freshest mozzarella balls you could have in the city is found at Scaddabush.