I recently binge-watched a new OMNI TV show called Blood and Water that was produced in Mandarin, Cantonese and English languages.
The half hour, 8-part crime drama series takes place in Vancouver, the show's dark mood is accompanied by its gloomy backdrop. The theme song ads to this. An emotional tune with lyrics that could describe the inner turmoil and feelings of many of the show's characters. The song becomes one that you anticipate and long for at the beginning of every episode. I shared the video of the song at the end of this post.
Blood and Water's story begins with the murder of Chalie Xie (Osric Chau), the son of the wealthy Chinese real-estate mogul Li-Rong 'Ron' Xie (Oscar Hsu). The son, who had battled with addiction, is suspected of having gotten back into his old habits and crossed the wrong person. His girlfriend, 8 months pregnant with his child, is left behind along with the victim's brother, sister and parents. Detective Jo Bradley (Steph Song) is assigned her first case as lead. Bradley is of Chinese descent but was raised by a white family after she was orphaned.
While dealing with personal issues of identity, health and belonging, the show uncovers this family's secrets that could destroy them and change everyone's lives.
***
I recently got to chat with Mississauga raised, Blood and Water actor, Simu Liu who plays Paul Xie, the brother of the murder victim Charlie Xie.
The show takes place and is filmed in Vancouver. Tell us about the city and how it added to the show with its backdrop.
I actually found our take on Vancouver so contrary to what I experienced while I was over there! So many of our establishing shots are dark, rainy and moody, but in the couple of weeks I was in Vancouver I was absolutely blown away by the beautiful weather and the mountains. I feel like a lot of Vancouverites try to push the gloomy weather narrative so that the rest of us don't discover the truth and all move there. I remember sitting on the beach in Stanley Park on a sunny day in January looking at pictures of my friends back in Toronto digging their cars out of the snow. It was hilarious.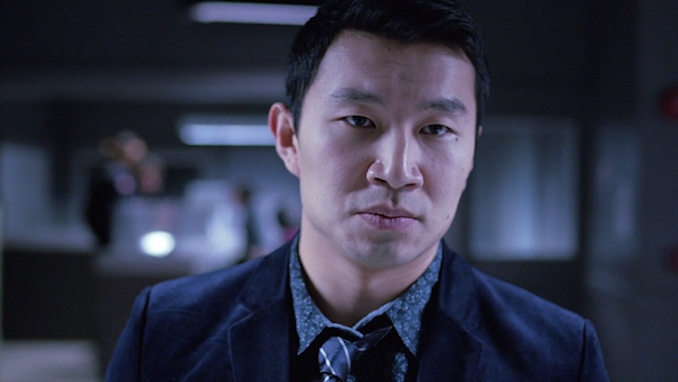 To answer your question about how it added to the show, I think we were able to give a unique take on the city by showing a side of Vancouver that doesn't grace the tourism billboards. While the Xie family lives in that perfect sunny world, other characters live in the East Hastings world that is lower income, high crime and drug rate, and not as pretty. I think we were able to capture the city's rougher edges quite well, which informs much of the show's atmosphere.
It also lists Toronto as a filming location. What parts were filmed here?
We filmed most of the interior stuff in Toronto at Fraser Studios. The parts we couldn't cheat, anything involving the outdoors and the Xie mansion, we had to do on location in Vancouver.
Tell us a bit about your character?
The character I play is Paul Xie, the oldest son of real estate tycoon Ron Xie. When news of Charlie's death devastates the family, Paul must keep the Xies together while protecting some of the family's deep secrets.
Do you feel the characters' struggles and personalities are reflective of a 1st or 2nd generation immigrant to Canada? Mandarin/Cantonese Specifically?
Paul speaks Mandarin and English equally well on the show, which I am actually quite jealous of. As an immigrant myself, I grew up speaking Mandarin but moved to Canada at an extremely young age and am extremely sad to say that my Chinese is hanging on by a thread. I communicate primarily in English which sometimes makes it difficult to get into a deep meaningful discussion with my parents. Whereas Paul is very much the perfect combination of both cultures, I am much more heavily skewed to the English-speaking side and experience the language struggle much more. So, if anything, Paul is the idealized version of the 1st/2nd gen immigrant.
What challenges with self-identity and identifying with others do your characters face?
Without giving too much away, each of the characters has a secret that eventually is brought out over the course of the show. Paul's secret has everything to do with his self-identity and his alienation from others, and is a source of deep shame for him and his family. If you want to know more, you gotta tune in!
What was your favourite part about working on the show?
Coming to work everyday with a group of creative, smart and driven people and having the privilege of collaborating with them was easily the most fulfilling part about working on Blood and Water.
Also feel free to add anything you think our readers would be interested in.
You can watch the entire season of Blood and Water for free on the OMNI website.
I'm currently working in the writing room for Blood and Water Season 2, and on developing a neo-noir story for web that, similar to Blood and Water, will feature Asian-Canadian performers in lead roles.
You can binge watch Blood and Water on the OMNI website now! – WATCH HERE
***
Watch this live performance of the theme song "Lay Low' by the amazing Shovels and Rope which really sets the tone for the show. I have included the lyrics as well.
Well I probably should be
Drug out to sea
Where I can't hurt no one
And no one can hurt me
At least I'd be free
And probably I'd see
What caused me to be
So detached completely
Jumping a rope
Through a thick cloud of smoke
Fumbling through all
Of the letters and the notes
The ones that you wrote
Did they keep me afloat
Or just wrap 'round my throat
l Like a noose on a rope
Probably both
So lay low baby
I won't be back anytime soon
If it gets too lonely
I will follow you 'round in this tune
I don't know what to do
What I'd do if I knew
But we go through our day
And get by and get through
But my heart is with you
You probably knew
Your love is like glue
So lay low baby
I won't be back anytime soon
If it gets too lonely
I will follow you 'round in this tune
Oooooo ……… Oooooo
So lay low baby
Just for a little while more
If you can't keep waiting
I will find my way back to your door