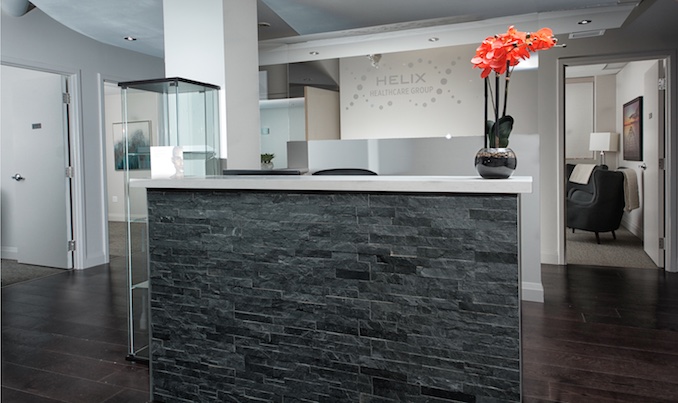 Helix Healthcare Group, a state-of-the-art wellness facility, first opened their doors in June 2014. The Yorkville location was highly received for their new approach to combating stress, mental health issues, addiction and trauma. This past October, Helix Healthcare Group opened their second centre in Midtown at 164 Eglinton Avenue East.
Their treatments mix eastern and western philosophies, focusing on the patients as a whole. Carmen Littlejohn, Director of Education & Training and a Registered Psychotherapist, says the Helix team is bilingual, "We speak to both worlds." Whether you are on western medicine or trying to heal holistically, Helix Healthcare Group can help uncover the deeper root of the issue. Their main pillars are looking at psychotherapy and assessing the more rigid personality structures that have been with patients since childhood. They also offer therapeutic services like a healing sound bath (which I got to try – more on that later), rhythmic body work and yoga therapy. These treatments are a gateway to help clients open up more for psychotherapy sessions but are helpful to anybody feeling stressed.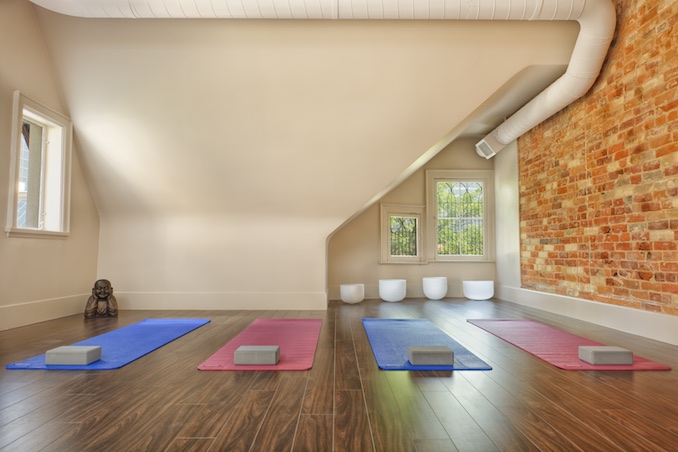 As we are already in December, the holiday stresses are starting. Carmen explains, "It's called 'stress response' which means there is no getting away from stress but we can change how we respond to it." Here she gives us some tips on how to manage the most common stresses this season.
MONEY
Holidays usually mean gifts, lavish meals and travel but setting a budget and learning how to stick to it can really change the level of stress on you. 
- Find your budget. 
- Don't increase your spending on things like spa trips, hair & make-up, holiday apparel (you're really only going to wear it once anyway).
- If you are exchanging gifts, do a Secret Santa instead of buying everyone a gift. Set a $20 limit and be creative: make gifts, cook a nice dinner.
- Purchase tickets early in the year if you know you will be traveling. 
- It may be unconventional but purchase your gifts in the New Year once everything goes on sale. But remember not to buy everything just because it is on sale. It is still cheaper to buy nothing than something on sale.
FAMILY

This is the time when people need the most support and often people increase visits to their therapists. Family issues can lead to depression and anxiety so it is important to find support through your community and friends.
- Many people retreat to be alone. Instead schedule your social calendar ahead of time and commit to it.
- Set up an "Orphan Christmas" dinner for those without family in town to celebrate the holidays together.
- Attend more community based events like yoga classes.
DIET
Addictions tend to kick up around the holiday season with office and social parties that tend to be open bar and sugary treats. Food and drinks may be free but it still costs you something: your health.
- Stick to club soda or stop after one drink especially at work events.
- Keep up with your diet and exercise routine. Sugar is linked to anxiety and depression. 
- Leave gifts of food and chocolate at the office.
WORK

There are some things we can't prevent.  Work does need to be completed but if you can handle the other stresses like money, family and diet, then you will be able to manage your work stress more easily.  Imagine trying to work when you are hungover and haven't gotten enough sleep; it's overwhelming.  Take care of yourself in all aspects of life and work stress won't bring you down.
[rspad300x250]
Taking these great tips into consideration, it is still highly beneficial to try a therapeutic treatment such as the sound bath.  If your experience is anything like mine, it will serve to relax and calm your mind.
I started out running late and worried about disrupting the other participants.  The room was extremely quiet and as I laid down, a panicked thought of my phone going off made me anxious for it to be over before it had even started.  Not exactly the best beginning but once the acupuncture needles were stuck into my head (forehead, scalp and everything!), I immediately forgot about the phone and excess noise.
As the crystal bowls sang, and therapist Philip Allan Jacobs began chanting, I was quickly transported to a meditative state.
For the first little while, I wasn't sleeping but my thoughts were very fluid.  Nothing was concrete and nothing seemed important.  At some point I fell asleep.  When I awoke it was nearly the end of the class and I was a little restless.  But once I sat up, it was like that calm fluidity washed over me again. The rest of the day was interesting.  I went through the motions of a regular Tuesday but I felt light and mellow.  I don't live a particularly stressed life but I felt the difference immediately, I imagine sound healing would be very useful for others on a more hectic schedule.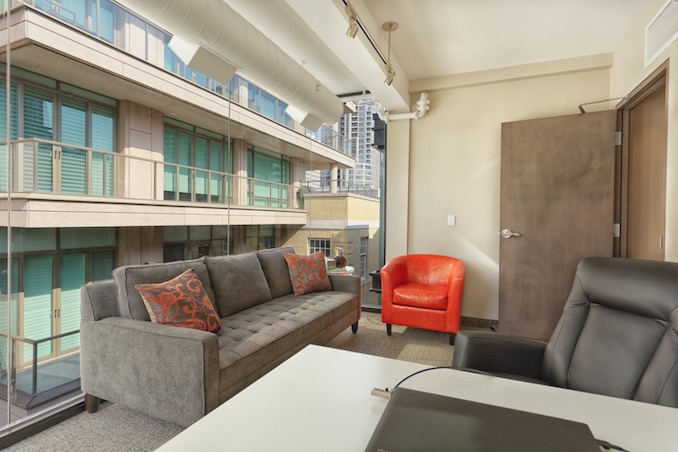 To learn more about Helix Healthcare Group and their newest location, visit helixhealthcaregroup.com.
Photos courtesy of Helix Healthcare Group