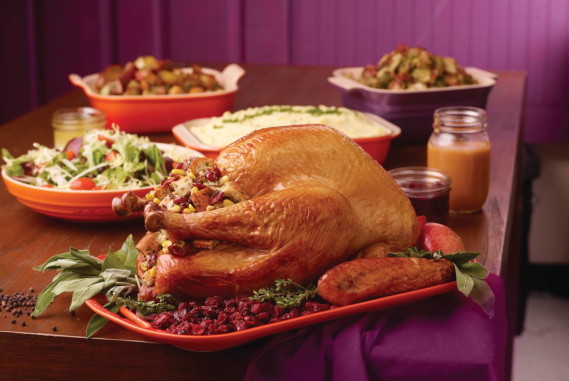 The holidays are fast approaching and planning is underway with friends and family. Who's cooking the Christmas Dinner? When? Where? Who's making what? Sure, we can create a feast at home but there are other options to help ease in the season of good cheer. This post was inspired by my friends who don't have the space to cook up a full on turkey dinner. Here are ways to enjoy the holiday season without the fuss. You can place your orders but make sure you check for pick up or delivery date options.
Make it look like you've spent all day in the kitchen but really, you've just ordered it all and you didn't even break a sweat!
McEwan's Turkey Dinner with Fixings is available in three sizes. Includes a whole turkey and McEwan's Own stuffing along side traditional favourites. Small serves 7-10 people $210 and goes up to large that serves 15-20 people for $399.  Heating instructions included. You can even hire staff if you need. Also available are beef tenderloin, roasted leg of lam, salmon as options. Delivery available and priced based on distance.
Executive Chef Julien Laffargue at the Four Seasons Hotel prepare your Christmas dinner for you to go! Enjoy a homestyle meal without the prep. The gourmet meal to go includes Butternut Squash Soup, Beetroot Smoked Salmon Salad, Roasted Turkey Breast with Herbs, served with Cranberry and Sage Brioche Stuffing, Gravy jus, Cranberry Compote, and Buche de Noel. ($75 per person).  Pick up only.
Michael-Angelo's Turkey Dinner Feast: $20 per person includes a complete meal with turkey, sides, gravy, stuffing, cranberry sauce. You can also order everything a la carte. Pick up only. Markham/Mississauga at this family business.
Pusateri's will up your holiday dinner game with a great Classic Prix Fixe Traditional Holiday Feast ($260 serves 8) that's worth not having to hassle. Includes one fancy appetizer, one entree (if you don't like turkey, you can pick Prime Rib, Beef Tenderloin or Rack of Lamb), three side dishes, and one dessert selection. There's also a Deluxe Package available ($445 serves 8). Pick up or delivery available.
Yitz's Deli offers a simply done Roast Turkey Dinner ($17.95 per person) that include a salad, whole roasted turkey pre-carved, gravy and cranberry sauce, mashed potatoes, green beans almandine, dinner rolls and chunky chocolate cookies.  Reasonably priced for feeding a large group. Alternative holiday menus include roast brisket of beef or Hawaiian Pastrami dinner. Pick up.
If you prefer to get fancied-up to eat elsewhere and not have to worry about cooking or cleaning up…
Christmas Dining at BOSK Shangri-La Hotel's signature restaurant, includes Christmas Eve dinner for $99 per person featuring chef Campbell's five course tasting menu with items ranging from Foie Gras Mousse with fermented concord grape, candied walnut and maple to appetizing entrées such as the Wagyu Beef Strip Loin or the Alaskan Sablefish to name a few. Guests may also select a three course prix fixe dinner starting at 5:00 p.m. for CAD$85 per person with a choice of chef's signature seared Quebec Foie Gras or Heirloom Beet and Burrata salad to start, followed by a choice of entrée such as the seasonal Slow Roasted Organic Turkey and to finish, a choice of dessert such as the "B-Wall" Honey Poached Pears. On Christmas Day, guests can gather for a two course brunch  for CAD$55 per person. The Christmas Day three-course dinner can be enjoyed for CAD$85 per person or CAD$130 (includes wine pairings)  or chef's five course tasting menu for CAD$99 per person or CAD$140 (includes wine pairings).
Cafe Boulud at The Four Seasons Hotel will have you jingling and mingling during the holidays. Christmas Eve dinner with a french twist hosts a delicious three-course prix fixe menu ($85 per person), Christmas Day three-course prix fixe menu ($95 per person), and Boxing Day Brunch two-course prix-fixe ($45), three-course prix fixe $53 per person).
Omni King Edward Hotel Christmas Day Dinner Buffet: ($109 per person) Go all out and feast like King of all Kings on Christmas Day. Gather your friends and family to savour the warmth of the season and let everyone enjoy the turkey with all the trimmings as well as seafood and desserts. Also available is a Christmas Eve Dinner Buffet and brunches.
Shangri-La Hotel has several ways to celebrate. Inspired by the Nutcracker ballet, the Nutcracker High Tea launches December 1 (2:00 pm to 5:00 pm) and held in the hotel's Lobby Lounge, Executive Chef Damon Campbell and his team of expert pastry chefs have created a new Nutcracker High Tea menu with themed Nutcracker pastries inspired from the dances in Act II of the ballet from the "Land of Sweets". These themed pastries include: the "Spanish Dance" a dark chocolate cinnamon crémeux, almond anise polvorones and white turron blando; the "Arabian Dance" a coffee cardamom crème diplomat, date molasses cake and phyllo honey crisp; the "Chinese Dance" an imperial dragon well tea cream, mandarin gelée, chestnut purée and green tea sponge; and the "Russian Dance" a Russian style gingerbread, condensed milk mouse and peppermint meringues. Other menu items include a selection of finger sandwiches and guests can savour selected tea cakes and scones served with clotted cream, house-made berry jam and "Bee-Wall" honey harvested from the hotel's new beehive. A vegetarian option Nutcracker High Tea menu is also available. $44 per person/$22 for children.
If you know of any other good ones, please let us know!