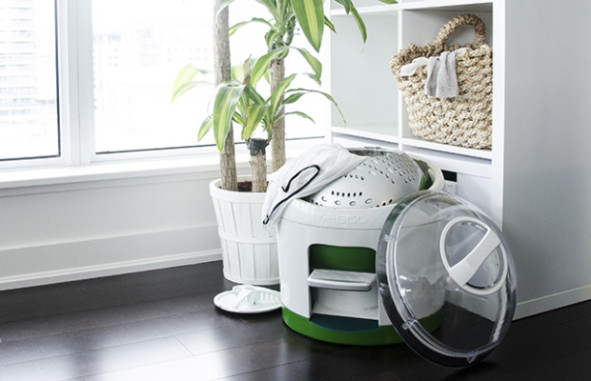 The cost and time to do laundry is not efficient if we think about it. Lugging our crap to a public laundromat is less than appealing and you really don't want to leave there but you also don't really want to stay and wait. Also, the thought of someone else's dirty undies in a publicly used laundry machine? Well, I'd rather wash it all by hand. But, when I had heard of Drumi, a portable and foot-powered laundry machine, I was interested in finding out more.
Toronto-based founder Yi Jiang was living in a downtown apartment and didn't have his own laundry machine. As a result he was forced to use his buildings laundry, which he found to be costly, inconvenient and extremely unhygienic. His breaking point was when he noticed a guy next to him throw in muddy construction boots. He then saw an opportunity to change the way we do laundry within urban areas.
So, what is it? The Drumi is a foot-powered washing machine that uses minimal amounts of water and no electricity. It can hold up to 5 lbs. of clothing. Each load takes about 5 to 10 minutes to run through the cycle(3 minutes for wash, 2 minutes for a rinse, and 1 minute for spin) and claims to use 80% less water than standard washing machines. It actually recently was awarded the bragging rights of being the Canadian National winner of the James Dyson Award 2015. The Drumi has also started getting much media attention from outlets like CBC, The Globe and Mail, Huffington Post, WIRED, Fast Company and many others.
I had a chance to chat with young designer Yi Jiang about this concept…
What has been the process like to get from idea to reality?
Since 2013, there have been many great ideas and conceptual designs, but having a clear milestone, strong execution and a great team have been the key to allow us to go through the process.
Have you pitched it on something like Dragon's Den?
The Dragon's Den is a great platform for funding and exposure we will consider once we feel we are ready. We just launched our crowd funding campaign through IndieGoGo, and so far we have been off to a great start.
I can see this also being used at a cottage to wash a few bathing suits, where else?
Drumi is an alternative solution for standard washing machines across the board. While it's great for the cottage for small cycles such as bathing suits, it is also an ideal alternative for hand washing personal delicates. For those living in apartments who do not have their own washing machines, in mobile homes/RVs, or off the grid, the Drumi is the perfect laundry solution. The Drumi is also great for baby clothes, active wear and pet clothes. The Drumi servers so many different environments and niche markets.
So far our feedback has been tremendous. When we had first launched, our initial target were people living in densely populated urban areas. As more people were introduced to the Drumi, they expressed their own uses for it and we have discovered many communities that the Drumi caters to. The Drumi has the capability to be an asset for disaster relief, emergency preparation amongst many other uses.
As an inventor, what gets you most excited?
I love experiencing the process of generating design concepts and turning them into a real product.