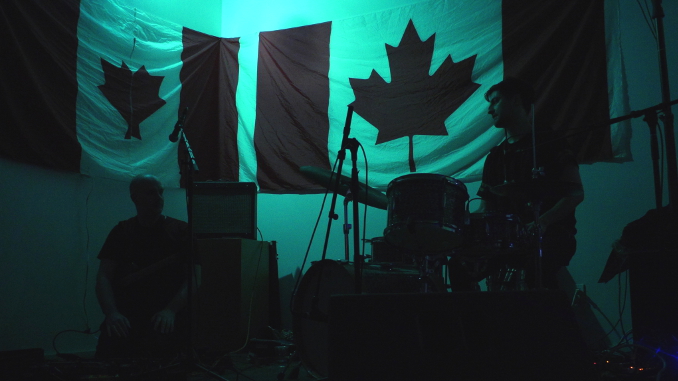 After 10 years of promoting experimental artists, Thursday night was the final hurrah for Toronto's DIY label, Inyrdisk.
To celebrate the end, the evening opened with a talk from a panel of independent label experts (with the likes of Pleasance Records and Telephone Explosion in attendance). With the appetite whet for experimental music, it was then time to begin.
Brothers in Milk started the festivities with some 30 minutes of ambient electronic music. The duo's sound was tranquil and soft but with subtle complexities, as textures glided and pulsated over one another. I have not been able to find much about them since the show, and while I'll do my best to describe it, it's never going to be the same as actually hearing it for yourself. It was the sort of music that I would want to listen to as I was writing a thesis in geology. How's that?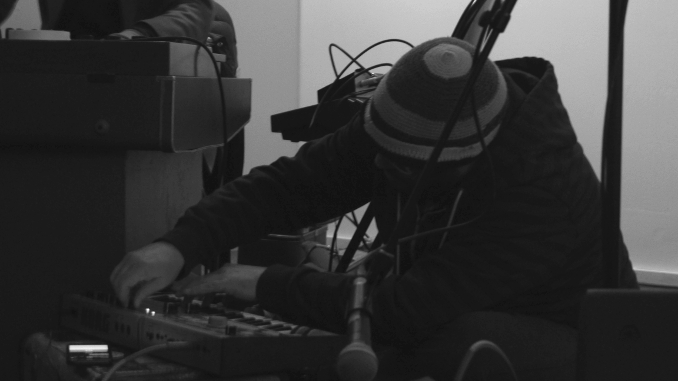 The humorously named Doom Tickler followed, living up to the title sonically. Leslie Predy's performance was kind of scary as she summoned throaty beast like sounds with the help of some clever vocal effects. It would have made quite the haunting horror soundtrack, with growls looping on top of distorted beats and backing tracks.
The primal nature of the encompassing sound was quite unlike anything that I have ever been subjected to before. It was a bit like being stalked by a beast while trekking through the jungle and, while it won't be everyone's cup of tea, I found it riveting.
Another soloist up next, Fleshtone Aura (Andrew Zukerman) gave a lackadaisical performance… lackadaisical in an intentional way. Standing in front of an open box, the contents of which were (and still are) unknown to me, the music had a distinctly electroacoustic approach with lots of pre-processed sounds combined with some clever live manipulation. Think Trevor Wishart's seminal work, "Red Bird" from the mid 70s (if you've not heard it and you like this stuff, give it a listen because it gets really freaky).
Fleshtone went through stages of creating solid textures of about two seconds and then left us for four or five in complete silence, which acted to draw some tension and nervous energy from the audience. At one point he nonchalantly ejected and threw some sort of disk to the side during one of the pauses, which left me wondering if the sound it made was an intentional part of the performance or not! Getting the biggest hoot of the night, a segment with incessant laughing samples was ridiculous and entertaining. As his set drew to a close, he stood waiting patiently for around 30 seconds before saying "thanks" and unplugging his stuff.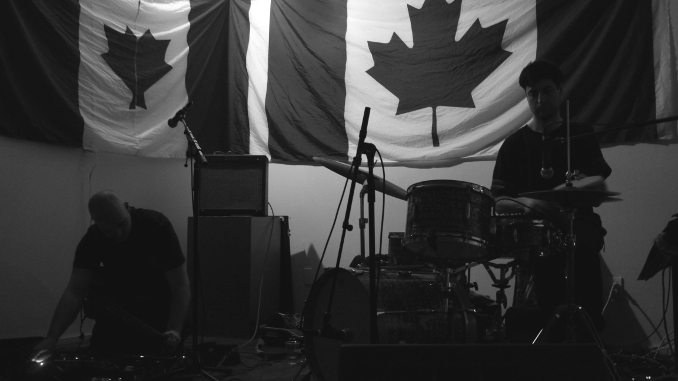 Closing this eclectic evening, Not the Wind, Not the Flag brought on more instrumentation than the rest of the acts put together. The set was split into three segments, so far as I could tell. Drummer Brandon Valdivia started by creating textures through a combination of digital, live and looped percussion sounds while Colin Fisher got on the floor to control his seemingly endless pedal board setup. It was totally mesmeric.
Colin picked up his sax and Brandon his sticks for the next track, and they started hammering out some intense jazz influenced grooves… it was like watching the film Whiplash, but without the anger. I'm privileged to have seen my fair share of live musicians, and being a drummer myself, I really can appreciate Brandon's style and improvisation. It was a true spectacle.
As the instrumentation moved to electric guitar, they ended with more of the same, an intense and high-tempo musical assault. Even though the musicianship was flawless in the final two segments, somehow the subtlety and unusualness of the opening really stood out to me.
So my first, and last, Inyrdisk evening came to a close. It's this sort of stuff that makes Toronto a great place for experimental music.
Check out the Inyrdisk website.