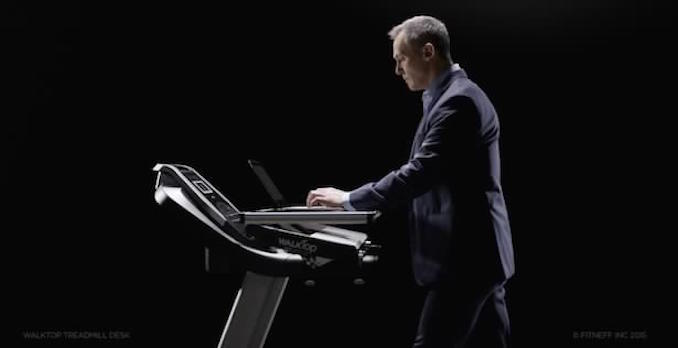 There's really no need to push the treadmill desk idea.  We all know it's a fantastic idea (and are probably wishing we had come up with it first) but the previous models were big and bulky, not to mention expensive!  So when I was invited to the launch of The WalkTop by Fitneff, I was surprised to hear the price.  At under $500, the transparent desk installs to most any treadmill in less than a minute and is ready to use.  It's fully adjustable, even for my 5'2" frame, and moves with the treadmill allowing you to walk on incline as well.  It's definitely the next generation of desks that's exactly what the people want.  We chatted with Ron Bettin, President and Co-founder of Fitneff to find out more.
Who do you recommend The WalkTop for? Is it safe for everyone?
The WalkTop™ is for anyone who would like to move instead of sit. Walking is one of those near perfect exercises; pretty much anyone can do it, it's free and you don't need specific training or coaching. If you own a treadmill, then we recommend you purchase a WalkTop™, as it allows you to be active and productive simultaneously.
The WalkTop™ is safe when used for walking at slower speeds. Running with the WalkTop™ installed, or any treadmill desk for that matter, is dangerous. Also, the WalkTop™ is not for children as it is designed as a productivity tool for adults.
What should people expect when first starting out? Do you need to work your way up and eventually should you be walking for your entire work day?
The purpose of the WalkTop™ is to replace sitting for 2 to 3 hours per day and is not intended to be used for periods longer than 60 to 90 minutes at a time.We recommend a 30 to 45 minute slow walk while working, then stop the treadmill and stand for 30 to 45 minutes, then return to sitting for 30 to 45 minutes. Changing positions frequently is important for your body.
This cycle of walking, standing, sitting repeated 4 times throughout the day results in 2 to 3 hours of walking, 2 to 3 hours standing, and 2 to 3 hours of sitting. At the end of the day, remove the WalkTop™ and enjoy a brisk 30 – 45 minute walk or run on your treadmill. You'll be surprised how many miles you log by using this technique.
Keep in mind, there's nothing wrong with sitting. The goal is to reduce the hours we spend sitting, not eliminate sitting entirely.
There are other treadmill desks out there; how is The WalkTop different?
The primary difference is that The WalkTop™ is easily removable so you can still use your treadmill for running and exercise. Other desks that work with traditional treadmills are more or less permanent which makes it a challenge to use for any other activity such as running. Additionally the WalkTop™ was designed to fit on most treadmills, is light and compact and can be used as a standing desk just by stopping the treadmill. It is ergonomically tested, meaning that it can also easily adjust to the most comfortable height and incline for each user.
How has the reception here in Canada, specifically Toronto, been for The WalkTop?
The reception for the WalkTop™ has been tremendous. On January 28 we had our official launch at George Brown College to introduce The WalkTop™ treadmill desk to the media and other guests. Based on the initial feedback, we have introduced a welcome solution to the problem of sitting disease.
Does Fitneff offer other products to keep people active at their desks?
The WalkTop™ is designed with a patent pending accessory rail and Fitneff™ plans to launch some cool accessories in the future to allow users to customize their WalkTop™ experience. Fitneff™ is dedicated to provide innovative products and solutions that help busy people make their productive time more active, both at work and at home!
Visit Fitneff for more information