My name is Rob Campbell, and I love birds. I own a Bird Photo Booth which I bought online, then customized it to make it better. I thought it would be neat to equip a bird feeder with a motion detector and camera, and use technology to get close-up shots of bird's faces. I wanted to look into their eyes and see if i could guess what they're thinking…
To get started, I bought a couple of things online.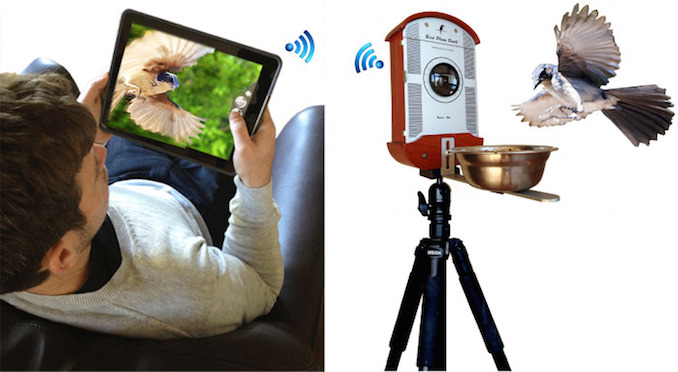 The Bird Photo Booth is the end product of Bryson Lovette's successful 2012 kick starter campaign. It combines a bird camera with a motion detector on a bird feeder – the simplest way is with an iPhone 5C, but we started with a GoPro Hero 4.
My friend Brian Carr, a news producer and gadget guy at CP24 Breakfast, helped me put it all together, and donated a tripod to the rig. I bought the other tripod at Queen Glad Pawn shop for five dollars. When we first put the camera into the rig we downloaded and installed the GoPro app and made our smartphones trigger the shutter – it worked marvelously.
But as an automated photography solution however, the Bird Photo Booth had yet to meet our needs – because it wasn't automated. A GoPro camera doesn't have a built-in motion detector. So bird watchers have two choices; they can buy the third party dongle, or sit near the photo booth and watch it all day with their finger on the RF trigger. And also I found the wide angle lens on the GoPro Hero 4 (which can be adjusted) doesnít ever really get narrow enough.. And I found the lens that came with metal photo booth made it even harder to get a good (undistorted) close up shots of the birdsí faces. So we rejected the GoPro and the front lens panel and foam cushions of the original booth.
David Suddaby, a motion picture photography blogger in Toronto volunteered his time to test Apple iPhone motion detectors apps, and John Con donated the high tech hardware. He bought the photo in the Eaton Centre without a plan * New foam was cut, and new apps were tested until David determined the iPhone 5c with the HD Camera Motion Detector app worked best. You can read more about the rigs and the evolution of the bird photo booth on the Birds of Toronto website blog's first post, Introducing the Bird Photo Booth.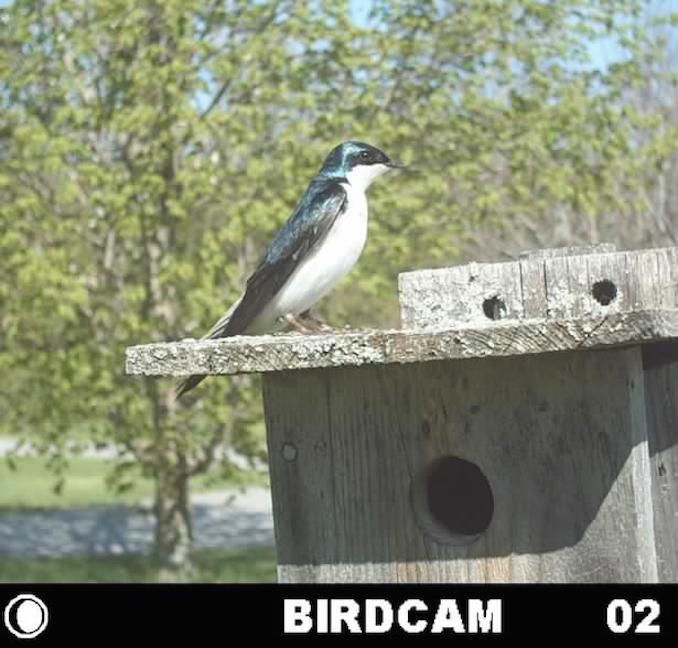 The above picture is the very first picture taken with my new improved Bird Photo Booth. I snapped this shot while testing the rig in the country. Its a blue swallow (Hirundo atrocaerulea) a small passerine bird in the swallow family. This was taken by the Wingscape BirdPro 'trail camera' we are using in tandem with the iPhone system inside the feeder rig.
Vigorate Digital loyalty programs made a huge contribution by lending their software and one designers' time to help make the Birds of Toronto website possible. The site is basically showcases the weekly galleries of pictures in competition for prizes and accommodates a tell-all blog that up[dates readers on various deployments and contest developments.
Introducing the Toronto Bird Photo Booth Business Challenge 2014
To share the excitement of our fully automated bird photo booth contraption, and to raise awareness for urban birds while simultaneously saluting bird friendly business and business people, we created the Toronto Bird Photo Booth Business Challenge 2014. The task is simple: if you want to raise attention to your bird friendly property, then come take the challenge. Host the bird photo booth for one week, and take best pictures of the characters you see and hear and capture in the trees outside could win prizes from sponsors in October.
Toronto Guardian web magazine will carry updates through out the summer as an official media partner.
At the end of the year, a panel of notable birders acting as independent judges will determine the,
1) Best bird portrait
2) Best group shot
3) Best gallery
4) Rare species, or artistic shot
Contest Ends: October 1st 2014. Shortly thereafter the Toronto Bird Photo Booth Businesses Challenge 2014 story will come to a grand conclusion at a gala event in mid October 2014 , a ceremony in which all the challengers will be invited to attend.
Stay tuned for Week One to see what birds Paul Peic captured at his business address at Bluffer's Point Marina on Brimley Rd.