From the moment we're brought into the world, we're told who we are. We're pushed into a wave of reality that tells us whether to like the colour pink or the colour blue. It tells us whether to play with Barbies or Lego and whether to wear makeup or play sports. Some people role with this wave and accept the constructs of gender identity without a second thought. But others, like 23-year-old Markus Harwood-Jones, choose to question this complexity of life.
This August, Markus will premiere his documentary Mosaic. The film takes an in-depth journey into transgender communities, and explores the meanings and effects of gender identity. The project was inspired by Markus' own journey of self-discovery, particularly during a gender transition in his late teens.
"I had this very complicated experience with gender," he explains. "I had all of these questions like, 'What does it mean to have a gender?' and, 'Who makes up what gender is? Is it social or is it coming from inside of me?'"
So, at age 21, Markus set out to answer one of humanity's toughest questions: What is gender?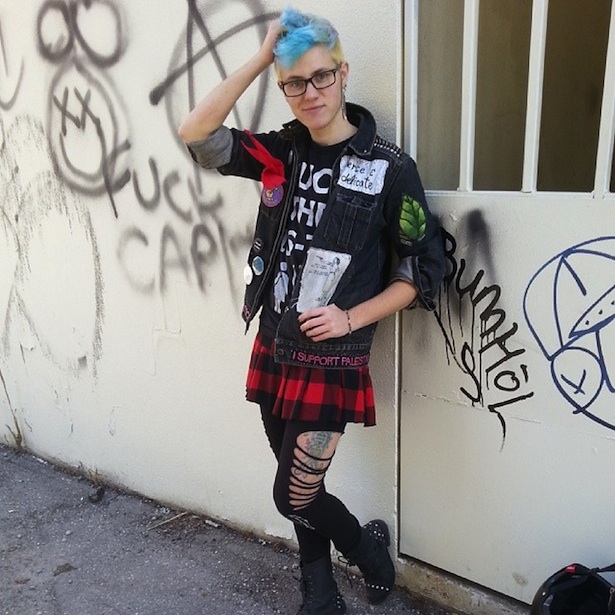 He put together questions, research, and posted an open interview call for anyone who wanted to share their experience. "The whole thing sort of reminds me of how my transition happened," he says. "…All of the sudden, all my ducks lined up in a row and it was like, okay, now's the time to strike."
Around this time, Markus went through a period of homelessness. Rather than viewing it as a setback, however, he saw the situation as an opportunity. "I decided I was going to do some travelling. You know, put a positive spin on a shitty situation," he says. He sold his artwork on whatever streets marked his temporary home, and used the money towards bus tickets. He travelled all across North America, from Toronto to San Franciso, and interviewed close to 50 trans individuals along the way.
Almost all people involved in the film are trangender, including the musicians who created the film's soundtrack. "As a trans person…I always see [trans celebrities] on programs where they're being mediated through a cisgender* audience, or interviewed by a cisgender interviewer on a cisgender network," he says. "I was really tired of that."
(*A cisgender individual is someone who is not trans.)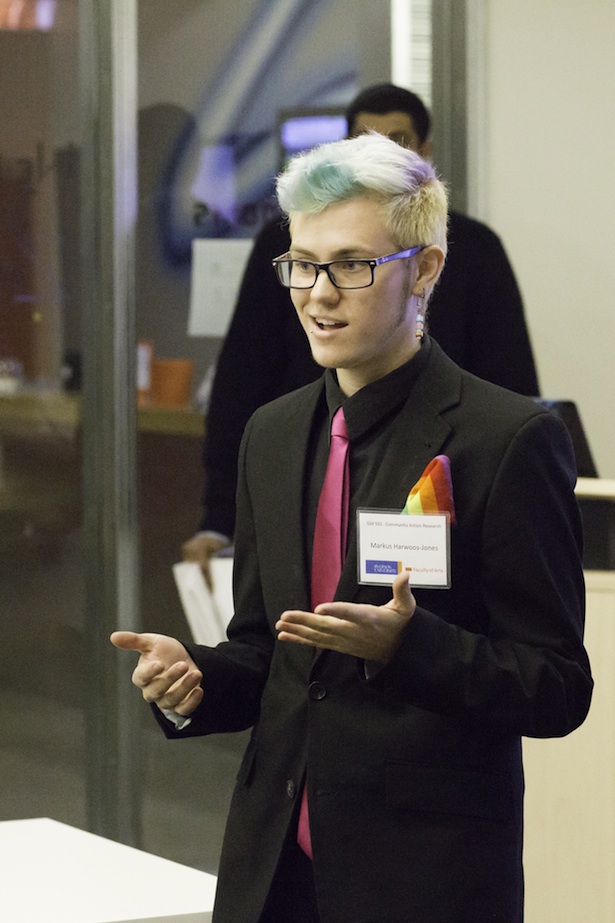 As Markus says, the film is an emotional rollercoaster. You will laugh, you will cry, and you will think. Through the people he met and the stories they shared, he hopes that Mosaic will stay true to its tagline, "A Documentary and Dialogue," and open a door of conversation within both transgender and cisgender audiences. "I'm hoping people will walk away asking a lot of questions," he says. "…Stuff is always more complicated than you think."
Although most of the funding during production came out of Markus' own pocket, he and the film's co-creator Shane received funding from Ryerson University in 2014. The grants have mainly been used towards post-production (which Markus says was surprisingly pricier than the production of the film), and the film's opening event.
Mosaic premieres on August 28, 2014 at Buddies in Bad Times Theatre. There will be live musical performances throughout the night as well as DVDs of the documentary available for purchase. Markus and his team are using what he calls an "anti-oppressive framework" to make the event as welcoming as possible. Along with booking a wheelchair-accessible venue, they've used environmentally friendly DVD packaging, hired an ASL interpreter for the deaf community, and made the event child-friendly.
As for how the documentary will affect people, Markus is unsure. Going into the project, Markus says he expected to simply reaffirm his own beliefs about the transgender community. However, not only did he uncover a story about community, but he also dug deeper to explore the individual experiences and struggles which make each story unique. Tales of transphobia, racism, and sexism amongst others, come together to create a dialogue that is not only important for trans communities, but for the growth of human kind.
"I feel like the nature of the film is that it will forever be in flux," Markus concludes. "A film doesn't exist on its own, it exists with an audience, so every time someone watches that film they're going to have a different experience with it, different thoughts about it, different conversations around it. So, I'm starting to learn to recognize it simply as one push in a wave of things that are happening."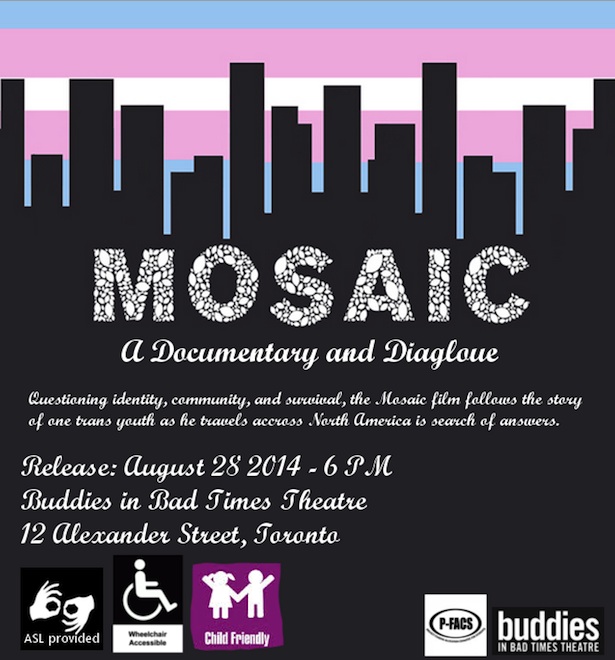 Markus is currently looking for volunteers and transgender performing artists to help with the Mosaic release party. If you're interested, contact him on his website at www.mosaicdocumentary.com.
Release party tickets will be sold at the door for Pay-What-You-Can, with a suggested donation, which is TBA. Stay tuned to the website for more details!