This year began like any other for the Toronto Blue Jays. Heaps of Toronto's finest (over 50, 000) marched into the Rogers Centre on April 9th for the home opener, fresh from having once again talked themselves into believing in a young Blue Jays roster.
Yes, they were young, which in sports is a euphemism for inexperienced, but they didn't lack promise. Jose Bautista was one year removed from a near-MVP season, while Ricky Romero was finally establishing himself as the reliable "ace" in the Jays rotation. There was buzz about Brett Lawrie, who was coming off of a promising 2 month end of the season stretch, and about the 2nd Wild Card spot, which meant the Jays could conceivably make the playoffs by finishing 3rd in the AL East.
Expectations within the organization were so high that the Jays even decided to splurge on new uniforms – throwbacks to the pre-lockout days of glory.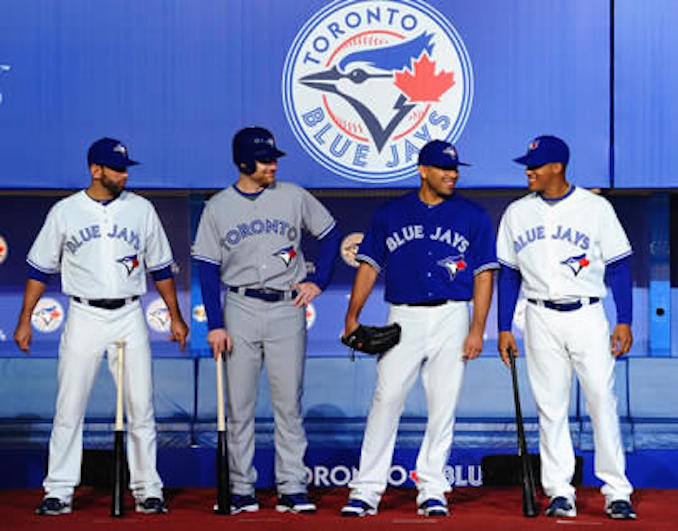 Nothing gets the city of Toronto to buy into sports figures faster than a little nostalgic fashion (see Terrence Ross' draft night bowtie), so the seats were set to be packed.
I could tell you that Toronto is now only 3 games back of that Wild Card spot, but that would be misleading, because even though they're so close to the playoffs, everybody else is too. The Angels, A's, Orioles, White Sox, and Rays are all ahead of Toronto, and the Red Sox and Indians aren't far off.
Since the Jays playoffs hopes are looking dimmer than the lighting on this season of Breaking Bad, and because the declining health of Toronto's young roster seems to be perpetually holding them back, nearly all baseball incentives for going to a game have vanished. For that reason, I'm here to offer you 5 NON-Baseball related perks that make heading down to the Rogers Centre for a Jays game an awesome idea:
1. Eating and Drinking
A baseball game is like an outdoor BBQ, which is why most of the fun comes from extra-baseball activities. There's music in the air, vendors selling cotton candy in the aisles, and action all around. The downside of it being just like a fair is that the Rogers Centre charges about 4 times as much as they should for refreshments. The upside of this is that everything tastes 4 times better. You've never had a juicier Shopsy's hot dog with all the fixings, or tasted a Keith's that was quite as cold. Is it because you were stuck in the middle of your aisle in between 20 Jays fans that seemed unwilling to budge until the 7th inning stretch? Is it because you're dehydrated from a lack of shade, and the food that you tried to sneak in was taken away at the entrance? Yes. Yes it is. But look how much fun this fan is having on his birthday!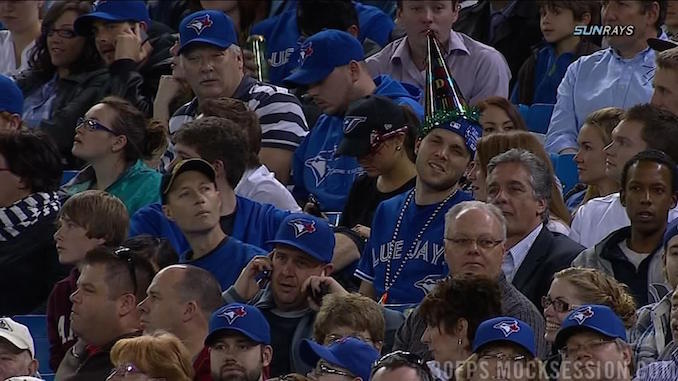 So go ahead and drink some icees and high five each other when Ricky Romero strikes out the 7th batter of the day, securing you and every other fan in the building a free slice of pizza. Seriously, have you ever chanted "Pizza! Pizza!" with hundreds of other people? There is nothing more altruistic.
2. Music
The game doesn't only provide you with an opportunity to cheer for food, but also to listen to old Black Eyed Peas hits from 2004. It takes about 5-6 years for a popular song to make it into the rotation of the Rogers Centre, and this awkward phenomenon has led to fans and players alike being pumped up by "Let's Get It Started" again. Personally, I can't wait for the release of the Rogers Centre's greatest hits of 2012, featuring new releases such as "1, 2 Step" and "Everytime We Touch", whose top YouTube comment states: "I love this song because of its fast pace". Us too, "CV1797", us too.
I've always thought that given the chance to pick my own walk-up music, I would go with something ridiculous like a Hilary Duff song, but these guys seem to take it pretty seriously. Did Lyle Overbay once get pumped up by "Jeremy"? I guess so.
3. Unruly fans
Baseball fans can be pretty awesome, mainly because they can be pretty drunk. I remember going to a game when I was 14 years old and hearing someone hurl insults at Melvin Mora of the Orioles for being friends with Rafael Palmeiro during his steroid scandal. The exchange would go something like this:
FAN: "Hey Mora, where's your best friend, Rafael Palmeiro?"
MORA: Looking downtrodden and frustrated.
(the same fan also belted out the classic: "Hey Ump, get off your knees, you're blowing the game", which at the time I thought was one of the funniest things I had ever heard.)
Palmeiro actually wore EAR PLUGS that night because the Toronto fans were booing so loudly! A big part of going to a baseball game is being able to yell things at the umpire while being heard by hundreds of people – or listening to the disgruntled screams of others. These are the people who argue balls and strikes from their 500 level, left-field sideline seats. There could not be a worse vantage point from which to debate the legitimacy of a strike, and that's what makes baseball fans so fantastic.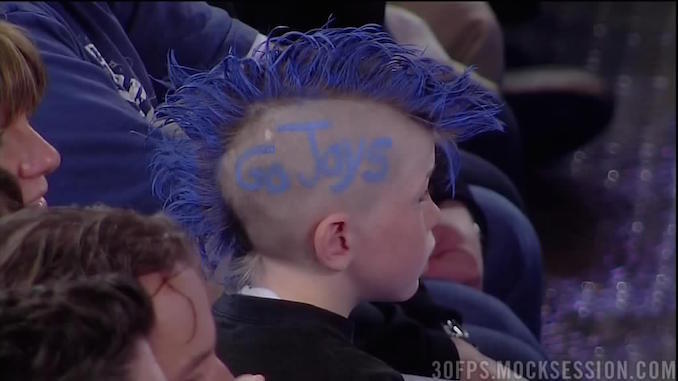 4. Jumbotron
In high school, some friends of mine would repeatedly make getting on the jumbotron the only goal of their Blue Jays game experience. This phenomenon seems to be the end-game for a large portion of attending fans these days, and the validation that they receive when their unsuspecting faces are plastered all over a giant screen in front of thousands of people is indescribable. With that one moment, they've had enough fun to last them an entire seasons worth of games.
They are the storm chasers of the baseball world, spending the rest of their fan existence searching for that one rush of adrenaline. Granted, instead of high-tech meteorological instruments, they carry signs that used to read awesome things like: "Dios Mios, Rios" or "Hit It Far, Millar". This year, however, has mainly featured sexual innuendos made towards Brett Lawrie or JP Arencibia, the best of which being: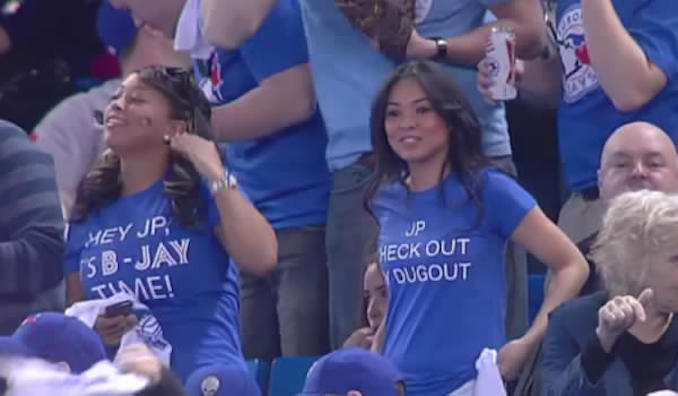 5. Baseball players
Baseball players are not the super-serious athletes that you may find in the NBA or NFL. Since they're sitting for a large part of the game, they spend a lot of time having fun with each other. It isn't hard to notice Jose Bautista subtly distracting the 1st baseman with his Latin charms, or JP exchanging some quick thoughts with the batter.
A more than honourable mention for his in between play behaviour is our very own Brett Lawrie, whose terrifying passion is displayed pretty much as often as you're willing to look at him. Specifically watch out for him tossing his gloves all over the field after a disappointing at bat and then sulking by the 3rd base waiting for Kelly Johnson to deliver his glove. Here is a precious moment of passion from Brett Lawrie earlier this season – Brett Lawrie – Phonies (Threw It On The Ground)
Article writen by Dragos Nica