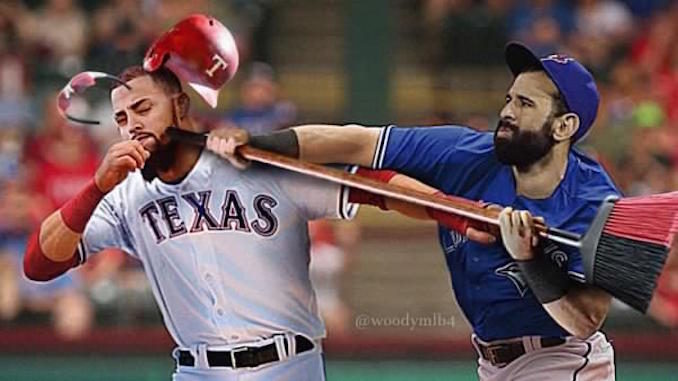 Fans at the game and fans on social media were elated with the win by the Jays last night in Toronto, especially since the win came at the expense of Texas Rangers' player Rougned Odor.
Odor became Toronto enemy #1 in May when he punched Jays' player Bautista in the face following a slide in to second base by Bautista that took out Odor stopping a double play ball to first.
The Jays got their revenge on October 9th, 2016, sweeping the 5 game series against the Rangers and moving on to the ALCS.
Here are a few of the best shots at Rougned Odor from fans.
I have so many Rougned Odor jokes. 99% of them are bad. But not as bad as that throw to 1st.

— Gareth Wheeler (@WheelerTSN) October 10, 2016
Odor punched Bautista.
And the Blue Jays just punched the Rangers' ticket home.
Goodnight.

— Ian Hunter (@BlueJayHunter) October 10, 2016
Odor with the final error that loses the series #OurMoment pic.twitter.com/fCWuL3xAv0

— Arda Ocal (@ArdaOcalTV) October 10, 2016
Odor can throw right hooks but he can't throw to his first baseman.

— Cause We're Canadian (@MadelnCanada) October 10, 2016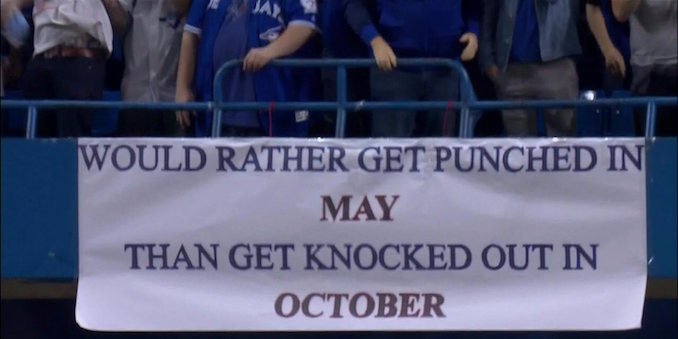 Boy, a throw like that must feel like a punch to the face. #OurMoment

— Chris Hayes (@CptnPajamaShark) October 10, 2016
On the bright side, Donaldson's headfirst slide on the winning run was the first time Rougned Odor's arm ever sent a Blue Jay to the ground.

— Down Goes Brown (@DownGoesBrown) October 10, 2016
If you thought odor could throw a punch, you should see him CHOKE

— Drunk John Gibbons (@drunkgibbons) October 10, 2016
The #irony is crazy.@JoeyBats19 gets hit by pitch by Bush, then punched by #Odor in a game in May. Bush, Odor both on field for loss 2nite

— Dean K. (@DeanKo) October 10, 2016
People are savages ?#OurMoment#Odor#BlueJayspic.twitter.com/nKklBayDsV

— ProPiece @Home (@ProInfernape) October 10, 2016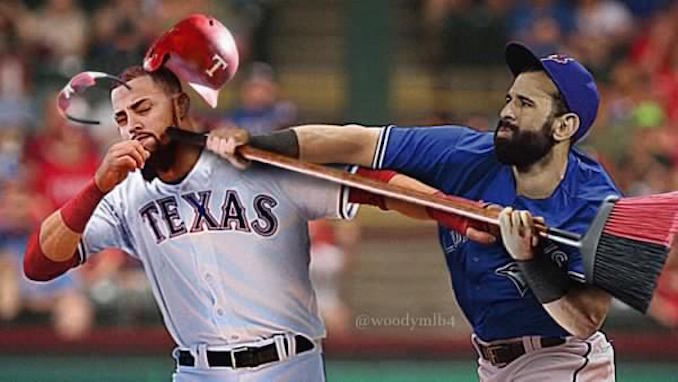 'rougned', 'swept', 'baseman' & 'tantrums' are now trending in #Toronto https://t.co/QjcGGtFAUa

— Trendsmap Toronto (@TrendsToronto) October 10, 2016
I couldn't come up with a clever enough Odor joke. The jokes I thought of all stunk.

— Dom (@WhiteSoxDom) October 10, 2016
This Odor Fanboy was really pissed
All you Jays fans talking shit after the fact is pretty typical of you cowards. Fuck all you mother fuckers !

— Thug Rougie Odor (@JoeyBatsDaddy) October 10, 2016
Even Other Athletes pitched in.
So fun to be a @BlueJays fan during these last couple years. Let's keep this going! #Odor #TheBestRevengeIsRevenge

— Taylor Hall (@hallsy04) October 10, 2016