As the year draws to a close, Ontario buzzes with anticipation, ready to unfurl a tapestry of celebrations. This article serves as your guide to ringing in the New Year with friends in this diverse province.
From the bustling streets of Toronto to the tranquil shores of Lake Ontario, we'll explore unique ways to welcome the new year, ensuring a memorable celebration for you and your companions.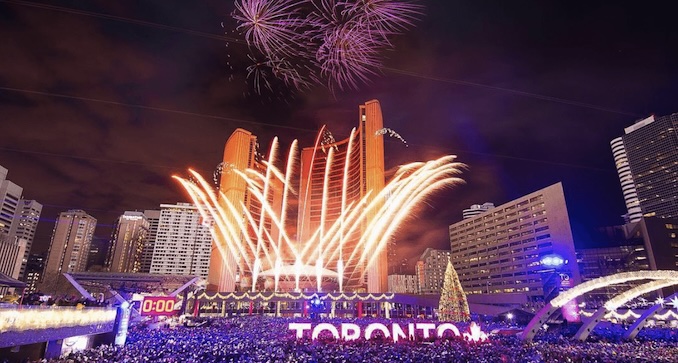 Urban Countdown Celebrations: Toronto's Nathan Phillips Square
Toronto, Ontario's vibrant capital, is a hub for New Year's festivities. Nathan Phillips Square, at the heart of the city, becomes a kaleidoscope of joy and celebration. Friends can gather here to enjoy live music performances, food stalls brimming with local delicacies, and a spectacular fireworks display as the clock strikes midnight. This urban celebration, set against the backdrop of the iconic Toronto skyline, provides a perfect setting to usher in the new year.
Nature's New Year Retreats: Algonquin Provincial Park Getaway
For those who seek solace in nature, Algonquin Provincial Park offers an idyllic retreat. Imagine a New Year's Eve surrounded by snow-draped trees and frozen lakes, a serene escape from the urban rattle. Here, friends can rent a cozy cabin and spend the evening sharing stories by the fireplace, stargazing, and welcoming the new year in the tranquil embrace of wilderness.
Cultural Soirées: Ottawa's Parliament Hill
Ottawa, Ontario's capital, is steeped in culture and history. Parliament Hill stands as a beacon of Canadian heritage and hosts a remarkable New Year's Eve gala. The evening is filled with cultural performances, concerts, and a countdown that culminates in a dazzling display of fireworks over the Ottawa River. This cultural rendezvous is perfect for friends who appreciate a blend of history, art, and festivity.
Culinary Delights and Toasts: Niagara-on-the-Lake Wine Country
Niagara-on-the-Lake, renowned for its vineyards and culinary scene, offers a gourmet New Year's Eve experience. Friends can embark on a wine tour, sampling the region's finest icewines and culinary pairings. Many wineries host special New Year's Eve dinners, where you can toast to the upcoming year amidst the charming vineyard landscapes.
Lakeside Festivities: Lake Ontario's Midnight Cruise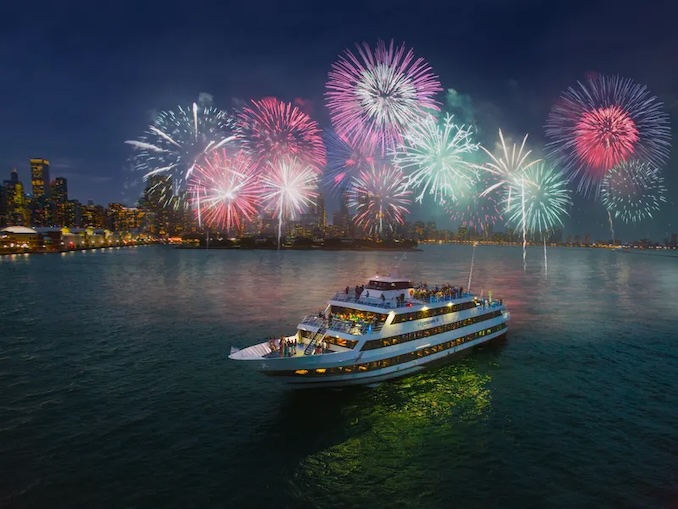 For a unique New Year's celebration, consider a midnight cruise on Lake Ontario. Board a luxurious yacht decked with festive lights and decorations. Friends can dance the night away to live music, enjoy a gourmet buffet, and witness the shoreline fireworks from the best vantage point: the lake itself. This floating festivity offers a fresh perspective on New Year's Eve celebrations.
Winter Sports and Chills: Blue Mountain Resort Adventures
Blue Mountain Resort transforms into a winter wonderland, offering an adventurous New Year's Eve for thrill-seekers. Friends can spend the day skiing or snowboarding down the slopes, followed by a lively après-ski scene. As midnight approaches, gather around the firepits for a mountainside countdown, complete with hot cocoa and s'mores.
And for those looking to add a little gaming thrill to the mix; trending online platforms like BetMGM Ontario offer a chance to try your luck from the comfort of your hotel room.
With a wide range of games and live events, it's an exciting way to add an element of chance to your New Year's Eve festivities. Who knows, you might start the new year on a winning streak!
Artistic Flair: Stratford Festival's New Year Performances
Stratford, Ontario, is synonymous with the arts, and the Stratford Festival is a testament to this. New Year's Eve here is graced with special performances, plays, and concerts. Friends who share a love for the performing arts can indulge in an evening of exquisite theatrical or musical experiences, marking a cultured start to the new year.
Historical Revelries: Fort Henry's Vintage Celebration
Kingston's Fort Henry offers a historical twist to New Year's Eve celebrations. Friends can step back in time with a vintage-themed party within the fort's ancient walls. The evening is complete with period costumes, traditional dances, and a historical cannon firing at midnight. It's a novel way to celebrate, paying homage to the past as you step into the future.
City Lights and Nightlife: Mississauga's Celebration Square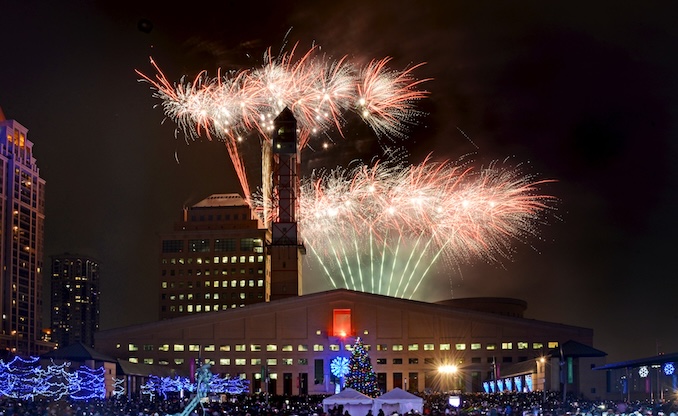 Mississauga's Celebration Square is a focal point for New Year's Eve nightlife. Friends can immerse themselves in a vibrant atmosphere with DJs, live bands, and an electric crowd. The square lights up with a kaleidoscopic array of lights, and as the new year rolls in, the sky bursts into a canvas of fireworks, making it an electrifying spot to celebrate.
Ontario offers a plethora of ways to celebrate New Year's Eve, each unique and memorable in its own right. Whether you prefer a serene retreat, a cultural gala, a thrilling adventure, or a gaming escapade, this province has something for every group of friends. As the year wanes, Ontario stands ready to host unforgettable New Year's Eve escapes, setting the stage for a year of prosperity and joy.
Amidst these diverse celebrations, it's important to remember that New Year's Eve is not just about the grandeur of fireworks or the thrill of countdowns. It's a time to reflect on the year gone by, to cherish the memories made, and to forge resolutions for the days ahead. Ontario, with its rich tapestry of landscapes and cultures, provides the perfect backdrop for these moments of introspection and camaraderie.
As you and your friends navigate through the multitude of options, consider what truly resonates with your group's spirit. Perhaps it's the collective cheer of a city square, the peaceful solitude of a lakeside retreat, or the shared excitement of a midnight toast amidst the vineyards. Each setting offers a unique ambiance to pen the final chapters of your year's story and to dream up the beginnings of the next.
So, gather your friends, choose your escapade, and step into the New Year with hearts full of hope and joy. In Ontario's embrace, find the perfect blend of celebration and reflection, setting a precedent for a year that's as rich and diverse in experiences as the ways you choose to usher it in. Here's to a New Year filled with friendship, laughter, and unforgettable Ontario escapades!