When the lineup came out for Osheaga 2023 music festival this year, we knew we had to be there. Billie Eilish and Kendrick Lamar as headliners; a whole host of other acts both big and small; a great excuse to get back to Montreal.
Waking up in Toronto on the Thursday morning, me and my photographer Desiree rushed to finish up our working duties before heading for the office exit. We threw together some bags with festival essentials; cool clothes for hot weather, long sleeves in case the bugs come, a reusable water bottle, all combinations of multi-coloured uppers, downers and levellers to keep the vibes in check.
Getting out of Toronto took an hour, as it always seems to, but soon we were flying through the Ontario fields headed for Quebec.
"NeeNawNeeNawNeeNaw" – what was that on my phone? Another Amber alert about something four hours away?
No. Not this time. This time it was something far more dangerous. A tornado warning.
Just at that very moment, the road narrowed to a single lane for construction work, except there were no construction workers, nor did it appear that there had ever been any construction done. What a cruel joke. This is it. This is how I die. Eaten up by a tornado waiting in a line of cars.
Just as I was writing my obituary, the clouds and cones parted, leaving two lanes of flowing traffic and we flew past the storm.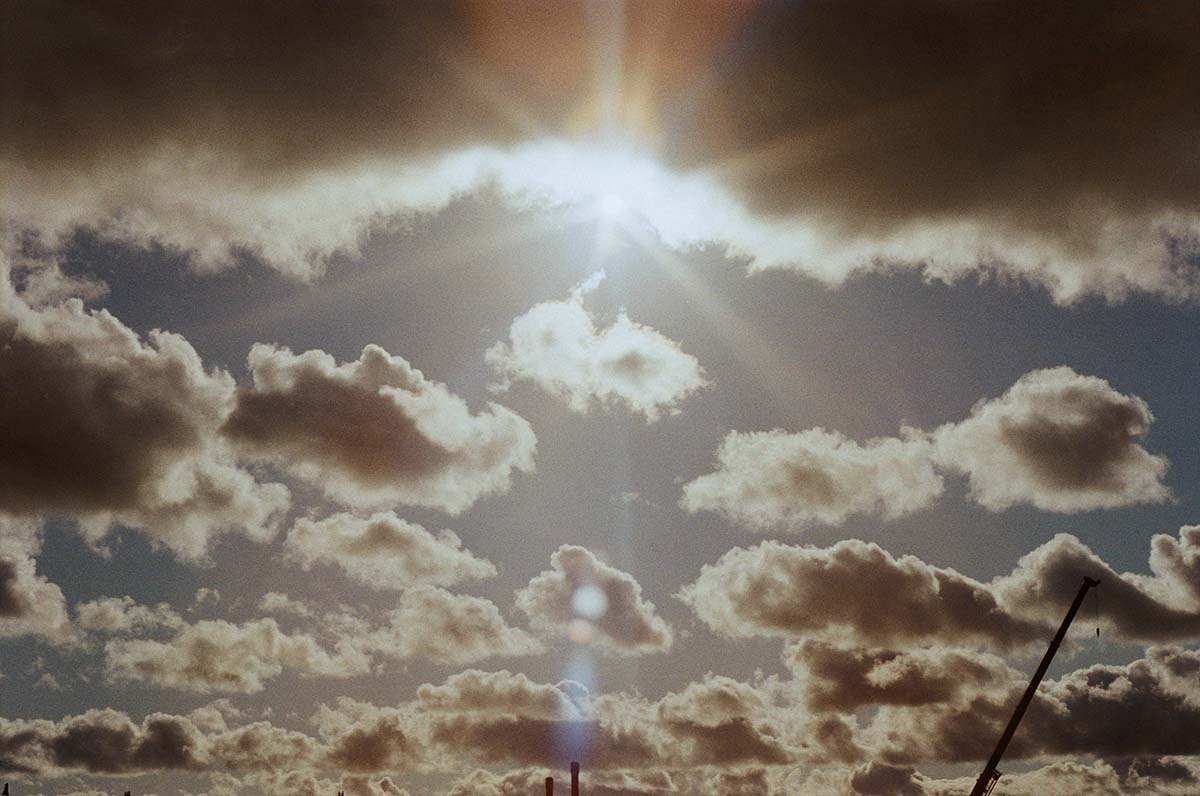 Reaching Montreal we parked the car on a street outside our temporary apartment where two signs clearly indicated that there was a 2 hour parking limit from 9am until 5pm. We rushed inside and clambered into bed ready for the start of Osheaga 2023.
The next morning the car was nowhere to be found. "What kind of voodoo is this?" I thought, surveying the area to ensure I had not completely lost my marbles.
Then, obstructed by trees, I saw the dreaded second set of signs explaining that in addition to the 2-hour limit from 9-5, there was also no parking from 7 to 9am. The bastards had towed us. Why make two signs when you can make six to confuse people!
After a quick Google search, I found the car at a local compound and paid the nearly $500 fine to get it back. I was determined not to let them embitter me… this setback wasn't going to ruin my festival!
We headed to Pharmaprix where a very friendly assistant behind the counter told us that we could have unlimited travel all weekend on the metro for just $19 a person. What value!
After jumping on a bus to our nearest station, we flew on the orange metro line to connect to the yellow, where we ascended the stairs at Jean-Drapeau station.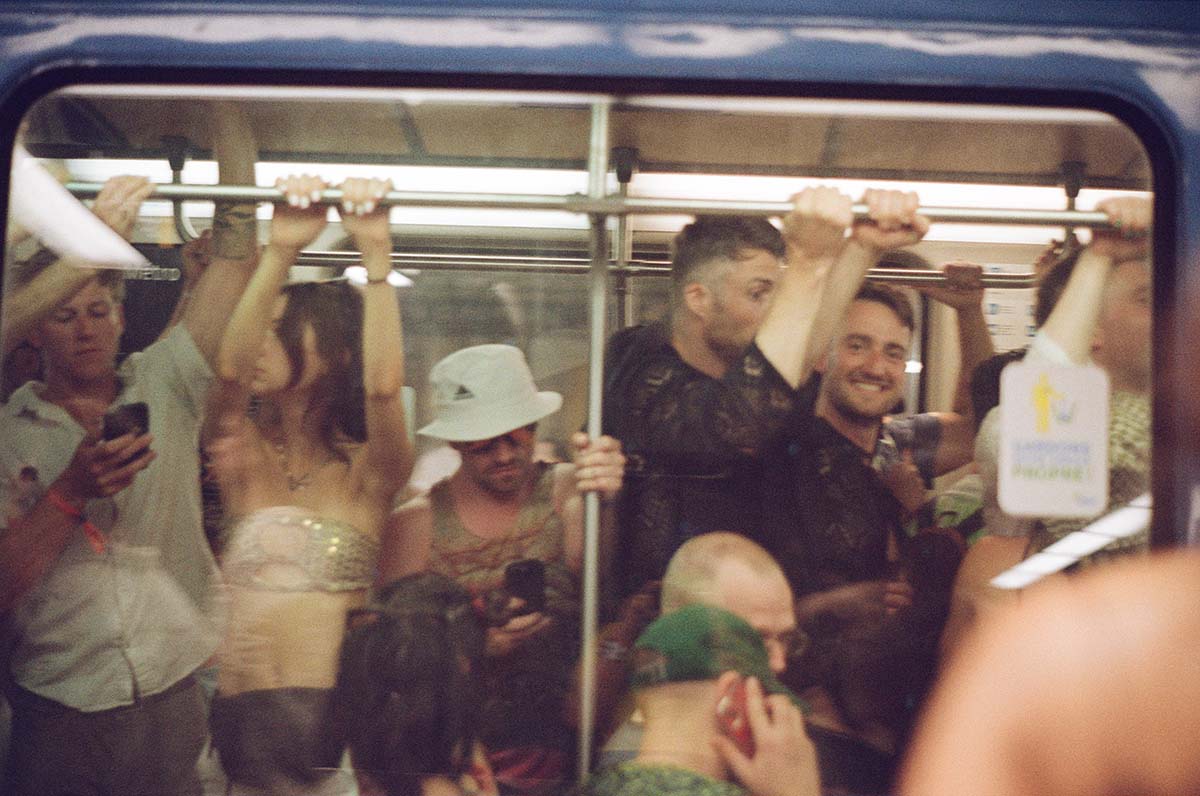 The train was packed with festival-goers of all ages and the sense of excitement was palpable. There was even a ripple of applause as we left the station, which reminded me of being in a UK cinema when they released the Philosopher's Stone (AKA Sorcerer's Stone). I prayed that this ripple for Osheaga music festival would actually be warranted this time around, because that Harry Potter movie was a load of balls.
We flew right through the turnstiles and into the festival after a quick bag check, and headed straight for a small ferris wheel which was free and gave a unique view.
First band of the day was Magdalena Bay, an accomplished pop performer (with Britney mic) supported by live drums, guitar and featuring the occasional keytar moment. From there we headed through an area shaded by trees towards the Green Stage.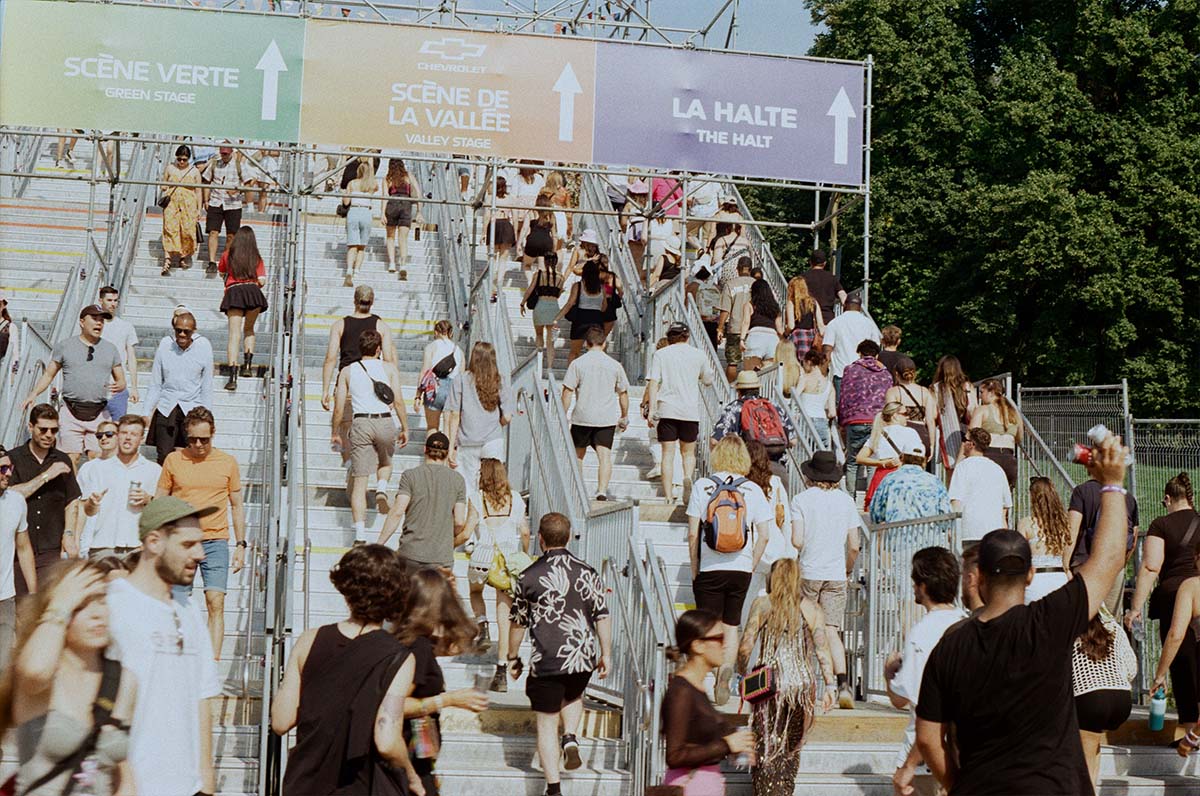 The events site on which the festival takes place features metal staircases that link the various stages. Half-way up the stairs, and looking down at our feet, Desiree smashed her head into low hanging trees.
After ducking and crawling our way up, the talk of everyone was the bizarreness of the situation. Why were there trees at chest and head height over a walkway? Did the people who erected the stairs not notice?
Security staff, acting swiftly, began to add foam padding to the trees. A nice touch, though I'm not sure how Osheaga health and safety would feel about it given the stairway was to transport thousands of people from stage to stage over the weekend!
Indeed, just a few hours after the eye watering head smack, someone had clearly stepped in and closed the area affected by the evil green and brown monsters.
That's the thing with Osheaga, it is very well organised for a festival of this size. People are on-site and attentive — we saw all manner of odd-jobs taking place on the first day to ease minor issues as they revealed themselves. From my understanding, the grounds on which the site takes place get built up especially for Osheaga and there is an awful lot of work and thought put into how to control the flow of people and ensure everyone stays safe.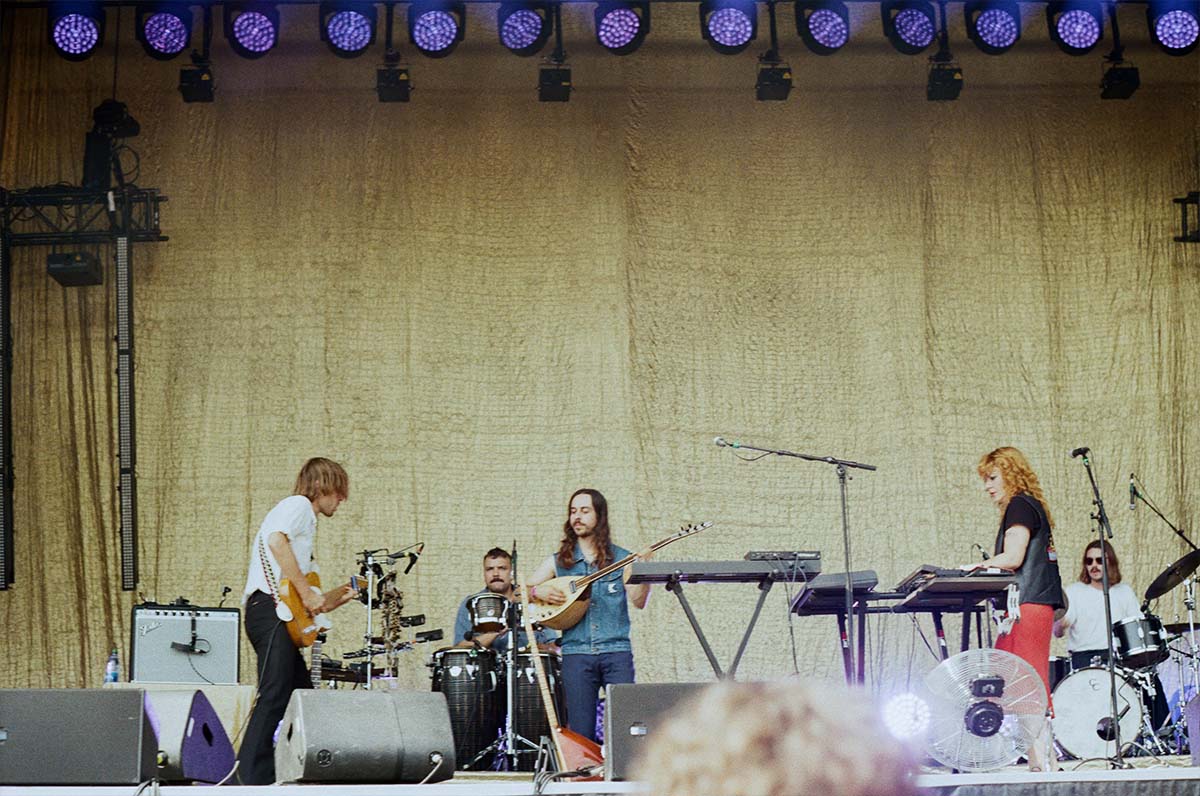 Anyhoo, back to the music where Altın Gün lit up the Green Stage with psychedelic rock tighter than a government pre-roll. Arpeggiating synthesizers were played manually in free time with the band combining traditional Turkish music with a unique verve.
The Montreal sun was really scorching now. My sunglasses / headwear combo did little to suppress the mid-day burn.
Then, without warning, a long quick spurt of holy water showered the audience, sprinkling them with pure refreshment and bliss. That way my first interaction with the Osheaga water cannons… so refreshing! Genius.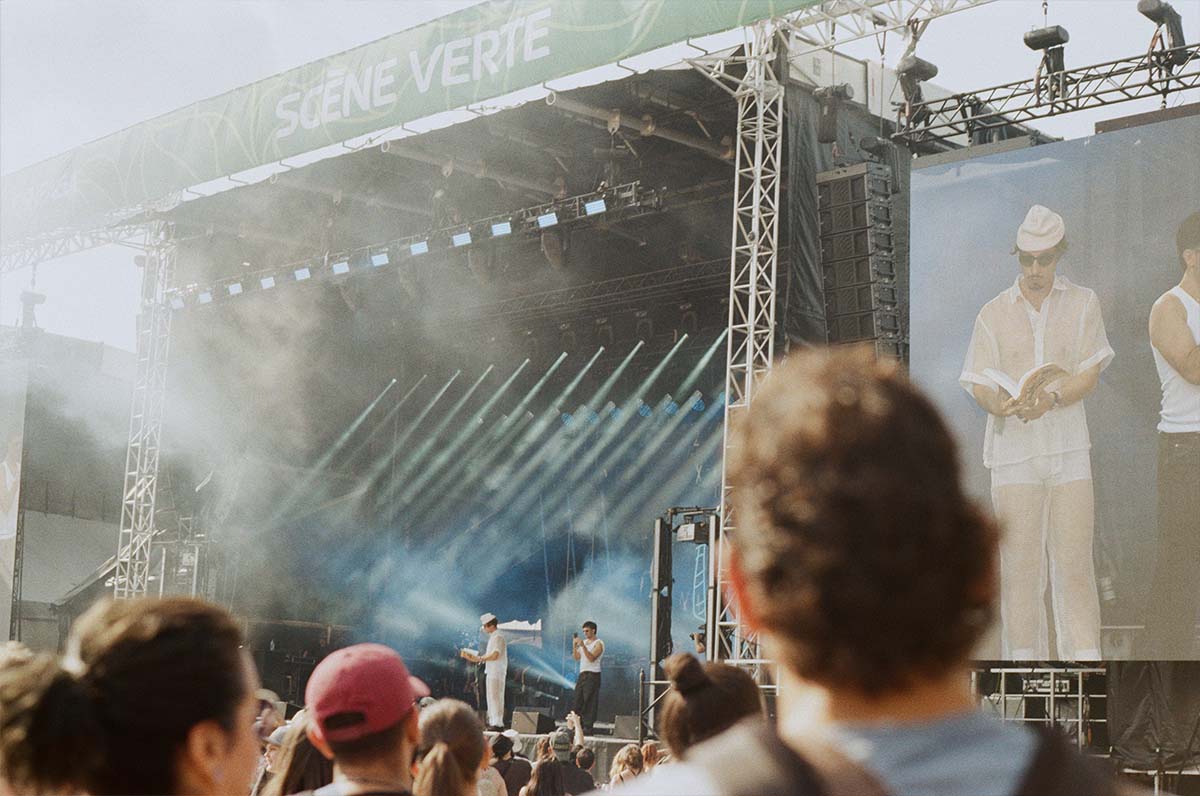 A quick taco stop filled me with the necessary juice to experience bbno$. This zany rap performer wearing a see-through suit, filled the audience with good vibes. The set eventually climaxed with him wearing an adult nappy and giving a cookbook to a crowd member.
As someone that has been going to music festivals across Europe for over 20 years (I'm not as young as I used to be), I've seen music evolve. Back in the day, bands like Metallica, Blur, The White Stripes, Arctic Monkeys, Muse, Rage Against The Machine, all brought their unique blend of rock whilst playing instruments like guitars, drums, bass, keys, etc.
In the past I've felt a little alienated by some festival programming, but here at Osheaga, it very quickly felt like they was able to successfully accommodate pop, hip-hop, electronic and rock music together coherently, without anything feeling particularly out of place.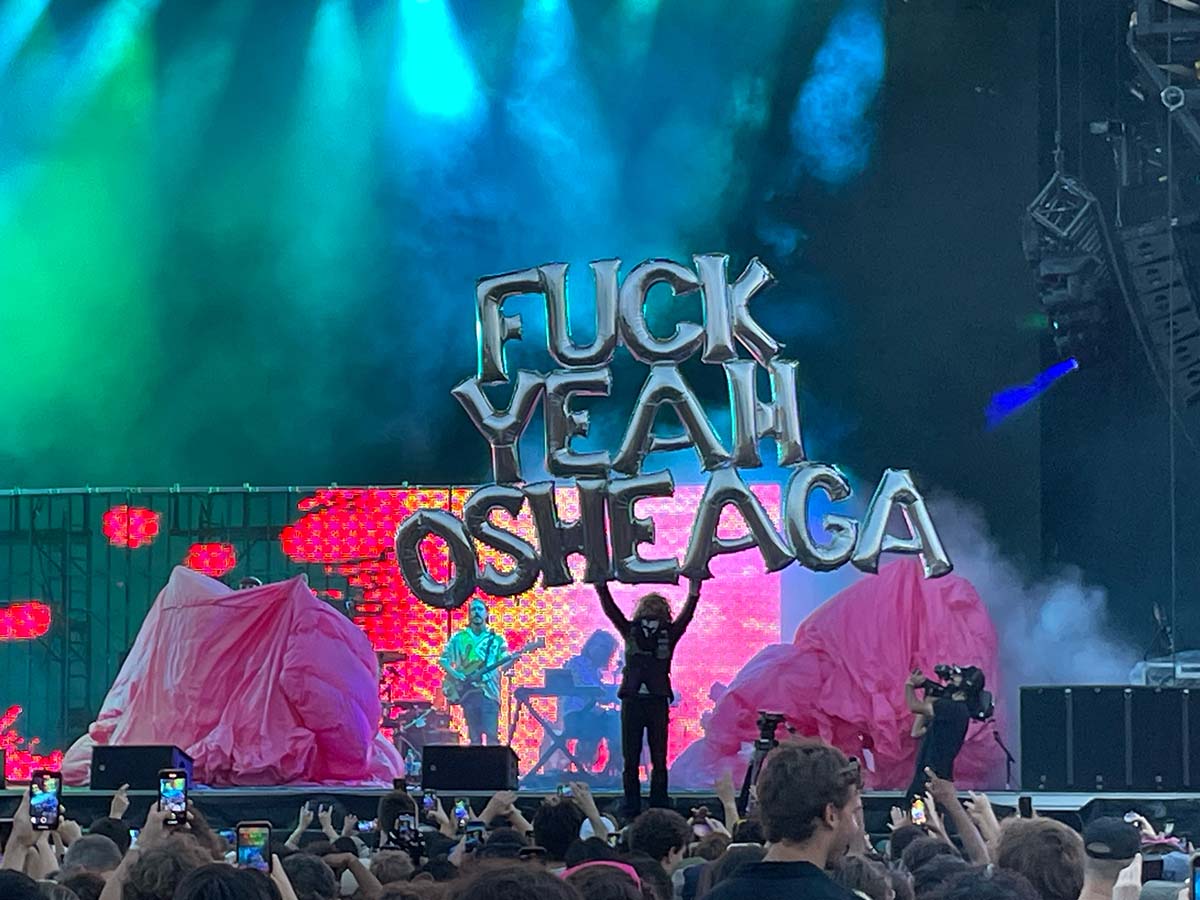 If anything, it felt a little like rock music might be on the way out. I caught a few tracks of Two Feet, which was pretty ordinary. Luckily after that I was resuscitated by L'Imperatrice, who brought some funky synth joy to proceedings. There were a few French bands playing across the weekend, and being in Quebec, it was great to see francophone artists flourishing.
The turnaround for rock was sealed by The Flaming Lips – oh my god, what a feeling. Lead-singer Wayne Coyne lit up the main stage with a twinkle in his eye, confetti, a dazzling light show and inflatable robots. Yes, inflatable robots.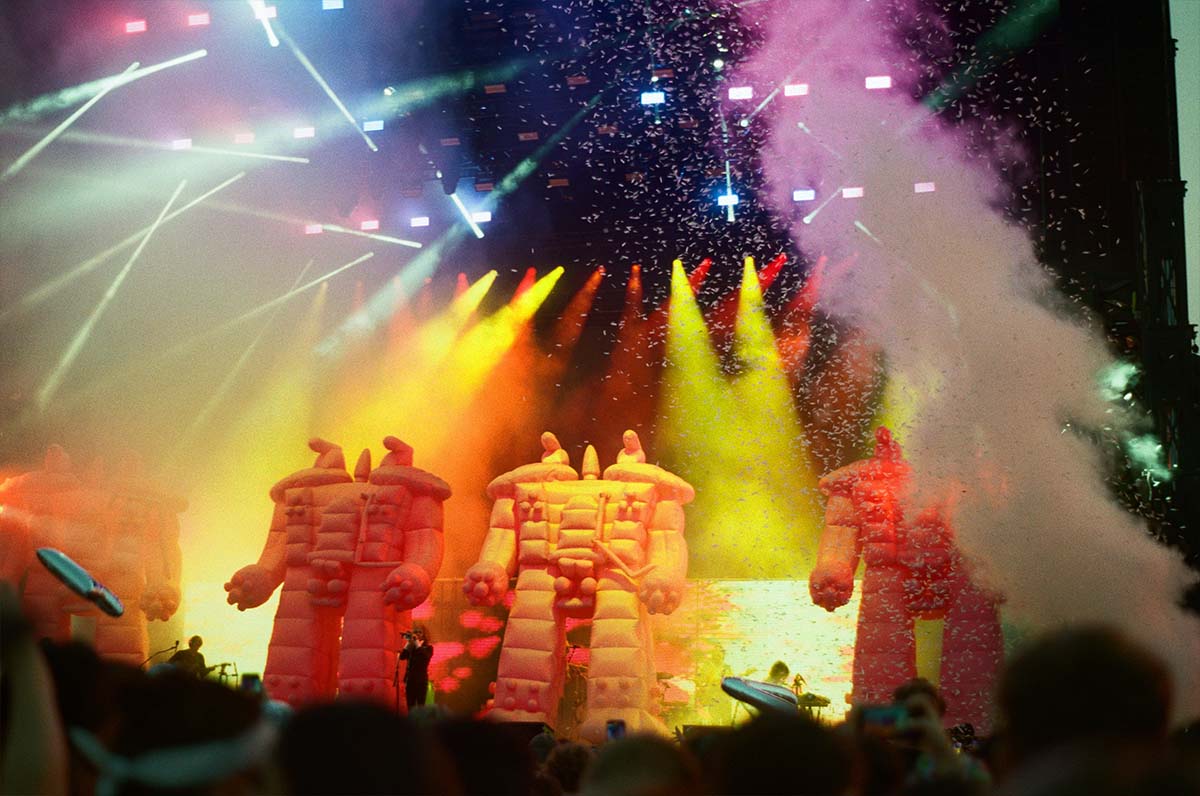 Why is it that sunset performances are always so, so special at festivals? Is it the contrast between the sun and the moon? Is it the way the density of the air relaxes and eases you into a new lucid state? I guess I'll never know but I pray for many more "sun-sets"!
From there we hopped back over to the other side of the site where Bicep performed a blistering electronic show with dazzling lights. Pure ecstasy!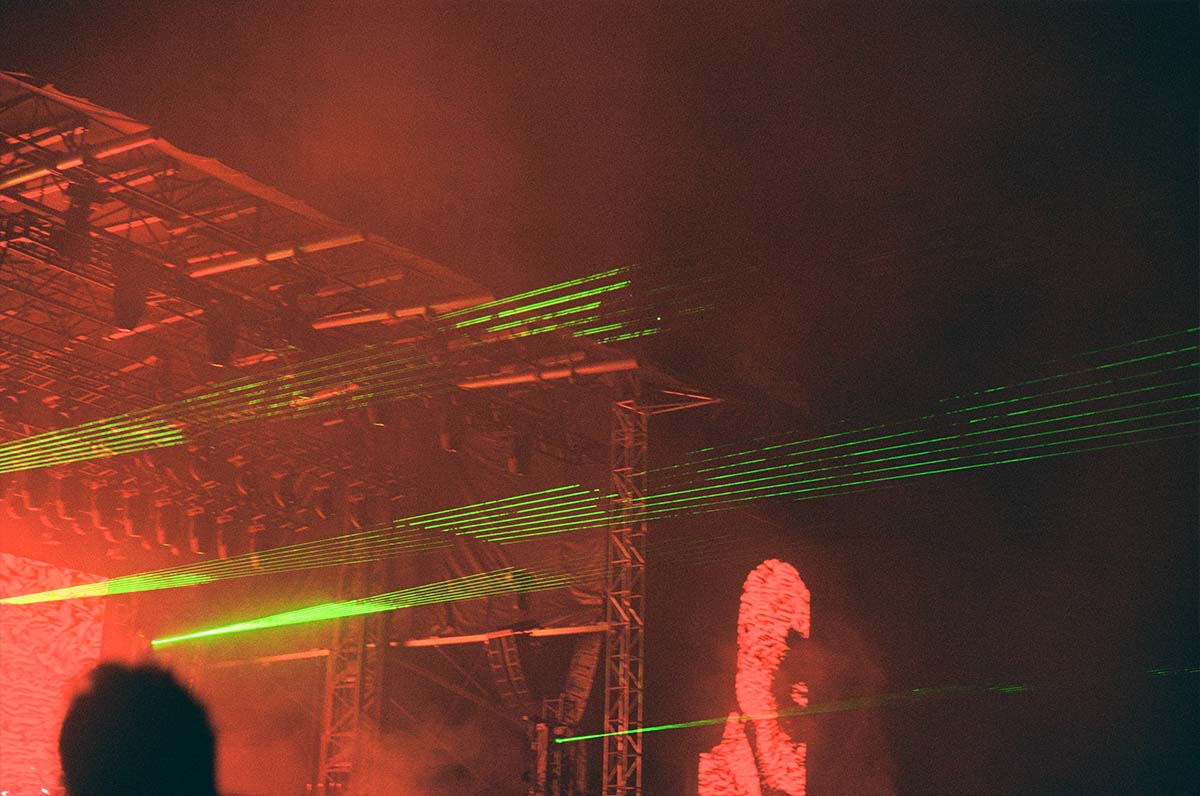 It was then JPEGMAFIA's turn to dazzle with a solo performance that was somehow both intimate and blockbuster. Oozing charisma and providing something very different from what had come before, JPEG (also known as "Peggy") continued to raise the music stakes at Osheaga.
Eventually he was accompanied by another young rapper, redveil, with the two collabing on a track. They flew past each on the stage at speed with high energy, like red arrows as an air show.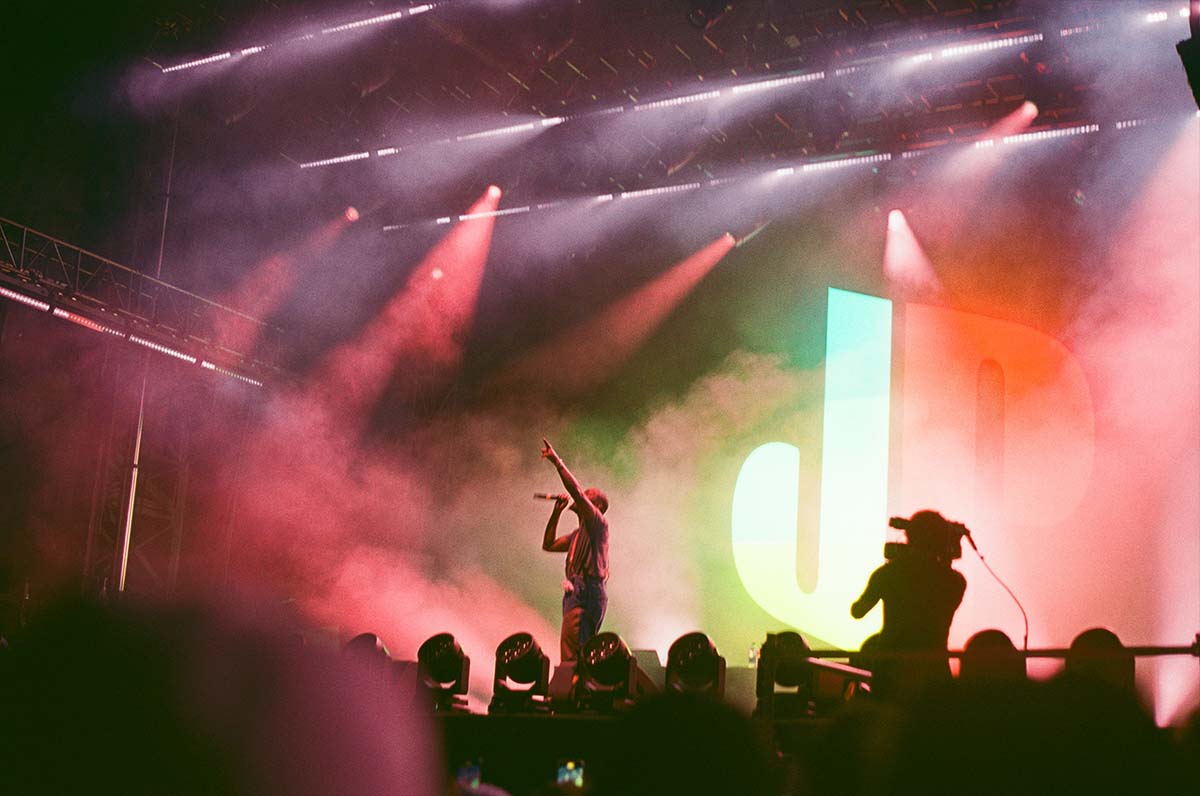 With that over, we bundled back onto the festival express from Jean-Drapeau to shuttle us home for some well needed rest. My bones where aching after standing all day in the sun, but I felt alive and kicking.
Waking up on Saturday morning, we had some eggs and bacon with a few tins of the Pabst we grabbed from the depanneur across the road. You gotta do what you can to save money – a beer or a mix drink in the festival started around $11 (plus tip) and food ranged from $10 to $30 if you wanted to get real swanky. It's not a lot compared to getting your car towed, but given it's a three day festival where you spend many hours in the grounds, it does add up.
After triple-checking that my car hadn't been stolen away again, we headed back to the festival grounds. Today was Billie Eilish Day!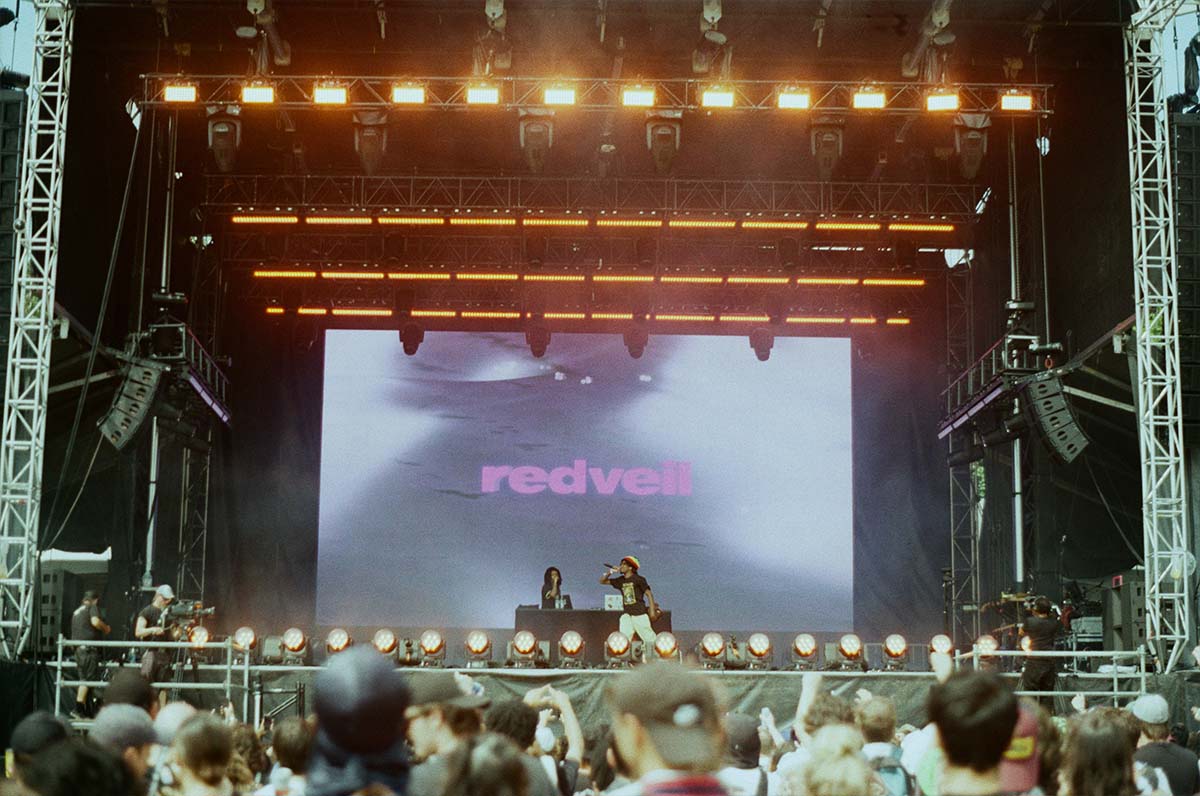 redveil got the music off to a pumping start with his own set (Peggy also joined for their collab track again). The audience created circle pits and moshed in the morning sun (very respectfully). It was another high energy performance and the crowd loved it.
Suddenly out of nowhere the water cannons came on again, but this time with so much power that I got soaked from head to toe. I felt like a paper towel at a pool party. At that very moment the sun also ducked behind clouds and I wondered if I would ever dry off.
Just a few minutes later the beaming sun cut through the sky once again and we didn't stay wet for long.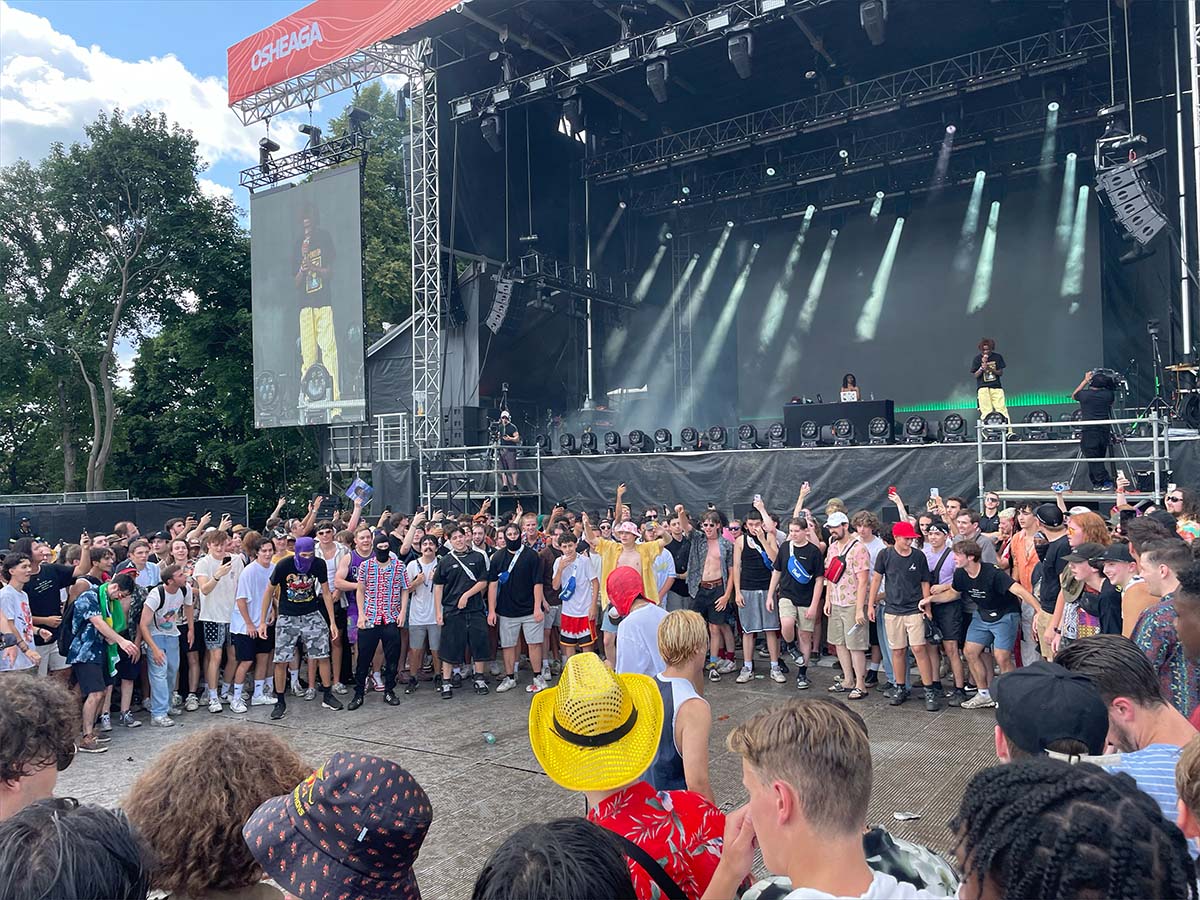 I alluded earlier to Osheaga being a well-run festival, and that is certainly the case with hydration stations which were sponsored by Brita. Osheaga's call for people to bring reusable bottles went a little way to minimising plastic waste at the festival and helped ensure that people remained hydrated.
Brita weren't the only company at the festival, oh no. Osheaga is branding heaven (or hell depending how you feel about it). From the Chevrolet stage you stumble past the Bacardi refreshment huts, down through the Aperol Spritz garden, past the Monster hairdressing lounge and on to the Bell River Stage where you can get a perfect view of the Coors Mountain.
In the past I might have felt negative about such corporate presence, but here I was ready to embrace the culture. If it helps to keep this music festival afloat, then it is a necessary evil in my mind. Gone are the days where a festival of this size can prosper on ticket sales alone, even when a weekend pass costs around $400. If you want Billie to come play, you need the Coors Mountain; that's just a fact.
Back to the music and Lido Pimienta brought her unique Colombian style, adding an artsy touch and charisma. Lil Yachty  then performed tracks from his recent psychedelic album over at the main stages before the appearance of Sophie Tukker.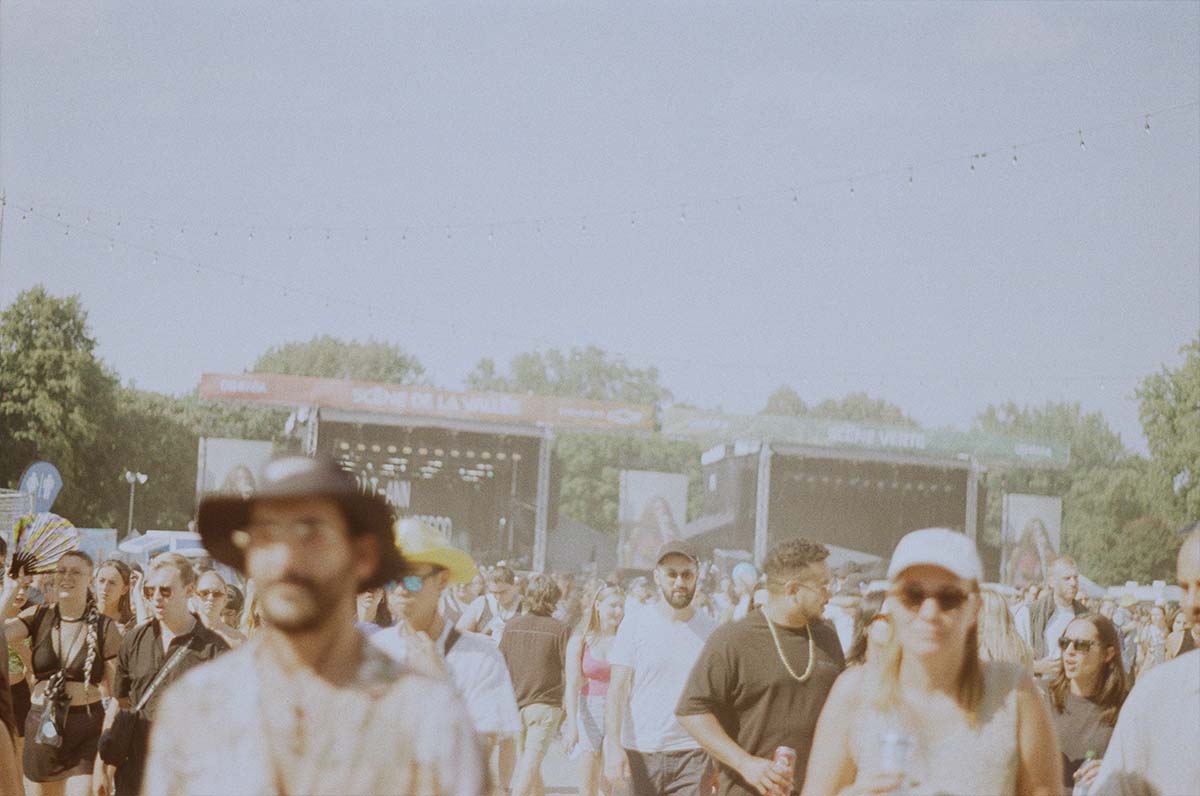 How can I describe Sophie Tukker? Confusing. It's a mega mix of genres, a little DnB, a little electronic, a whole lot of pop and none of it particularly good. The performance featured backing dancers smiling so wide that their faces look like they could split and become completely separated. It's like if the Teletubbies had decided to go on tour – "Eh Oh" repeated over a corny melody, and when it ends – "Again!! Again!! Eh Ohhhh!"
Luckily it was soon "time for tubby bye-byes!"
Immediately after, The National revived us with a huge sounding guitar set that even got the pop-focussed audience (who had already started finding their spaces for Billie Eilish) bumping.
The entire set was amazing, which ended with lead singer, Matt Berninger climbing over the barriers into the crowd, weaving his long mic cable through everyone. No Britney mic for this guy, and you could tell that stressed out the security a bit, but it was definitely a stand-out moment that I'm sure will make it onto the Osheaga highlight reel.
There's something to be said for guitars and vocal mics being attached by a cable (rather than wireless). Like, it probably makes no difference to the sound at all, but being tethered feels very suitable for a rock band in a way that being untethered feels right for pop artistes, even when they're playing guitars.
Bracing ourselves, the sun had once again set and it was Billie Eilish time.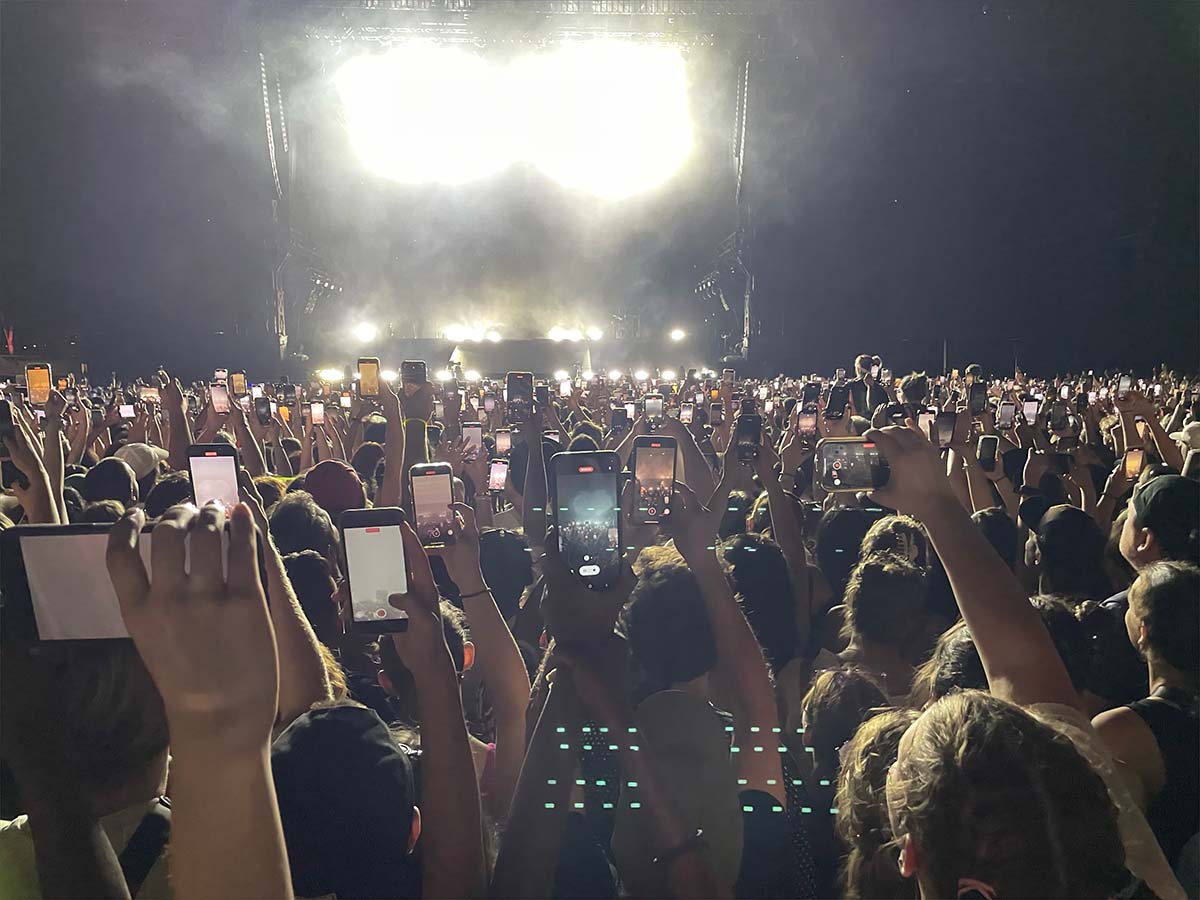 As the lights went down, a sea of cell phones ascended, as if we were all part of a huge paparazzi trying to get the perfect shot.
Of course I joined in. In the future with all these angles, we'll surely be able to perfectly render a Billie Eilish hologram; walk around her in 3D; pretend to whisper in brother-producer Finneas's ear. I digress.
Billie's set was amazing. A true blockbuster. With a live drummer and Finneas on keys, bass and guitar, Billie strolled and leapt up and down the special walk-way that had been constructed for her with poise.
The high pitch screams of many young girls rang through my brain like a chainsaw cutting into solid steel. Billie's energy transcended the environment and she connected with everyone individually somehow.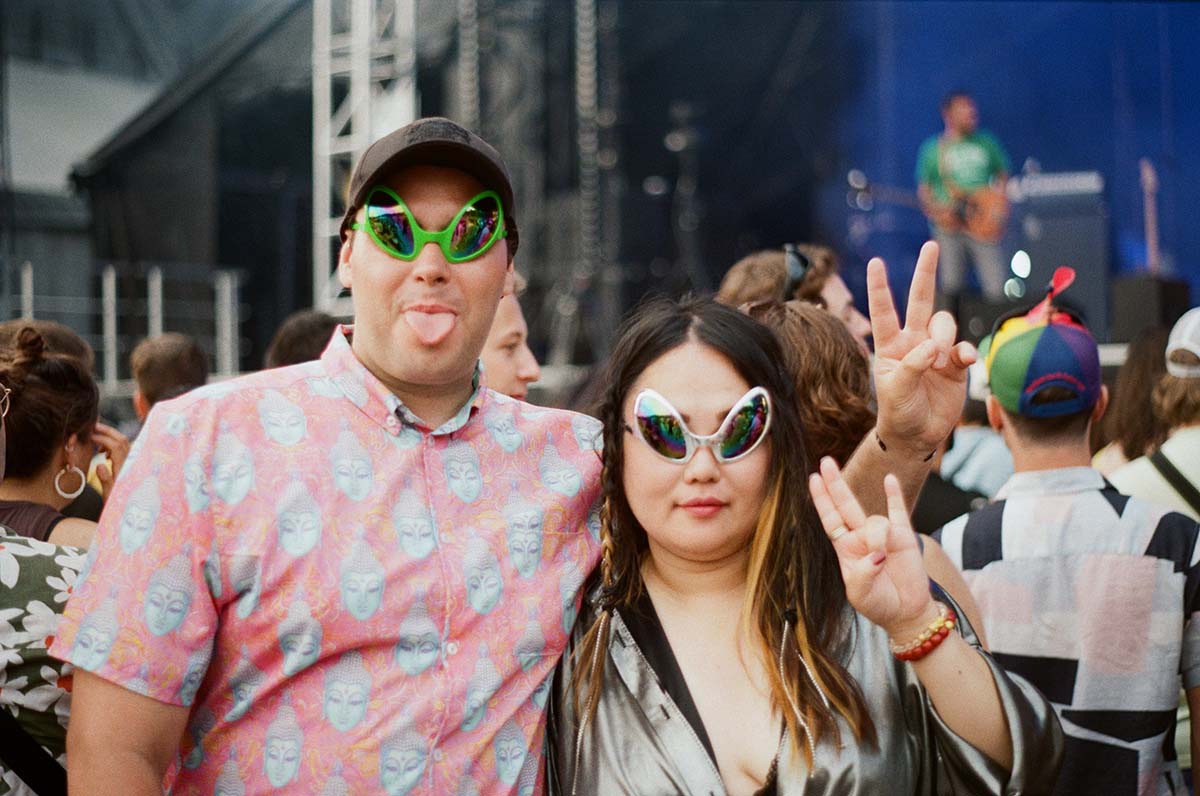 The combination of power pop and intimate ballad made the show engaging from beginning to end, and at one point Finneas came up front with Billie for a few sit-down acoustic tracks, which was arguably the best part of the show. It didn't let down.
After, I tried to meet up with my various friends I had become separated from.
"Meet you under the Bell tower" I shouted.
"What Bell tower?" I heard in response.
"The Bell tower that has the blue lit up words 'Bell', I'll stand under it."
"I can't see the blue words saying Bell!"
Despite the heavy branding and huge B.E.L.L. letters, it took us a good 20 minutes to find one another, and that unfortunately meant we got stuck in the queue for the metro which took us the best part of an hour to get through. We did have a beautiful view of the Biodôme though.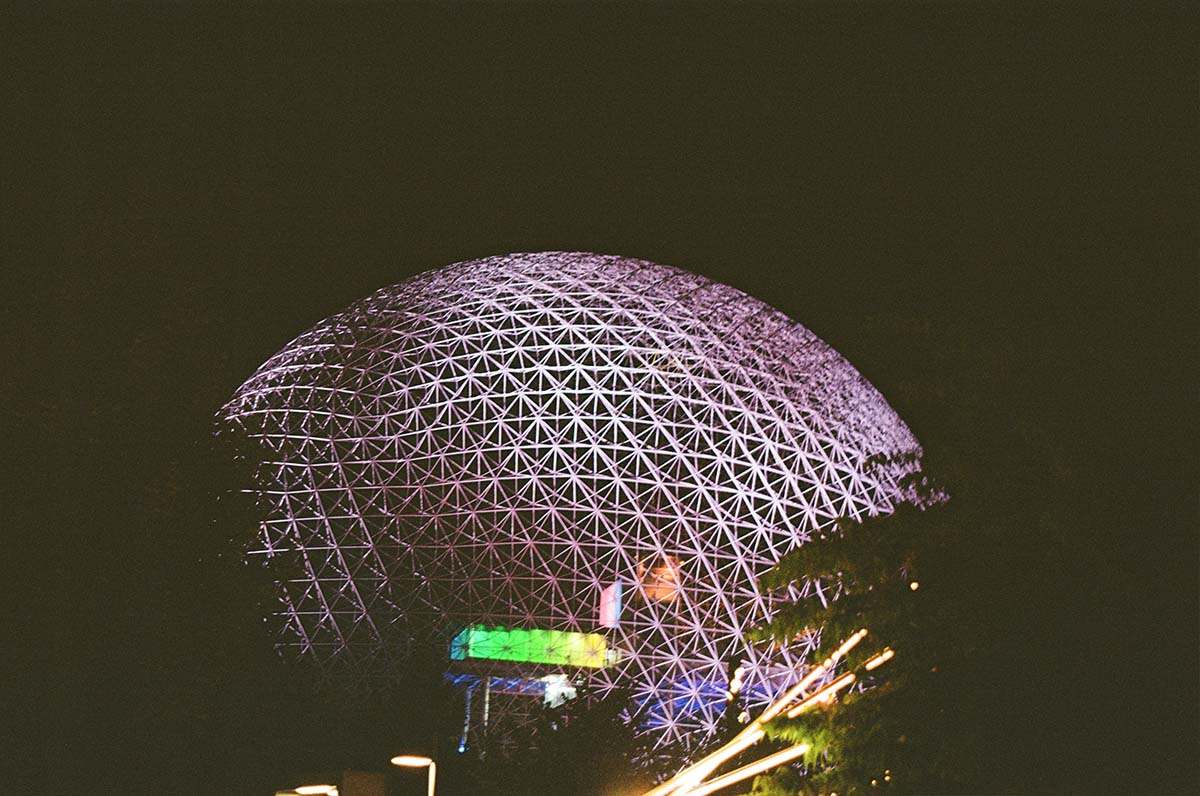 Despite the wait, the staffing and policing at Osheaga was on point and controlled the crowds brilliantly. It was quite amazing the way they got everyone safely onto the metro train cars.
Starving, we decided to jump out at Berri-Uqam for some food (the station where the yellow, green and orange intersect). We weren't sure what would be there, but it seemed as good a choice as any, and to our joy there was a busy street with pubs and grub.
Montreal has so many interesting areas I had never seen before – it really is a sprawling beautiful city.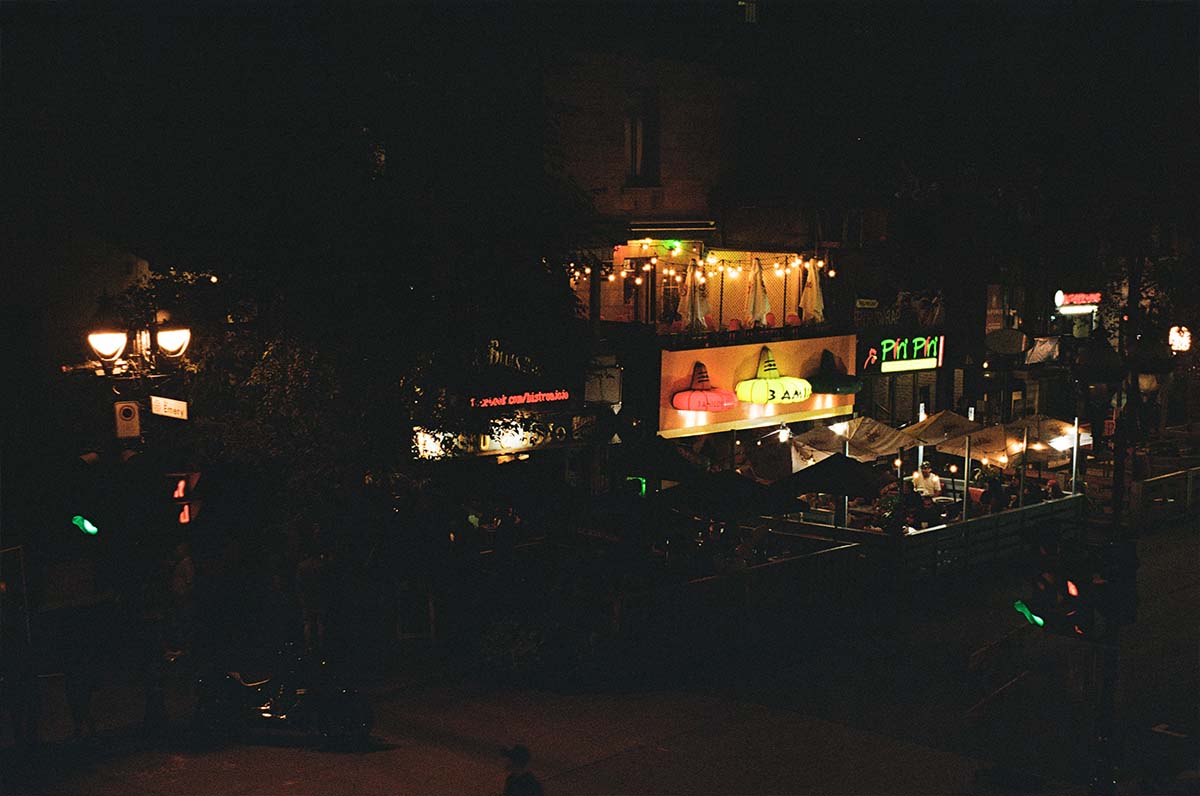 Sunday morning came around quickly and we decided not to head into the festival for 2pm when the bands started, because our legs were quite stiff after two days of standing and we wanted to last the distance for Kendrick Lamar.
We stopped by a supermarket to grab some chips and sweets to smuggle in. Waiting for me at a bench, Desiree met a dude called Alan, who talked to us about religion and gave us each a cool can of Pilsner extra strong.
It was then that she asked how I intended to get the family size bag of Miss Vickie's I bought into the festival site.
Down my pants? I thought intensely, trying to come up with another solution but there wasn't one; it was the only way. What if security saw the bulging potato-pant snack on my way in? How long would I go to jail for, if caught for such a heinous crime?
After coming up at the metro station, I edged towards the entry point. Sweat dripped down my brow and my mind raced. My eyes darted left and right, surveying all the faces and trying to keep their eyes up and away from my chunky crotch.
A security guard palmed me down, and ran the metal detector over me. "Holy mother of god, will the freshness silver inner lining of the Miss Vickie's cause the detector to beep?" I thought.
I knew I had made a huge mistake, but just as quickly as the panic descended I was waved through. Sweating profusely I pulled the chips out of my pants. I wouldn't be going to jail today!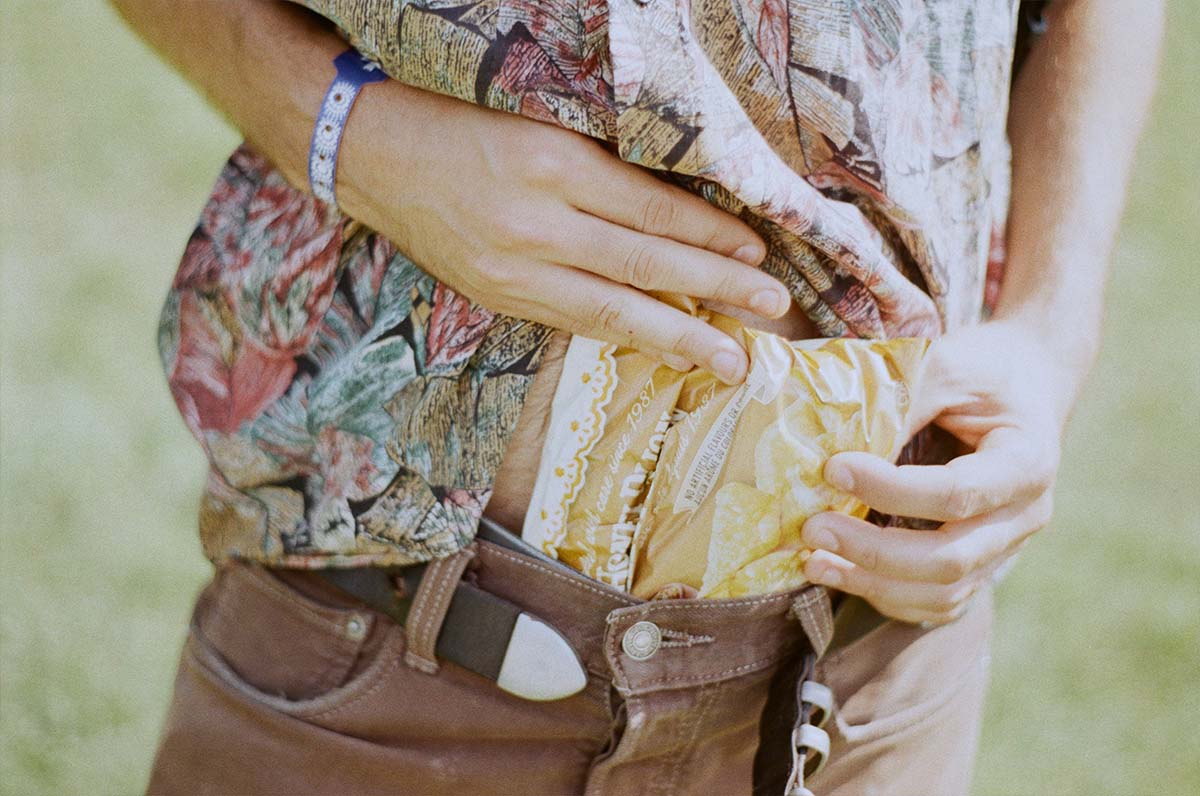 Some last-minute scheduling changes happened with the festival which meant we unfortunately missed the set of Armani White, who had joined Billie on stage the night before. The Osheaga app (a handy little scheduler) updated and we decided to head to the Backyards Sessions stage where Montreal techno alternative duo Pelada slayed a 30 minute set.
I saw Pelada once before, years ago in Toronto. Since then they released an awesome debut album and had their tour cut short due to Covid as they were just getting liftoff, so it was awesome to see them do their thing again. Producer Tobias Rochman handled the music with Chris Vargas ripping in Spanish over the top.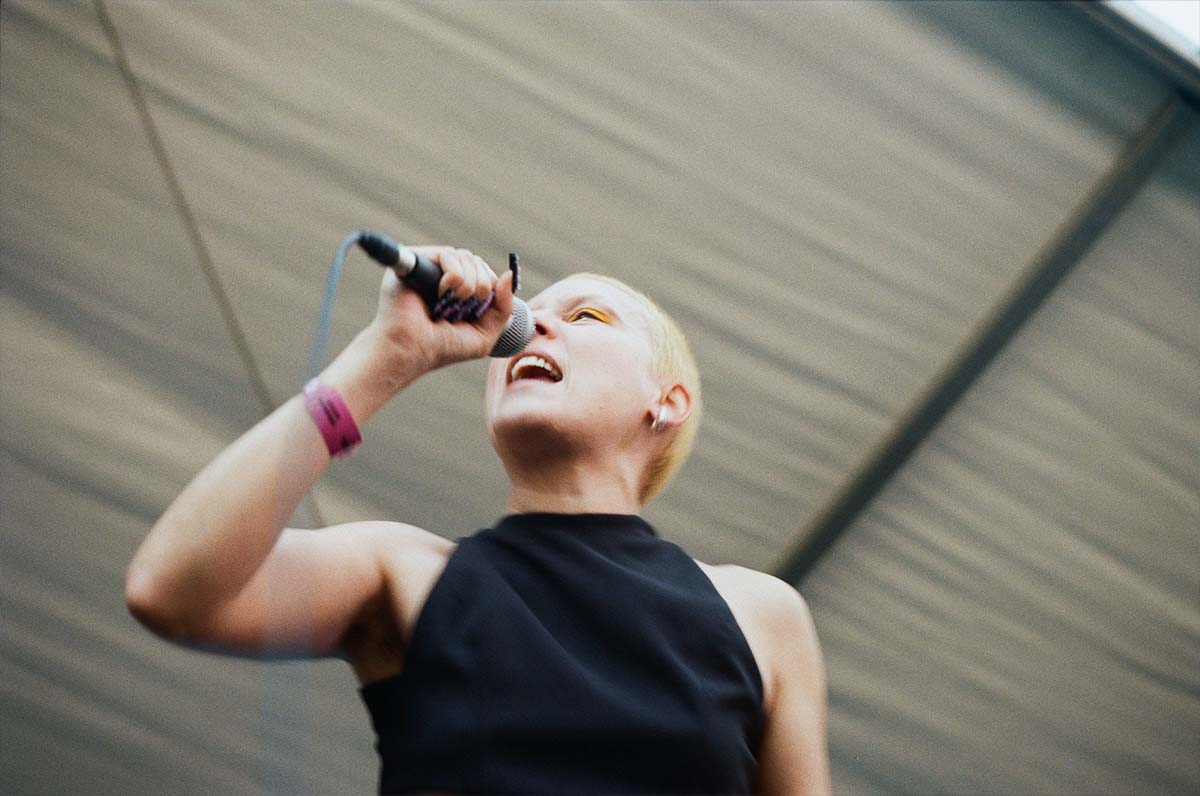 Foals returned to the festival for the first time since 2016, which by coincidence was the last and only time I had ever been to Osheaga before when Radiohead came to premiere A Moon Shaped Pool. It was nice to see Foals still going, and whilst it's not really my thing, their track Spanish Sahara really slapped and the set had a nice crescendo.
It was then that my brother, also at the festival, informed me that Osheaga allow one snack per visitor into the festival site. There was absolutely no need to stuff the bag of Vickie's down my pants after all!
Walking from there to get in place for Kendrick Lamar, we saw many festival-goers queuing (for what must have been hours) to use the permanent on-site toilet. I mean, we've all been there – I know my partner used to go do her business at Starbucks early in our relationship to avoid an apartment stench, but this is a festival people… get with the programme!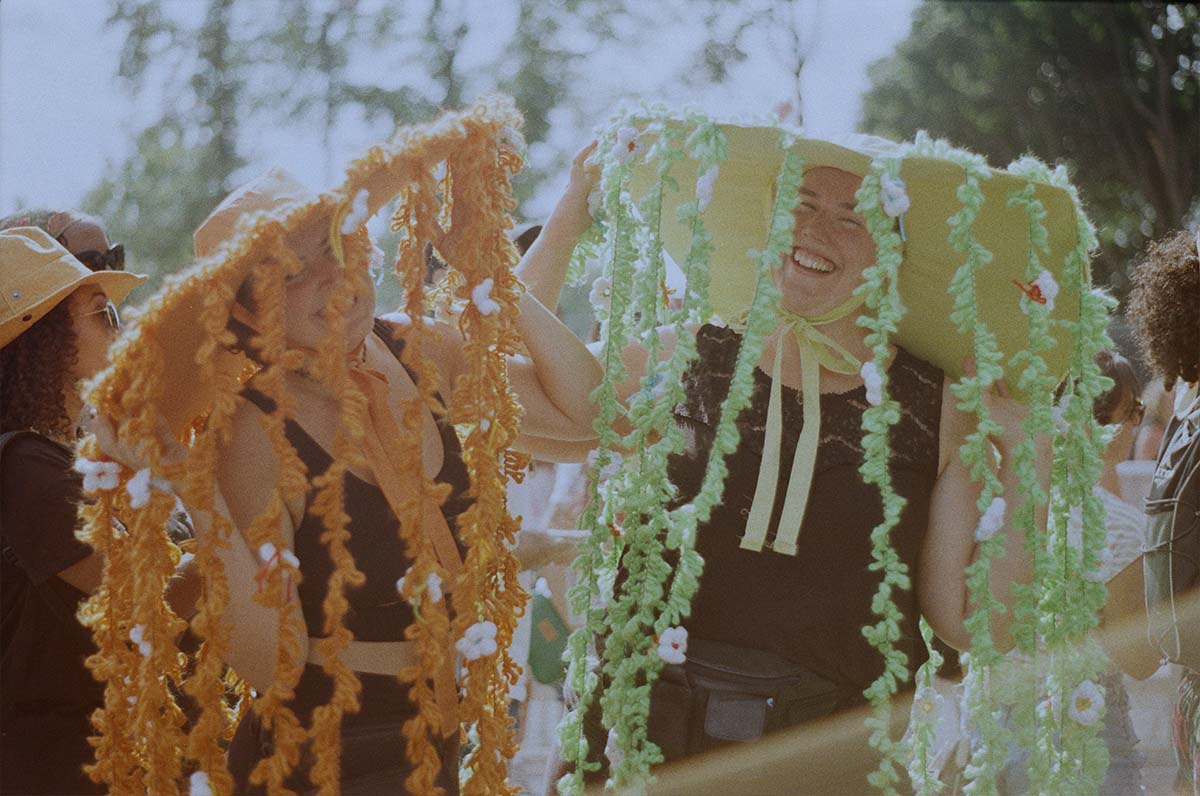 The porta-loos at Osheaga were plentiful and a literal oasis in comparison to some of my past experiences. For a country with such great back country camping, you would have thought most Canadians would be ready to camp at a festival or use a perfectly fine commode?
Perhaps it relates to how Canada statistically has one of the highest qualities of living in the world? I for one would petition the government of Canada to perform on audit on this very subject immediately, because missing an hour at a festival to use one toilet over another makes zero sense.
Anyhoo, we ended up not being able to get too close for Kendrick Lamar because it was a tight squeeze, but even being at the back, the crowd vibes were pumped.
Kendrick delivered a hit-laden set. His hypnotic child dancers provided some slightly eerie George Orwell 1984 vibes, as they huddled around before popping into synchronised routines. It was a show worthy of ending a three day festival.
As Kendrick's set closed, so did Osheaga 2023.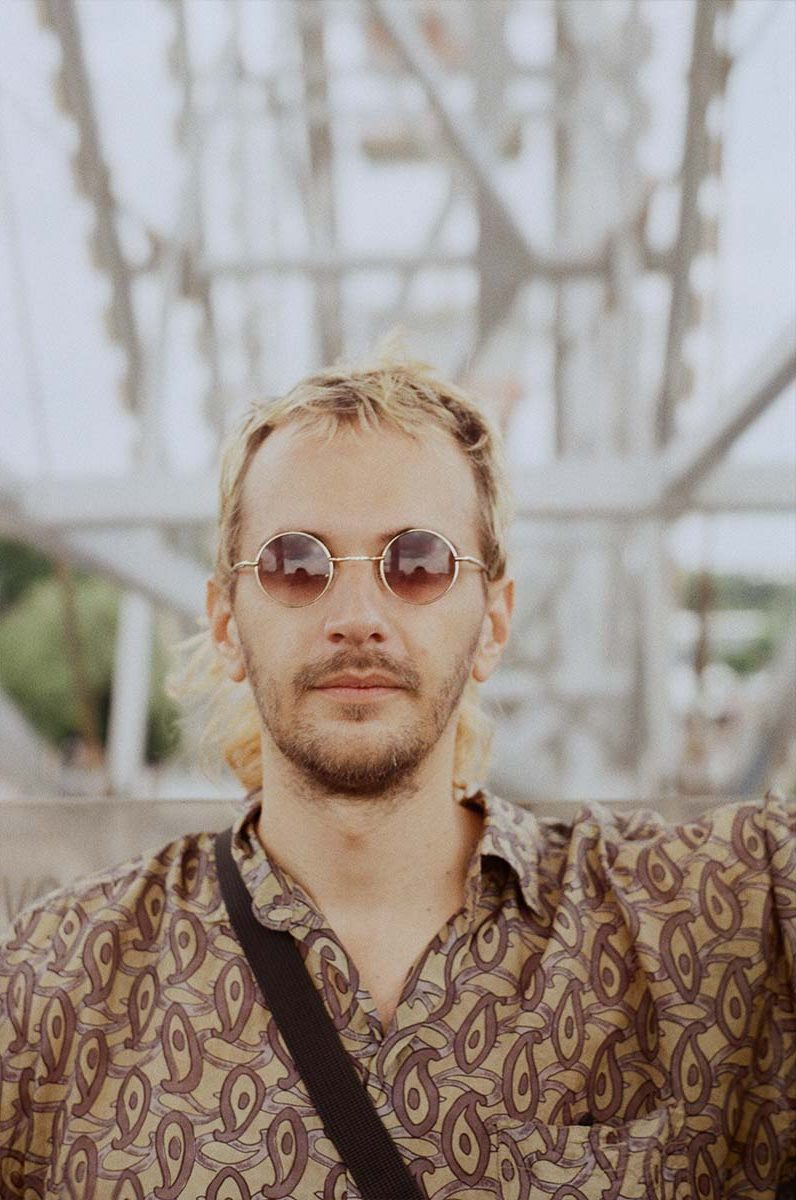 Thank you for joining me on this zany recap of Osheaga 2023.
I would like to make clear that this is my personal experience of the weekend and everyone attending the festival will, I'm sure, have had their own unique time. Music is very personal and that's what makes the medium so special. Just because I didn't love every act, that doesn't mean those mentioned weren't loved by others in attendance… in fact I'm sure they were.
To sum up, Osheaga is a mammoth festival that is run excellently well. Branding and music sit side-by-side, and the programming is nothing short of brilliant. Heading into the weekend knowing only a small percentage of the artists performing, I left feeling like my music world had been expanded.
Everything ran on time, which is remarkable for a festival the size of Osheaga. The sun was heavy and relentless for the whole weekend, but the water points and water jets ensured festival goers didn't get too crispy and helped prevent people from passing out. Transportation too and from the festival was good value and well managed.
But most important of all, a weekend like this is a great reason to get yourself to Montreal – a unique Canadian city with a European flavour that is both welcoming and edgy.