Sophia Lezhanska is a grade 12 student that engages in community work both at her school as well as in her local community. She created a 2SLGBTQ+ Inclusivity Club and volunteered at Ukrainian Canadian Social Services to honour her heritage. We spoke with her to find out more about what they do.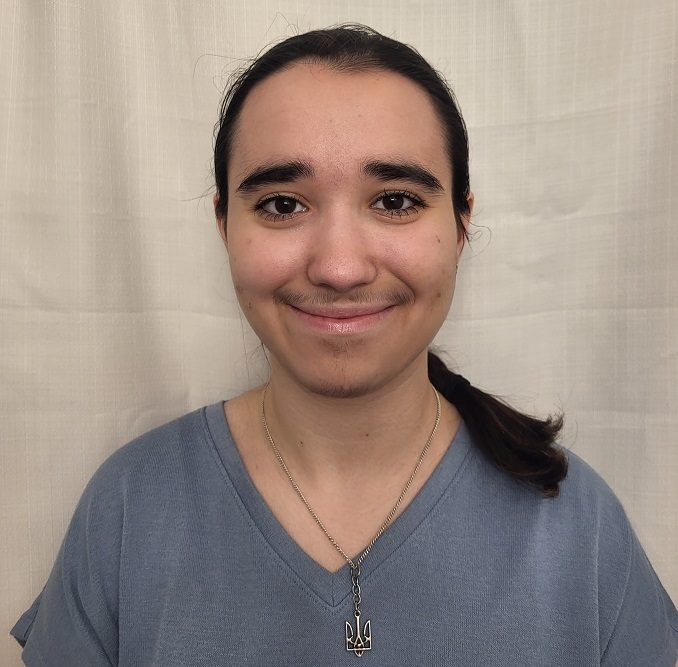 Describe your charity/non-profit/volunteer work in a few sentences.
My main volunteer role has been at the Ukrainian Canadian Social Services Toronto where I have participated in several initiatives. Some of the events I've helped with are fundraising, distributing food to isolated Ukrainian seniors during the pandemic, teaching English classes for Ukrainian newcomers, and outreach to displaced Ukrainian citizens.
What problem does it aim to solve?
The organization aims to help with the settlement of new Ukrainian-Canadian citizens and I help in any way that I can. Currently, there are more people who need help than ever before, as a result of the war in Ukraine. At the Ukrainian Canadian Social Services Toronto, we try to provide a sense of community for Ukrainian immigrants in addition to providing material aid.
When did you start/join it?
I have been volunteering at the Ukrainian Canadian Social Services Toronto since 2017.
What made you want to get involved?
I got involved because I wanted to support Ukrainian people and build a sense of community. As a Ukrainian-Canadian, it has been very important for me to remain connected with my Ukrainian culture and heritage while helping to make a lasting impact in the lives of fellow Ukrainians.
What was the situation like when you started? How has it changed since?
I started many years ago when the situation was not as urgent. However, since the war began in Ukraine in February 2022, the situation has changed drastically. The number of people seeking aid at the organization has greatly increased and many displaced Ukrainians currently travelling to Canada require help with settlement. This includes finding a job and access to essentials like a place to stay and monetary aid for the purchase of groceries and clothing, etc.
What more needs to be done?
Given that there is a constant need for support of displaced Ukrainians, the Ukrainian Canadian Social Services Toronto and its dedicated volunteers continue to help Ukrainian newcomers on an ongoing basis. All that can be done for now is to help Ukrainian newcomers find a home in Canada and donate if you can.
How can our readers help?
Several organizations, including the Ukrainian Canadian Social Services Toronto, are accepting donations. Monetary donations are used to support displaced Ukrainians fleeing the war; for example, they purchase gift cards for Ukrainians who are unable to purchase groceries for themselves and their families. They also accept clothing donations and donations of other essentials—items for baby care like strollers are in particular demand.
Do you have any events coming up?
I am not participating in any events in the near future and the Ukrainian Canadian Social Services Toronto is not hosting any events but anyone is welcome to stop by to check it out or volunteer if they would like to help out!
Where can we follow you?
You can follow the Ukrainian Canadian Social Services Toronto on Facebook or check out their website. You can also find me on Facebook.
PAY IT FORWARD: What is an awesome local charity that you love?
Students from my school, Bishop Allen, volunteer every year at the St. Francis Table and I think it's an amazing opportunity to get involved in the community. They are a meal service organization that serves an average of 250 meals per day to people in need.