Tucked in next door to Varsity Stadium, Koerner Hall at the Royal Conservatory of Music has been welcoming classical music lovers since 2009. Light, airy (both inside and out, thanks to the lobby's enormous glass windows and balcony overlooking Philosopher's Walk), and with phenomenal acoustics, Koerner is home not only to the RCM orchestra, easily one of the finest student orchestras in the country, but to some of Toronto's top concert series.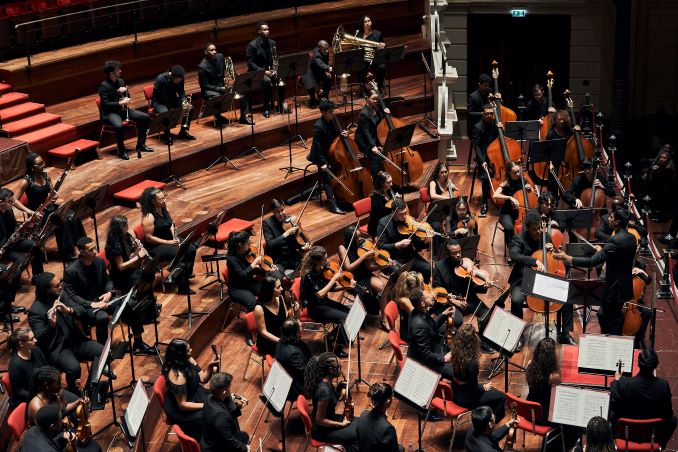 Coming up at Koerner are a host of exciting concerts, beginning with Chineke! Orchestra on March 18. Founded in 2015 by British double bass player Chi-chi Nwanoku, Chineke!'s mission statement is "to provide career opportunities for Black and ethnically diverse classical musicians in the UK and Europe". Their upcoming concert, with special guest pianist Stewart Goodyear, promises a showcase of diverse talent both on stage and in the musical scores. The March 18th program includes African-American composer Florence Price's Symphony No. 1 in E minor (1932), Samuel Coleridge-Taylor's Othello Suite (1909), and Toronto-born Goodyear's Callaloo – Caribbean Suite for Piano and Orchestra. Conductor Andrew Grams, music director of the Elgin Symphony Orchestra, will take the baton.
Following the Chineke! concert, Koerner will host a string of chamber music and solo performances, of the type which have earned the Hall a reputation as a welcoming space for smaller, ensemble work.
Highlights of the chamber series include:
March 23, at 8pm, the Takács Quartet with pianist Jeremy Denk will perform a program of Haydn, Fanny Mendelssohn, and Robert Schumann.
March 31, at 8pm, the Benedetti Elschenbroich Grynyuk Trio will perform two "monumental" trios from Schubert and Tchaikovsky.
April 18, at 8pm, Italian pianist Beatrice Rana brings her "poetic" (New York Times) talents to a hot-ticket recital of Bach, Debussy, and Beethoven's "Hammerklavier" sonata.
April 21, at 8pm, award-winning musicians Blake Pouliot (violin) and Henry Kramer (piano) will partner up on an eclectic selection featuring Miklós Rózsa, Kaija Saariaho, Ernest Chausson, and others, including a Canadian premiere.
Finally, we can't resist the sheer novelty of Koerner's Tribute to Jacques Brel, from the same minds which brought us Piaf! The Show and Formidable! Charles Aznavour. Have your pipes and Belgian witbiers ready.
***
For more on the RCM season and tickets to Koerner Hall performances, click here.