Nowadays, our homes have become more than just a roof over our heads. They are a reflection of our style, our personalities, and most importantly, a place to relax and feel at peace. With the hectic pace of life, it's important to make your home a sanctuary – a haven from the outside world. There are a few simple things you can do to transform your home into a sanctuary.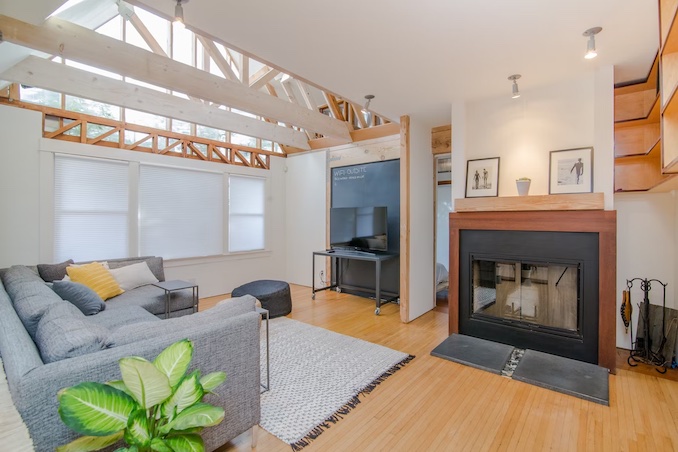 Add Some Beautiful Flowers
One of the easiest ways to add a touch of beauty and peace to your home is with flowers. A simple flower arrangement can brighten any room, and the fragrance can help to create a calming atmosphere. If you don't have time to arrange fresh flowers, there are many online flower delivery companies in Canada that can do it for you. 
Just a few clicks and you can have fresh flowers delivered to your door. For example, people in Toronto can find flower delivery in Toronto with a simple online search. But don't fret even if a flower delivery in Toronto cannot reach you, there are flower delivery Canada services that will be able to cover most of the cities in the country. No matter where you are, it's easy to add a little bit of nature's beauty to your home.
When looking at flower shops, flower delivery, and online flower retailers, take some time to research the company's environmental and social sustainability practices. Some flower shops are doing their part to reduce their environmental impact by using recyclable materials, supporting local growers, and using fair trade practices. So not only will you be beautifying your home, but you'll also be supporting sustainable practices. It's a win-win!
Some of the best flowers to get from flower shops in order to turn your home into a sanctuary are:
Get a bouquet of your favorite flowers from your favorite flower shop and enjoy the peace and beauty they bring to your home.
Make Sure You Have Enough Space For Everything
It's important to have enough space in your home for everything you need. Otherwise, your sanctuary will quickly become cluttered and stressful. Make sure you have enough storage for all of your belongings and that each room serves a specific purpose. For example, if you want your living room to be a relaxing space, make sure it doesn't double as your home office. Dedicate a separate room for work-related activities so you can truly relax in your living room.
If you're struggling to find enough space, consider decluttering. Get rid of anything you don't use or need. You might be surprised at how much more spacious your home feels after getting rid of some unnecessary belongings. You don't want the gorgeous flowers you got from a flower shop to be hidden away in a cluttered room – make sure they have a place to shine!
Another tip for creating more space is to use multi-purpose furniture. For example, a coffee table with storage can be used to store books, blankets, or even board games. Ottomans with built-in storage are also great for small packages you get such as any packaging from your flower shops in Canada or flower delivery in Toronto for example.
Choose a Relaxing Colour Scheme
The colours in your home can have a big impact on your mood. To create a sanctuary, you'll want to choose a colour scheme that is relaxing and inviting. Avoid using too many bright colours as they can be stimulating and overwhelming. Instead, opt for softer shades.
Some great colours to use in a sanctuary are:
You can use these colours as accents or make them the dominant colour in each room. For example, you might paint your living room walls green and use blue and purple as accent colours. Or you could have a white bedroom with green and pink accents. A good place to look for great colour inspiration is flower shops as they are typically very good at colour schemes. Remember, the goal is to create a space that is relaxing and inviting. So, if you're not sure what colours to use, err on the side of caution and choose softer shades.
Communicate Everyone's Needs
It's important to communicate everyone's needs in order to maintain a harmonious household. If one person feels like their needs are not being met, it can lead to conflict and tension. When everyone is on the same page, it makes it much easier to keep the peace. Have regular family meetings to discuss any concerns and come up with solutions together. This will help everyone feel heard and valued and will make your home a much more pleasant place to be.
If you or someone in your family is running a business from home, it can be easy to let work take over. Make sure to set boundaries and allocate time for family and leisure activities. It's important to have a healthy balance in order to avoid burnout and maintain a happy home life. Overworking yourself will only lead to resentment and can put a strain on your relationships. Schedule breaks, take vacation days, and make time for the people and things you love. When you return, your business will still be open.
This is especially true for families running high-stress businesses like flower shops, as the demands of the business can often spill over into home life. Taking a step back will help you focus on the important things. Make time for your loved ones, and don't be afraid to ask for help when you need it. A little bit of planning and communication can go a long way in making your home a sanctuary.
Create A Zen Zone
One way to create a sanctuary in your home is to create a Zen Zone. This can be a spot in your house where you can go to relax and unwind. It should be free of distractions and clutter. Fill it with things that make you happy and help you relax. Some ideas for items to include in your Zen Zone are:
soft blankets and pillows
Take some time to personalize your Zen Zone and make it your own. This is your space to relax and escape from the world, so make sure it meets your needs. Once you have everything set up, enjoy some much-needed peace and quiet in your very own sanctuary.
Focus On Lighting
In a world that is constant hustle and bustle, it is important to have a space to relax and recharge. Your home should be your sanctuary; a place where you can unwind and feel at ease. Lighting plays a big role in setting the tone of your space, so it is important to choose lighting fixtures that reflect your personal style and create the desired ambiance.
There are a few factors to consider when it comes to lighting. First, consider the purpose of the space. What do you want to use the space for? What emotions do you want visitors to have upon entering? Secondly, think about the different types of lighting that are available and what would work best in your space. 
There are a few different types of lighting, such as ambient, task, and accent lighting. Ambient lighting is general lighting that fills the whole space. Task lighting is focused light that is used for specific tasks, such as reading or cooking. Accent lighting is used to highlight certain features in a space, such as artwork or architectural details.
Use Your Favourite Places As Inspiration
Your home should be your sanctuary, a place where you can relax and feel at ease. To make your home truly your own, take inspiration from your favourite places. If you love spending time outdoors, bring the beauty of nature inside with sliding glass doors that lead to a patio or deck. Fill your home with comfortable furniture and cozy blankets so you can curl up and relax. 
If you're a social butterfly, create a space where you can entertain friends and family. Whatever your style, make your home a reflection of you. With a little bit of planning, you can turn your house into a sanctuary you love coming home to. People from Canada that added some flowers by using a Toronto flower delivery were very happy with the results. Home is where the heart is, so make it a place you're proud to call your own.
Declutter Effectively
When it comes to decluttering your home, there are a few key things to keep in mind. First, start with small areas and work your way up to bigger ones. You can stay focused and stay out of overwhelming by doing this.
Second, be sure to donate or recycle any items that you no longer need or use. This will keep your house looking and feeling new. Finally, take your time and don't try to do too much at once. Decluttering can be a big job, but it's worth it when you finally have a clean and organized home.
Add Some Art Pieces
Art can add so much to a room – it can express your personality, inject some colour and life, and really make a space your own. But with all the choices out there, it can be hard to know where to start. If you're looking to add some art to your home but don't know where to begin, here are a few tips to get you started. Look at the area you have to work with first. What colours are dominant? What is the overall feeling of the room? This will help you narrow down the type of art that would work best.
Next, think about what kind of art speaks to you. Do you like abstract pieces? Landscapes? Portraits? Once you have an idea of the type of art you're drawn to, you can start narrowing down your search. Finally, don't be afraid to experiment. Art is supposed to be personal, so don't be afraid to try something new or different. You may be surprised at how much you love it!
Upgrade Some Elements Around Each Room
There are certain elements in each room of your home that can make or break the sanctity of the space. If you want to make your home a true sanctuary, it's important to upgrade some of these key elements. In the living room, for example, you might want to consider investing in a comfortable couch and coffee table. 
In the bedroom, a comfortable bed and dresser are key. And in the bathroom, nice towels and a soothing shower curtain can make all the difference. By making just a few key upgrades in each room, you can transform your home into a true sanctuary.
The kitchen is the heart of the home and is often where families spend the most time together. If you want to make your kitchen a sanctuary, consider investing in some new appliances or countertops. A nice backsplash can also add a touch of luxury.
No matter what room you're upgrading, adding just a few key elements can make all the difference in creating a sanctuary in your home. By making your home a sanctuary, you can enjoy a space that is truly your own. Relaxation and rejuvenation are just a few of the benefits of having a sanctuary in your home. So start upgrading today!
Invest In Your Entertainment Area
Your entertainment area is the perfect place to relax and unwind after a long day. Whether you enjoy watching TV, movies, or playing video games, it's important to have a space that is comfortable and inviting. One way to make your entertainment area more enjoyable is to invest in some quality furniture. A comfortable couch or recliner is essential for relaxing, and a coffee table or end table can be a great place to set snacks or drinks.
In conclusion, if you want to make your home a sanctuary, there are a few key things to keep in mind. First, declutter effectively and donate or recycle any items that you no longer need or use. Second, add some art pieces to inject some personality into the space. And finally, upgrade some of the key elements in each room, such as the couch in the living room or the bed in the bedroom. By following these tips, you can transform your home into a true sanctuary.