Meet Meg Gaic, a holistic nutritionist, Canada's leading acne specialist, and founder of Get Glow. After dealing with her own chronic acne for over a decade, she's found acne freedom through developing Get Glow and The Acne Method. This holistic approach heals acne from within: focusing on diet, hormones, lifestyle, and emotional wellness.
Meg's story is something that a lot of people can relate to, and rather than dwell on her experience she decided to devote her life to helping others by sharing solutions for what she went through.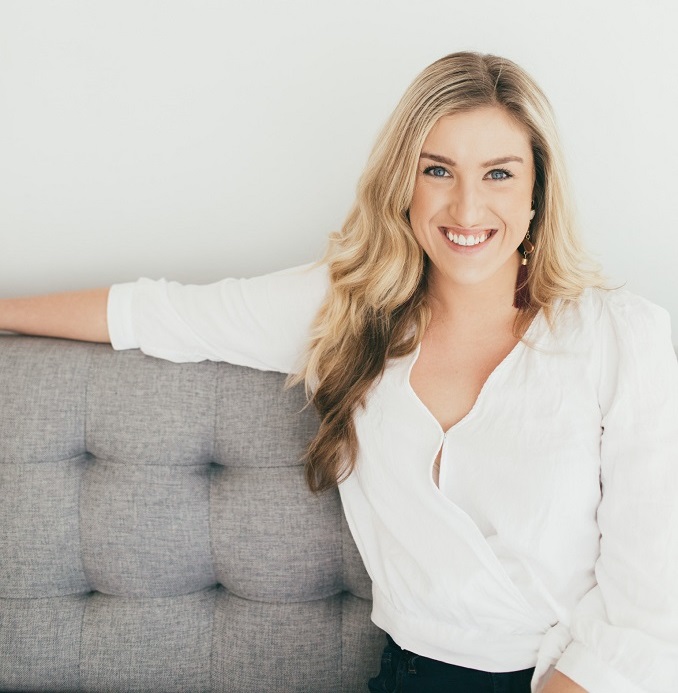 What is your business called and what does it do?
Get Glow Method is a truly holistic approach to healing acne from the inside out. It focuses on the individual and targets their unique root causes. Its success is founded upon its 3 prong approach:
– internal balance via nutrition and supplements
– external balance via proper skincare and
– mindset and emotional support to ensure acne freedom both physically and mentally.
What made you want to do this work?
For over a decade, I suffered from severe cystic acne. I became increasingly frustrated with the lack of knowledge on healing it without the use of harsh prescription drugs. I spent that decade pouring money into treatments, practitioners, products, and everything in-between, but nothing worked. I could have bought a car with the money I spent.
Throughout my acne journey, treatments were always segmented: it was either all about skincare, all food, all about supplements, or prescription drugs, but no one could offer a 360 approach. No one was considering the psychological impact long-term acne has.
I was inspired to create The Get Glow Method to become the practitioner I so desperately needed on my own acne journey. I knew acne sufferers like myself deserved real solutions for long-term healing.
What problem did you want to solve with the business?
I help people heal their acne without the use of harsh antibiotics or restrictive diets. Get Glow programs give people their confidence and self-esteem back through my acne freedom mindset. I also safely transition clients off of harsh medications and provide them with a blueprint to healing acne holistically, for good.
Who are your clientele/demographics?
Anyone with acne. However, typically women aged 18-35
How does your business make money?
How does it work? I have a variety of different programs that range from guides to masterclasses and group programs to 1:1 intensives.
Where can we find your profession?
Newmarket but, I am fully online and have clients all over the world
What is the best question a prospective customer could ask a member of your profession when comparing services? Give the answer as well.
I would ask for proof of results, testimonials, before & afters, etc. You should also ask for their credentials – Instagram is a place people can claim to be anything and when dealing with healing bodies you need to have the proper education to do so.
What is the best part about what you do? What is the worst part?
Best part is giving clients their lives back and watching them gain confidence and heal not only their skin but, their relationships with themselves. I also love the supportive community I've created both on Instagram and Facebook. I don't love admin work 😉
What is your favourite joke about your own profession?
That birth control is the cure-all for acne?
What are your social media channels?
On Instagram and TikTok. I also have an acne community group on Facebook.
PAY IT FORWARD: What is another Toronto business that you love?
Stellar Eats – the BEST healthy acne-safe baking mix line