The opening night of Yaw Tony's exhibition at Broken Cage Gallery was fun with joyful music and vibrant conversation. Plenty of art lovers strolled through admiring the prints of the Black Palette collection. 30 pieces lined the walls of the gallery, 20 waiting in the wings to be rotated in whenever others are bought. Yaw Tony has illustrated a beautiful three-layered story through his art about humanity and life.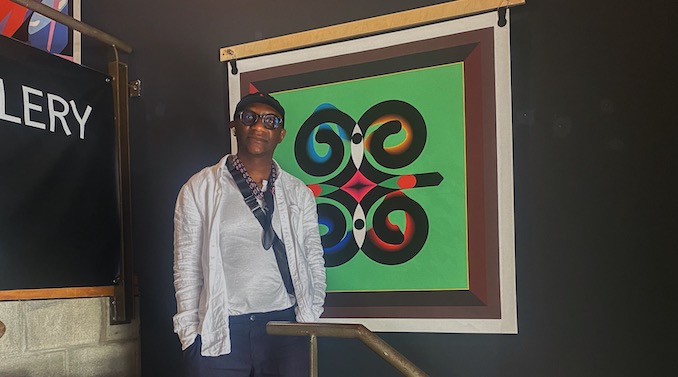 Yaw Tony's Story
Yaw Tony is an impressive Toronto artist with multiple companies under his name particularly LLiM, Life Liveth in Me, a luxury design house working in scarves, textile design, lifestyle accessories, and home furnishing. With Ghana roots, his work often leans into the culture as a means of exploration and expression with the use of Adinkra symbols and parables or folk stories. He also draws inspiration from Vincent Van Gogh's use of colour and Salvador Dali's surrealism.
Having once thought Toronto was not a friend to emerging artists, he now says that the opportunities are better in comparison to when he was working in the UK where their cities are littered with independent galleries, which Toronto had lacked. Now, Yaw Tony thinks the tides are changing, more galleries are popping up willing to show new and local artists, and there is more financial support for the arts.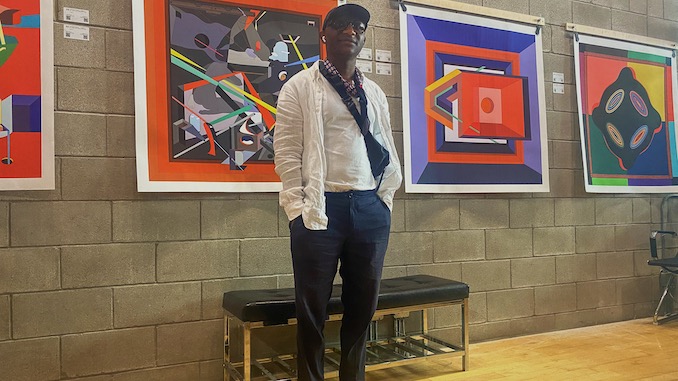 Black Palette Exhibition
The exhibition is layered in meaning with a new wave interactive interpretation. Each piece has a label with two QR codes: one is for the viewer to input their interpretation, and the other is to read Yaw Tony's intent and interpretation. Yaw Tony likes the idea that the artist can only offer some of the art's meaning – there is so much to be inferred from an onlooker: where they are, what they did that day, and the life they've lived all intersect with their own interpretation of the artwork and if that interpretation is different than the artists, that doesn't make it wrong, it just means that the work translates to more than one walk of life.
Most of the pieces are square, a shape familiar to Yaw Tony from his scarf line. Yet, he also admires the square for its four equal sides which metaphorically represent the equality of humans. "And I like to play on the concept that every human being is equal but different based on the purpose of the gifts that we have. And the idea is, that we are born with gifts. We don't give ourselves gifts. But we are all equal."
The three layers of meaning to the exhibition come from: Adinkra, symbols from Ghana that present concepts, or sentences, "They are very plain symbols. I've extracted them and added colour to them. Each symbol has a lengthy sentence, more or less. So, you can literally take the symbol, this symbol, that symbol and create a paragraph out of it because they have, like, a complete sentence." Folk stories, or parables, "I have extracted, I guess, the moral aspect of the story and then turn them into artwork". The parable plays out before you in a theatre-like setting in his prints. And finally, the beauty and importance of women where certain pieces disassemble the female body into chaos showing their complexity, or the illusion of two women kissing framed by the shape of a woman's body.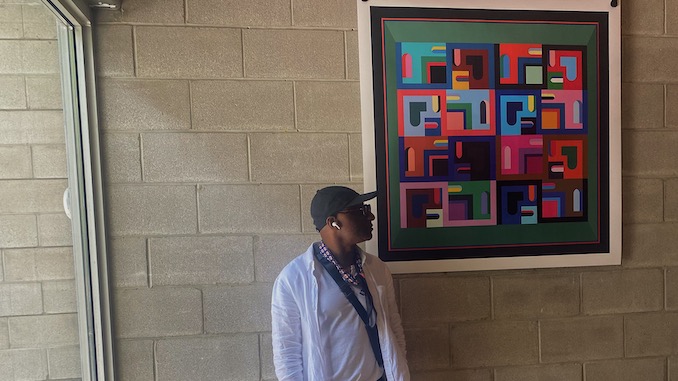 Broken Cage Gallery
The Broken Cage Gallery opened late in 2019 and struggled through the pandemic to keep the business afloat but managed to make it out and thrive. They aim to bring a grounded community to the art world where people of all walks of life can engage with art in a new way. They primarily work with local artists and host plenty of special events, live music, stand-up comedy, movie nights, etc. They're privy to a prime location on Richmond Street in the Graffiti Alley neighbourhood and it's a beautiful venue that has plenty of natural light. The gallery's owner and Yaw Tony got in touch through a mutual friend.
The Black Palette – COLour Odyssey – Exhibition by Yaw Tony runs at the Broken Cage Gallery from July 22nd to August 19th. Read more about the exhibition here. You can take a look at the Broken Gallery's special even calendar here.