Toronto Summer Music is both a music academy and an annual festival operating primarily out of Koerner Hall, with concerts, masterclasses, and special events throughout the city. The TSM Festival's opening night concert "The Folk Influence" (July 7, 2022) was a showcase for everything we have come to know and love about this beloved classical music festival. A themed concert featuring mostly classical works inspired by traditional folk music, "The Folk Influence" fit nicely with TSM 2022's overarching theme of "Inspirations".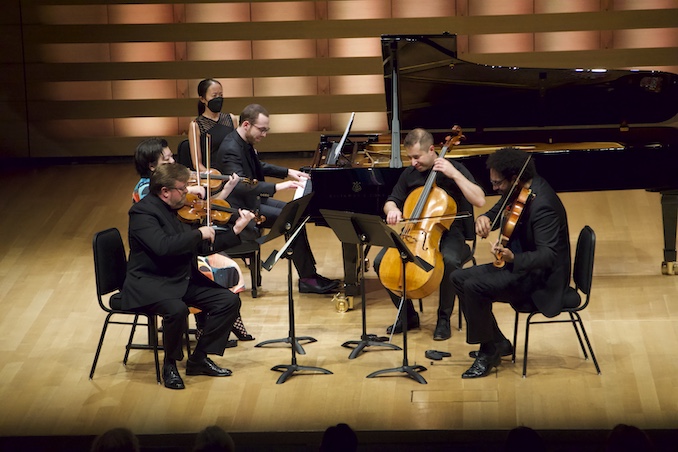 Host Tom Allen of CBC fame shepherded the audience through a programme of classical greats including Dvořák and R. Schumann, alongside lesser known composers like Lysenko. A medley of "remixed" folk songs by Canadian folk singer Wade Hemsworth rounded out the program with a single non-classical piece, albeit performed in an operatic style by noted soprano Mireille Asselin. The undoubted highlight of the evening was Dvořák's Piano Quintet No. 2 in A Major, Op. 81 with pianist Nicolas Namoradze, violinists Yura Lee and Martin Beaver, violist Juan-Miguel Hernandez, and cellist Matthew Zalkind. Koerner Hall proved a beautiful venue for the opening evening. The worryingly empty seats – we'd estimate it was only about half-full – on the other hand, were a reminder that Toronto's classical arts scene is still struggling to return to pre-pandemic levels.
Other highlights of this year's TSM include a Heliconian Hall series with smaller showcases for artists like harpist Teresa Suen-Campbell, a kids' concert series featuring musicians programmed in the mainstage concerts, and various "guest" slots for young musicians to play alongside established professionals. TSM's commitment to showcasing the new (composers!) and upcoming (young artists!) alongside seasoned veterans and better-known works is a key element of the series.
For Toronto Guardian, the concerts we are most looking forward to include July 14th's Dover Quartet (featuring Haydn, Ravel, and Mozart), July 20th's Baroque Splendour (featuring an extensive programme of Telemann, Vivaldi, and other baroque greats), and July 29th's A Literary Affair, which will include a hotly anticipated performance of Mendelssohn's String Octet in E-flat Major, Op. 20, one of the all-time great chamber pieces.
With performances at Koerner Hall, Walter Hall (U of T Faculty of Music), the Heliconian, and more, TSM is taking over the Toronto classical music scene this summer – and we are all the luckier for it.
***
Buy tickets for Toronto Summer Music here.
On now until July 30, 2022.