For this week's comedy feature we had the pleasure of getting in touch with Spencer Litzinger to learn more about her! Spencer is a Toronto comedian and host both YTV's "The Zone" and a podcast on The Sonar Network called "Spencer Wants to Know". This mood-boosting, refreshing and lively podcast is all about Spencer's past struggles, failed classes and her attempt at redemption every week.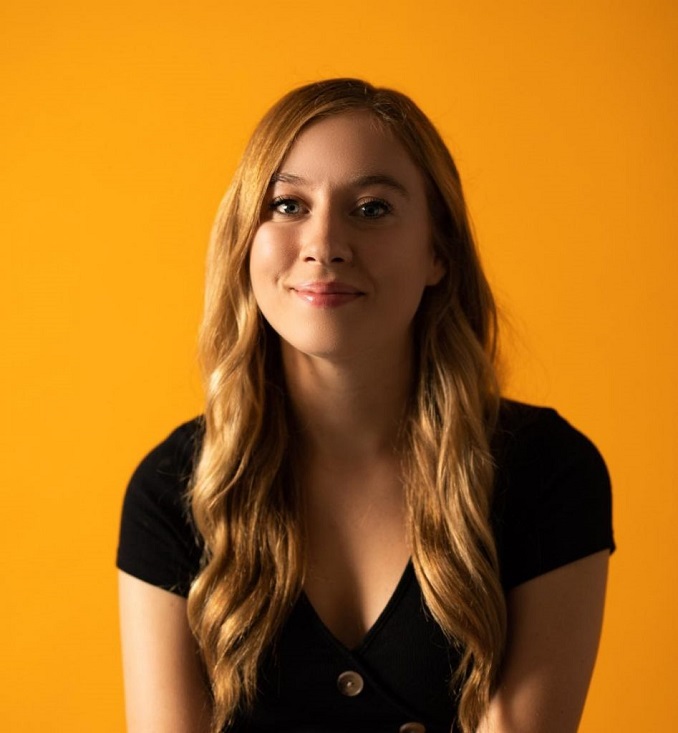 How would you describe your comedy style?
A mix of inappropriate and heartfelt. I simultaneously like to pull on people's heartstrings and people's pant legs, just to make sure that they are really paying attention to me.
Who are your influences?
As a kid I watched a lot of I Love Lucy and the Austin Powers movies. Lucy was so loveable. I agreed with the title of her show. In Austin Powers it was cool to see Mike Myers play so many different characters. And occasionally I lose my mojo, but those films inspire me to get it back.
Who was your favourite comedian growing up?
Probably Kristen Wiig on SNL. In school, my friend Frankie gave me a drawing of Kristen Wiig's characters because he said I reminded him of her. I've always been touched by that.
Who is your favourite comedian now?
I really love the show "I think you should leave" on Netflix created by Tim Robinson. I first saw him in his episode of "The Characters" which is basically the same as his sketch show. His humour is fantastic. So bizarre and real. I also just love seeing him yell. I also just saw the first episode of Vanessa Bayer and Molly Shannon's new show "I Love That For You". Everybody should watch it because it's hilarious.
What is your pre-show ritual?
Pump up music and to remind myself to connect with the audience and who I'm performing with. I used to host an improv jam show called Hodgepodge where I would blast "Mrs. Robinson" and personally shake every audience member's hand. This was pre-covid.
What is your favourite place you have performed? Why?
The Social Capital Theatre on the Danforth because I've always felt at home there. I started performing there when I was 17.
What is your favourite bit you have written and why were you proud of it?
I really enjoy writing character monologues. My favourite one I did was about Clarice confessing her love for Hannibal Lector. I think I did the voice pretty well.
What is your favourite medium for listening or finding new comics/comedians?
Tiktok. The algorithm can give you what you want.
Tell us a joke about your city.
I've lived here my whole life and don't know where anything is. That's a joke about me living in the city… my whole life.
Do you have anything to promote right now? Where can we follow you?
My podcast Spencer Wants To Know on the Sonar Network. My boyfriend and I go through my old report cards then he quizzes me on a different subject each week. So far we've covered poetry, anger management, math and many more.
Follow me on Instagram.
PAY IT FORWARD: Who is another local comic/comedian we should know about?
You should know about my boyfriend and podcast co-host Eli Bovard. He's not very active at the moment but I predict big things for him. I am biased but I love his sketches. And you can hear him talk on our podcast.