Hiring a dedicated website designer to build you a site from scratch may not be possible for your business. After all, building an online presence from the ground up is not cheap.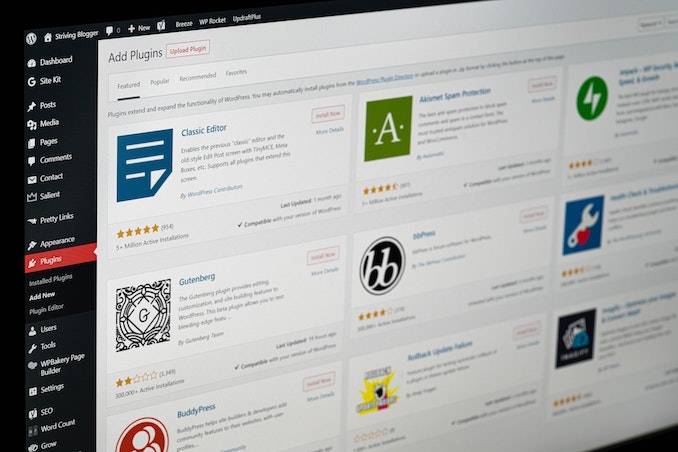 Fortunately, this procedure is not as difficult as it may appear. Some beginner-friendly website builders are built specifically for small businesses and can allow any website owner to develop a great site even if they have limited experience. Perhaps, even more importantly, many of these cost-effective tools eliminate another significant barrier.
Choosing Website Platforms
So, where do you begin? With many platforms available, website owners should choose a user-friendly solution that allows them to establish a website without any coding experience. 
WordPress is one of the leading options available in two flavours. For this article, we will concentrate on WordPress.org, which provides the most features and allows you more control over your website. The only downside is that you, as the website owner, will have to make separate hosting arrangements, although this step isn't overly difficult either.
A second option is a trusted website builder like Squarespace or Wix, which can be a good fit if you want all-in-one solutions. These platforms come with pre-built website designs that you can alter with a drag-and-drop interface. You won't need to hire another company to host your site, but you'll have less design freedom.
Pick Your Host
If you took the path away from the website builder in the previous step, you might have to select a website host. Hosts will vary, although users are first encouraged to consider server location. Some providers are closer to your area. Users in Canada might want to use Canadian web hosting for optimal speeds. After that, you can look at customer service, SSL certificates and security features.
Selecting a Domain Name
When it comes to establishing your website, picking the correct company domain name is crucial. Most small businesses incorporate their brand name and use a top-level domain (TLD) extension such as.com. With so many.com domains already registered, getting the exact domain name you desire can be tough. TLDs like .net,.edu,.org,.store, location-based TLDs like.us and.ca, and professional-designations like .pro or .me are also available.
As for the domain name itself, website owners should preferably match your company's name. If you're having trouble deciding on a name, various online generators can help get the ball rolling. After getting some ideas, users can follow a few pointers, including ensuring the domain name is simple to spell, brief and includes keywords relevant to your company.
Website owners may also buy a domain name through a platform like Squarespace or Wix if you have plans to use one of these as your website builder.
Choosing a Theme
WordPress and Squarespace both have many customizable templates (or themes). Many of them are also completely free to use.
Look for a simple site design that looks amazing and has all the necessary parts.
Professional websites typically contain a navigation menu at the top of a business website. A welcome message with a call to action button is usually displayed on the homepage, followed by other content.
Install Plugins
New features can be added to your website using plugins (in WordPress) and extensions (in Squarespace and other page builders). If you don't have these tools, you could find it difficult to get the most out of your business' website.
Squarespace has many extensions that you may look through, including over 60,000 plugins if you use WordPress.
With so many possibilities, it's easy to get carried away and install as many plugins or extensions as possible. However, doing so may cause your site to slow down and function poorly, so choose wisely.
As a result, website designers will suggest concentrating on plugins/extensions that handle topics including performance and optimization, backups, security, and Search Engine Optimization (SEO).
Add Your Content
You'll probably want to start adding material right away as you design your website. Website owners are encouraged to have an outline of the structure they would like to follow before doing so.
Some of the key features of your website might include a homepage, a products/services or other portfolio pages, an about page, a blog, and a contact page, which will also need to organize in a way that is logical to your website visitors.
Optimize for Top Performance
Designing a website is one thing. But, having it appear to a relevant audience is another. Website owners typically use the process of SEO to help with this.
Using strategies such as selecting the right keywords, users can help pages of their website appear higher on Google's first page or alternate search engine results pages (SERP).
Conclusion
To support your business' growth, it has now become standard that you develop and maintain your online presence. Fortunately, using beginner-friendly platforms like WordPress, Squarespace, or Wix, you can create a website in no time while also saving money.