Art City is a not-for-profit organization that provides free art programming for children and youth. We spoke with Heather Wilson, Director at Art City and Mekayla Dionne the Program Manager to learn more.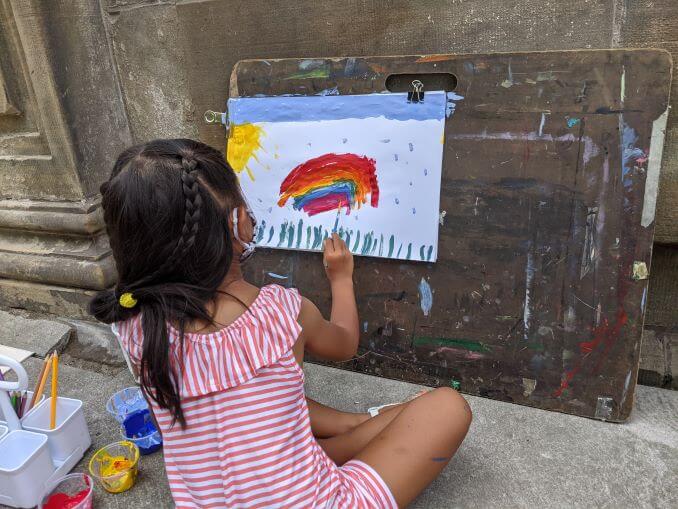 Describe your charity/non-profit in a few sentences.
We are a small charity located in the heart of St. James Town, one of Canada's most densely populated and culturally diverse neighbourhoods. Art City delivers free arts programming to children and youth and is an important resource for the community's families. We believe in the power of art to foster positive change. Our goal is to provide high-quality art programming that not only nurtures artistic development, but also builds social development by fostering a sense of self-worth, self-expression, and a sense of belonging. We envision a world where all children have access to the social, emotional and physical benefits of art.
What problem does it aim to solve?
St. James Town is one of the densest neighbourhoods in Toronto, with many young families. Despite the large population of the community, there is a significant mismatch between needs and resources in St. James Town. Many families are looking for accessible and affordable opportunities to support their children's social development. Art City steps into the gap to provide high-quality arts programming free of charge. Art City offers this support through its provision of after-school and camp programs throughout the year. Art City offers a safe and non-discriminatory environment where children can explore artistic expression, connect to their community and find their passion.
When did you start/join it?
I (Heather) joined at the start of 2020, and Mekayla in 2019.
What made you want to get involved?
I strongly believe in community-based work and in the power of art to create and inspire change in unexpected ways. Art City is unique in its approach to offering arts and working closely with the families and the community to create programs that actually meet their needs.
What was the situation like when you started?
Art City was going through a lot of change when I first joined. We are a small charity of only two full-time employees, so we were developing our strategic vision and rethinking our model of delivery to see how we can maximize the positive impact we have on children's lives.
How has it changed since?
I started just prior to the pandemic, so you can imagine that a lot has changed! Some positive, some less so. Happily, we are able to offer our programming in-person right now, but we have also developed a virtual method for programming so that we can continue to support our users even during lockdown conditions. Having hybrid programming helps us reach broader audiences and ensure we can be consistent support for families in times of change.
What more needs to be done?
While we are proud of the work we do, we continue to face long waitlists and are limited in the number of children we can serve. We continue to look for ways to serve more children and provide more days of programming.
How can our readers help?
We are always looking for donors and for passionate individuals to volunteer their time, whether an artist or an art lovers! If individuals are interested they should reach out to us at artcitytoronto@gmail.com to talk about volunteering, or check us out at CanadaHelps to donate.
Do you have any events coming up?
We don't have any scheduled events at this moment. However, we hope to establish a teaching garden outside our studio this spring and will be looking to host community workshops then! As well as our summer camp!
Where can we follow you?
The best place to follow us is on Instagram
PAY IT FORWARD: What is an awesome local charity that you love?
Sherbourne Health does such great work in our community and has been really vital to making health care accessible during this pandemic.