King Street West has garnered a reputation of being the city's nightlife and clubbing district. Mixed in with contemporary restaurants and neighbourhood hangs, it's a playground for downtown dwellers and those who want to be seen. If the pandemic years have got you down then a visit to the area any given night and you'll see that life for many has decided to move on. We recently were invited to peek inside Mademoiselle Raw Bar + Grill during the splashy media preview/opening night party.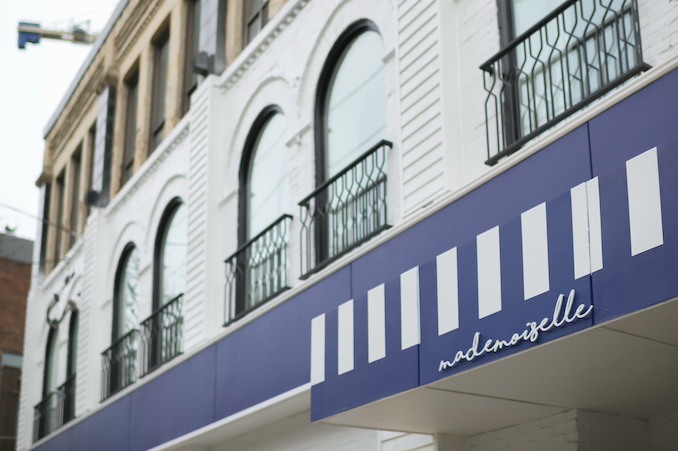 The building itself is hardly recognizable from its past life. Walking past it during construction about a month ago I didn't even think about who, or rather what, this warehouse-sized space was used for. Having lived within walking distance for eight years, I was reminded that it was For Your Eyes Only. Remember? Right. For years, I would walk past the dark unassuming exterior of the popular strip club. Today, the exterior is painted over in crisp white with ocean blue mediterranean accents and trim.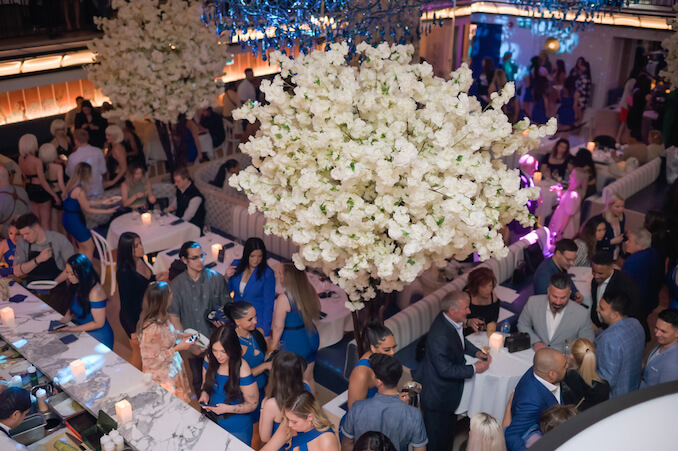 Stepping inside opened a whole different scene from its past. I have no idea what the interior looked like in it's previous life but imagined it was dark and dank. The new interior continues with full on sophisticated  white and blue with larger than life dining room turn lounge vibe. Along the side of one wall is the warmth of sand and surf from a bird's eye view. The soaring ceiling has one ginormous blue crystal chandelier and a few faux lush and blossomful trees around the room. Leather curved banquettes make for cozy gatherings for dinners. The far wall is a grand open view of the bustling kitchen and where the raw bar finessing happens. Another wall serves as the restaurant's stylish main bar with a nod to Art Deco. As you stand in the centre of space you can look up to find a smaller bar area, a DJ perch, more seating and tucked away tables for more intimate conversations. Walls are spotted with black and white photos of the leisure days on the waters has us dreaming of coastal life somewhere in Europe.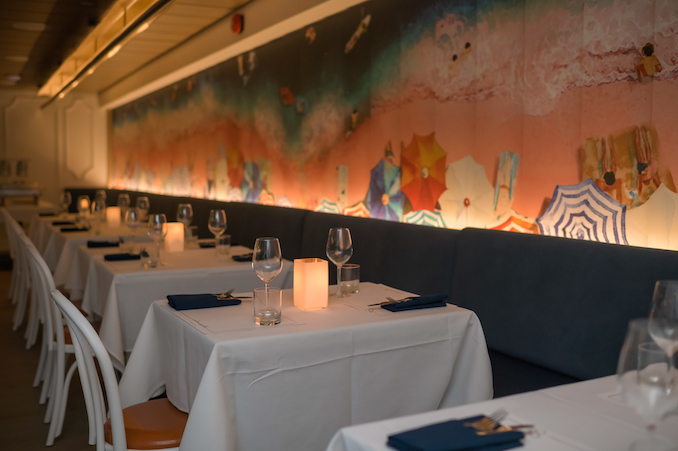 At the front of Mademoiselle is a private Dom Perignon Champagne room for those who prefer to be out of sight…and can shell out for it. If you have to ask, then you probably can't afford it (we didn't ask). The only thing the rest of us on the other side of the wall can see are the curious green spotted lights.
We were told there were a few keepsakes from For Your Eyes Only that are now displayed  like art pieces. A worn out sign, some items in the washrooms, and a stripper pole — which we assume is in the Champagne room.
Mademoiselle offers up bountiful fresh seafood and grilled items well into the night. At the media preview we sampled the impressive seafood tower brimming with jumbo shrimps, king crab legs, as well as freshly shucked oysters. There were several types of caviar served and a massive charcuterie station. Sushi offerings here include a show-stopping FU Roll made with gold flakes. Some other items we had tasted included a vegetarian niçoise, truffle parmesan fries, and grilled lamb. All really tasty.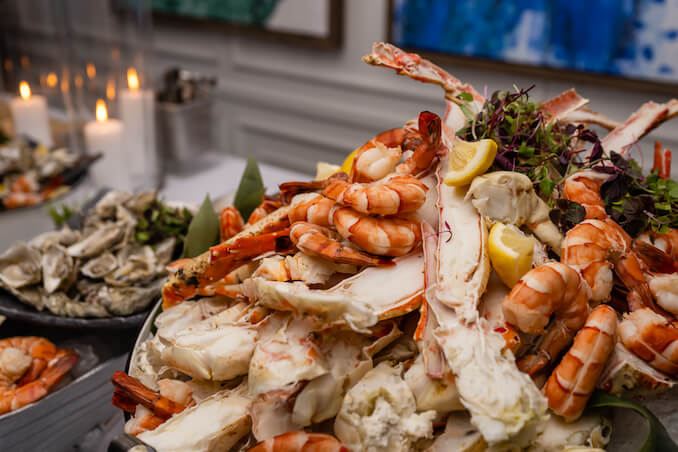 Of course it wouldn't be King Street West without an extravagant and luscious cocktail programme. This is, after all, from the same people who brought us MARBL. Popular choices? Try the 'Cocoa Chanel' (Buffalo Trace, Chambord, Chocolate Liquor, Torched Marshmallow, Smoke), 'Next on Stage' (Hibiscus infused Casamingos Mezcal, Coconut infused Belvedere Coconut Cream, Lime, Rose Water), 'The Madame' (Lemon infused NO.3 Gin, Lemoncello, Lemon Rum Chatta, Lemon Juice). Of course there are plenty bottles available of everything you can imagine that is popular with the crowds.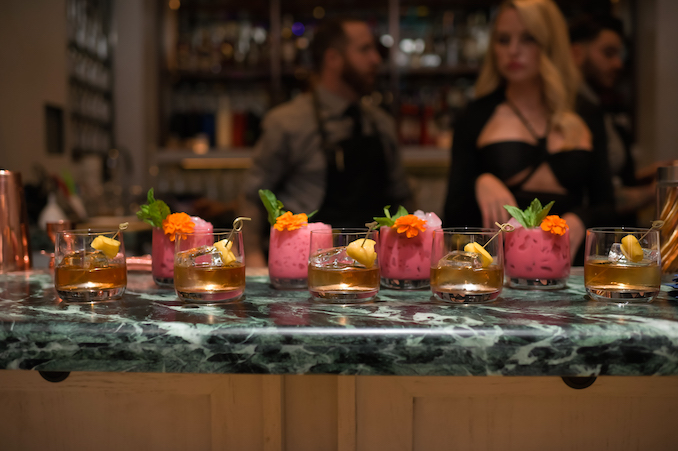 Take in a dinner, yes. The food we had tried was delicious and the staff were attentive — it's on our list to return to have a proper meal at some point. But as the night progressed the whole Mademoiselle vibe changes from "oh, hey Toronto is looking so sophisticated!" to where the fuck are we? Vegas? Ibiza? The number of champagne bottles that were raised in the air was quite something to see after cocooning with our warm cocoa at home for the past few years. Yes, this place is next level and pushes further, farther and faster the later you stay — if it's your scene then have fun but if it's not, get out after dinner.
Mademoiselle is vibrant and has an energy many of us haven't seen since pre-covid. For many here on media preview turned opening night party it was all about living the life. Put away your leisurewear boys and girls…unless it's Fendi or Balenciaga. And be prepared to open your wallets.
Mademoiselle officially opens to the public on May 12, 2022.