There aren't many specialty grocery stores that offer delivery services, which is a new must in our COVID-19 world. This week we spoke to Rosie Scavuzzo, Founder and Partner of Speducci, about how we can have authentic Italian fare delivered to our door with Bottega by Speducci.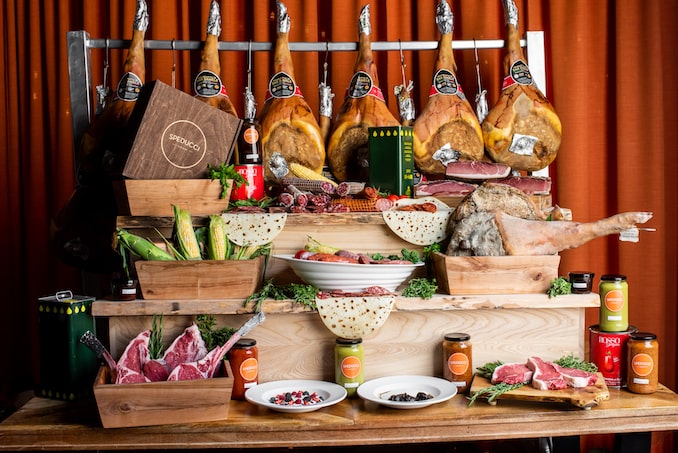 What is your business called and what does it do?
Speducci is a destination for elevated food with Italian taste, culture and style. We have been Serving the Toronto community for more than five years, and offer a wide selection of imported and locally sourced artisanal produce, meats, cheeses, hand-crafted pasta, wine and beer for dine-in, take-out, or grocery delivery, including made in Canada Speducci and Paganelli brand products that are exclusively available for delivery from Bottega by Speducci – our new premium Italian grocery delivery service.
What made you want to do this work?
I have always been passionate about hospitality and previously worked at Maple Leaf Sports and Entertainment (MLSE), where I was instrumental in launching Real Sports Bar and Grill. Prior to joining MLSE, I managed several hospitality concepts across the GTA. When the opportunity to open Speducci presented itself, I immediately knew that with Chef Gabriele's authentic cuisine, we could offer a true taste of Italy to Torontonians.
What problem does this solve?
The launch of Bottega by Speducci is in direct response to our community's interest in enjoying the Speducci experience in the comfort and safety of their own homes. Our team prides itself on continually innovating to meet the needs of our customers, offering new products and services to delight and inspire the senses.
Who are your clientele/demographics?
Speducci has a reputation for elevated Italian fare and for offering the highest quality ingredients. Because of this commitment to offering a premium product, we appeal to foodies who prioritize quality and crave authentic Italian food and hospitality. With the launch of Bottega by Speducci, we are excited to bring our elevated Italian food direct from Chef Gabe's farm to customers' front door.
How does your business make money? How does it work?
At Speducci we have a full-service product offering, ranging from catering to event design, our Speducci Mercatto restaurant, health and nutrition consultations, and now, online grocery delivery through Bottega by Speducci. GTA residents can order online at Speducci.com to receive our award-winning salumi, cheeses, hand-crafted pasta, wine, beer and locally raised artisan meats delivered directly to their doorstep. Delivery is free on orders over $75 and can be scheduled for next day delivery.
Where in Toronto can we find your profession?
We are a hidden gem located in the Castlefield Design District at 46 Milford Avenue, North York, ON. We are open seven days a week at our location, or you can order online for delivery or pickup through Bottega by Speducci or calling us directly at 416-242- 2777.
What is the best question a prospective customer could ask a member of your profession when comparing services?
What makes Speducci's product offering unique from other Italian restaurants or grocers?
We are obsessed with quality and making every experience personal. We only serve the finest locally sourced and imported products, and our in-house culinary team make all our Speducci and Paganelli brand products on-site. We are so passionate about offering the highest quality to our customers that our Executive Chef, Gabriele Paganelli, raises his own wild boar – which you'll see featured in his award-winning salumi. We also extend our Italian hospitality to all our customers and treasure the sense of community we have built at our Speducci Mercatto restaurant and through our Bottega by Speducci deliveries to customers.
What differentiates Bottega by Speducci from other online grocery retailers?
We are an award-winning destination for elevated Italian dining and one of the first to offer Torontonians authentic Italian grocery delivery. Our Executive Chef, Gabriele Paganelli, is North America's only Assagiatore Salumi – the equivalent of a sommelier for cured meats and .his internationally-acclaimed Italian cuisine is exclusively available for delivery through Bottega by Speducci. All orders are processed, hand-packaged and delivered by our in-house team to ensure every item arrives in perfect condition and with the care due to the finest locally sourced and imported Italian food, wine and beer. Orders also come packaged in the iconic Speducci orange box, making every delivery an Instagram-worthy unboxing experience.
What is the best part about what you do? What is the worst part?
The best part: Seeing our customers enjoying our food and building a community around Italian cuisine.
The worst part: not being able to open our doors to as many of our guests as we would have like this year has been hard. We are so driven by community and hospitality, and our communal table was the focal point of our space. We have adapted this year and opened a new patio space and launched Bottega by Speducci to ensure our loyal guests could continue to enjoy the Speducci experience in comfort.
What is your favourite joke about your own profession?
I am going to open a restaurant called I Don't Care, that way I can finally go to the place my boyfriend is talking about!
PAY IT FORWARD: What is another Toronto business that you love?
We have been installing a new 'apartment style' kitchen for content production and all the countertops were made and installed by Trevisana Kitchens – they are a local success story, and another business that is thriving in the Castlefield design district.