Going to the spa is nice. It's relaxing and pampering. But going to a medispa is a different type of self-care that isn't about kneading your muscles or needing some tranquil time. People who turn to medispas go for all different reasons. For me, it's about repairing and correcting my skin. It's not about wrinkles. That I can age gracefully with. But I have melasma and pigmentation issues and the fall and winter months are ideal to address any skin concerns that may have also developed over the summer months. But what can you do especially during these challenging pandemic times? It can be confusing as to what's safe and where to go.
It was about 10 years ago that I started noticing a change in my skin. Melasma was something I was diagnosed with – also known as the 'mask of pregnancy'– a common skin condition for women post-pregnancy. I, unfortunately, had it severe and coupled with years of enjoying being in the sun way more than I should. It was as though it appeared out of the blue. I was then introduced to a whole new world of treatments beyond the lovely plumping spa facials. Peels, lasers and other methods suddenly became part of my life with noticeable and fast results but not without some discomforts. No word of a lie, I would take a Tylenol before going in for any treatment to just help ease the experience.
Today there are many more options with even better technology to address our skin issues. But knowing where to go is important. You'll want to ask ALL the questions before committing — what happens before, during and after.  Medispa treatments are not cheap and the equipment is costly. What I've also experienced is that not all medispas are equal. You will want to go to a reputable place and ask if the person treating you is a medical professional rather than a beautician. No offense to beauticians but if I'm serious about corrections and repairs, I'd like to know the person knows exactly what they are doing. Check their credentials before committing to any services.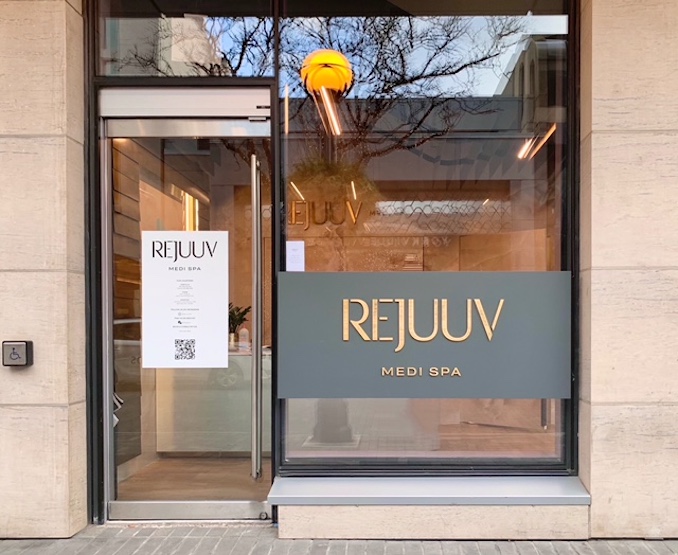 Rejuuv Medispa is the newest spot in the well-heeled Yorkville area. Yes, in the thick of pandemic times they moved forward with their opening in August. They have two other successful practices led by Dr. Shawn Seit, MD,  who treats everyday people like me and you …oh, and a few celebrities. He's a graduate of the University of Toronto's Medical School and has trained with Dr. Stephen Mulholland, one of Canada's top plastic surgeons. Dr. Seit's expertise is in cosmetic laser use, injection rhinoplasty, Botox and facial sculpting. He's also an expert in non-surgical body sculpting.
What's it like to visit a medispa at this time?
Rejuuv is located at street level right on Yorkville Avenue across from the Hazelton Hotel. My appointment was made a week in advance. No other clients were in the waiting room when I checked in. My temperature was taken when I was cleared to enter the premises and with mask on I was led into the treatment room. I asked about what they were doing to address the evolving health and safety protocols the city has imposed on businesses during COVID19. Since they are considered a medical facility they have always offered a meticulously sterile environment regardless of the current pandemic. The difference is now the staff are wearing masks at all times and clients of course are required to have masks stay on when not receiving treatment.
What's the vibe?
The space is luxe and soothingly minimal. Much more aesthetically pleasing than my dermatologist's office which was more like going to my GP's practice. But here, it's clean lines, blond wood, stunning marble walls and accents of gold finishes. No decade-old magazines lying around either.
There are four treatment rooms at the location and I didn't even cross paths any another clients during the time spent there.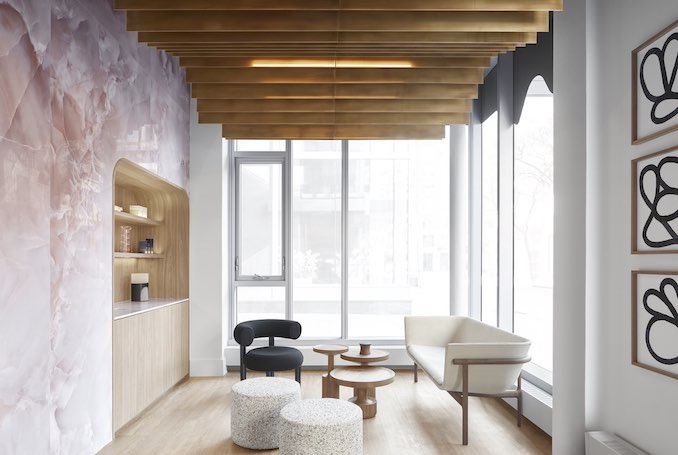 What to expect on your visit?
Evelyn, RN, BScN who manages this location provides a skin analysis and discusses options to address any skin concerns. Marcela, RN, who works closely with Evelyn also helped in administering the actual treatment when I was there. Both are well qualified and very experienced in confidently treating individuals and their needs. They take their time explaining the treatment and to ensure you are comfortable with recommendations.
What treatment did I have?
PicoWay Resurfacing Treatment was recommended for my current skin condition. This laser treatment helps treat acne scars, wrinkles, stretch marks, fine lines, age spots, liver spots and melasma. It also helps to improve your skin by stimulating the natural production of collagen and elastin. What I also found was it helped to diminish the appearance of larger pores and providing an overall smoother and brighter surface. The equipment used in this particular treatment is quick and precise. With short pulses helps break up pigmentation below the surface. I learned that this treatment is also really amazing in removing tattoos.
What I've read about PicoWay is that it is a fractional laser. Meaning, it only affects the skin that's being treated, while leaving the healthy cells around the treated area untouched. The innovative technology also has three different wavelengths of energy so it's more precise to address skin needs.
Does it hurt? Is always a question I get asked and the question I always ask. I have a low tolerance for pain. But I found the staff here to be very experienced and confident.  They are way more efficient and know how to move quickly with this technology. I was surprised that I hardly felt anything compared to similar treatments I've had done at previous medispas.  On more sensitive areas like cheeks, it just felt like little static shocks but nothing terrible. Elsewhere I didn't feel anything.
What about recovery time?
The beauty of this PicoWay treatment is that you can walk out and continue on your day. There is no downtime. A moisturizer and a sunscreen were applied before I walked out the door. By the way, I noticed they used Alumier MD products on me. I was happy to see since that's the skincare line I've been using for a year now.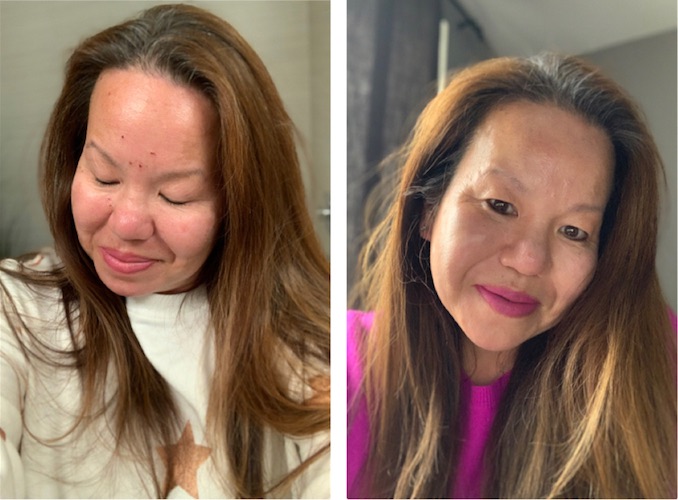 Results?
I found the PicoWay results to be noticeable with a healthy glow. Within 24 hours I had already seen an improvement in skin texture and brightness. I was informed before committing to PicoWay and that it would take a couple visits to fade the more stubborn darker spots as they were deep under the surface. I appreciated that information before starting.  Time in-between visits could be anywhere between a month to 3 months.
While I was there I also asked them about the little pimple-like bumps that won't go away and what I could do about them. I've had them for a few years and I know they are common. They were able to address them as well and I'm beyond relieved that they are gone now and I'm not so self-conscious about them.
I am scheduled to return in a couple more weeks as a follow-up and I'm happy to have found a place that I trust.
Rejuuv Medispa is located at 135 Yorkville Avenue. Visit their site to see their comprehensive list of services for face and body everything from managing acne to anti-aging. They do offer amazing facials like the Diamond Facial that I've raved about in the past year. They also offer peels, fillers, body sculpting and more. You may also want to check out their before and after shots.