Grumpy Kitty Boy is the singer-songwriter alter-ego of Toronto-based composer Juro Kim Feliz. Studying composition at the University of the Philippines and McGill University, Juro [joo-row] received performances of his work as a contemporary classical composer across Asia, Europe, and North America. He is a Golden Balangay Awards 2019 nominee (Excellence Award for Music and Entertainment), and has been a resident artist of the Brush Creek Foundation for the Arts (2018), the Kimmel Harding Nelson Center for the Arts (2019), and a library resident of the Canadian Music Centre Ontario (2018-2020). Co-hosting and producing the radio talk show Sigaw ng Bayan (2014-2016) at CKUT 90.3 FM Montreal, he started leaning towards music journalism and has written for the Canadian Music Centre Ontario and the magazine Musicworks.
He had been a long-time pianist and band keyboardist before calling it quits in 2018. Juro decided then that songwriting is the most appropriate channel to express his worldview: "Be authentic! Embrace the grumpy!" Latching on to the pouting cat emoji, Grumpy Kitty Boy was born in the confines of his studio and a hand-me-down Yamaha keyboard.
Through Grumpy Kitty Boy songs, Juro attempts to be in touch with deep feelings about reality, often left ignored and suppressed in people's conception of positive thinking. From the chaos of Manila, his move to Montreal and Toronto gave him a vivid glimpse of sobriety, best left accepted as it is than rejected. While his sound and lyricism emulates video game music and Owl City's synth pop style, other musical influences also include The Midnight, Radiohead, Porcupine Tree, and the singer-songwriter Sufjan Stevens.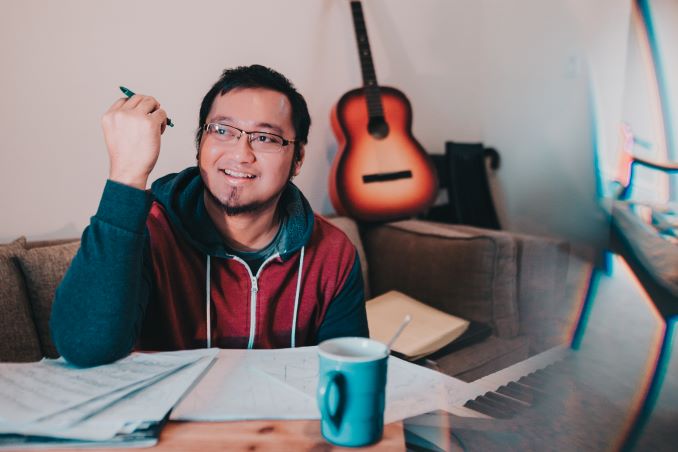 Name: Grumpy Kitty Boy (real name: Juro Kim Feliz)
Genre: Synth pop, pop wave, indie pop, singer-songwriter
Founded: August 2019
# of Albums: None so far, although I'm releasing a debut EP early next year!
Latest Release: Debut single "Airplane Wings"
Latest Single: Airplane Wings
Latest Video:
Favourite local Restaurant:
Captain's Boil! #SeafoodIsLife
Favourite band as a teenager:
Radiohead, Porcupine Tree (during my early 20s). Starting out as a classical pianist, I only grew to love bands later in life.
Favourite band now:
Still the same, but now with one addition: Local Natives! Loved their last concert here in Toronto last year (2019).
Guilty Pleasure Song:
"You & I" (Local Natives). The "distance" trope always gets me!
Live Show Ritual:
Be overly jittery on that very day! *laughs* But mostly panicking internally on preps, tech, and small details during my church band days. Now that I present myself as a solo singer-songwriter, worrying about lyrics is now included in the mix. Lyrics are the bane of our existence!
Favourite local artist:
Acote, April Aliermo (with her recent work on sound art), Pantayo
Sneaky Dees nachos, pasta from Terroni or a superfood salad from Fresh?
If not for keto dieting, I would go for nachos at Sneaky Dee's! But nah, hand me that salad bowl now please. *laughs*
Queen or College St?
Queen Street! I end up being there almost every weekend.
Trinity Bellwoods or High Park, Riverdale or Kew Gardens?
High Park (except when there's so much crowds ugh). Riverdale (Toronto city skyline ftw! But also because it's closer to where I am).
EP or LP?
LP! Gotta love LPs on vinyl, but EPs are understandable especially that I'm actually producing one myself now.
Early bird or night owl?
Certified grumpy night owl. *kroo kroo* Don't ever wake me up before 11am! *pouts*
Road or studio?
I love traveling, and being out on the road is nothing new especially with the music camps I used to organize in the Philippines back in 2012-2013. But I would choose a nice, cozy studio at any time.
Swiss Chalet or Roti?
Swiss Chalet!
Where can we follow you?
Facebook
Instagram
Bandcamp
Spotify
Apple Music
YouTube
Website
Any shows or albums coming up? 
Book a flight to the grumpy with my debut single "Airplane Wings," now out on Bandcamp and all digital platforms!