Are you in a leadership role at work? Looking to constantly improve your capability and capacity? The Roundtable may be a great addition to your experience. We chatted with founder Glain Roberts-McCabe who is a finalist for an RBC Canadian Women Entrepreneur Award* – a very prestigious award with over 7,000 nominations every year.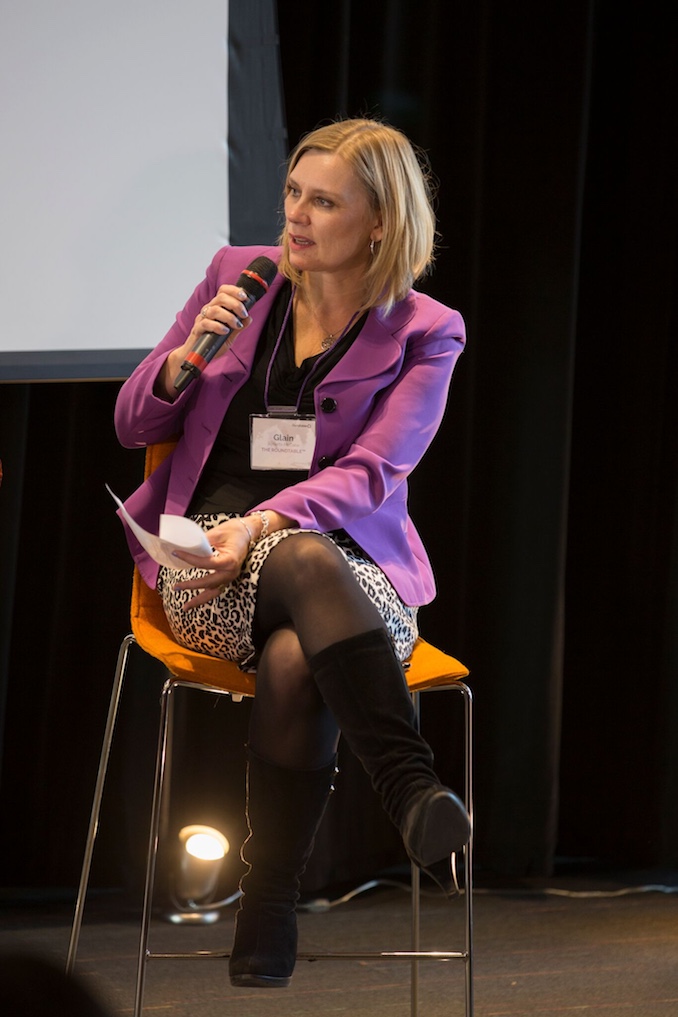 What is your business called and what does it do?
The Roundtable offers group and team coaching for leaders across industries. We help today's leaders and teams navigate the complexities of today's world of work by focussing on building individual as well as collective leadership capability and capacity. Essentially, we help leaders get better at leading and have more fun while doing it.
What made you want to do this work?
I saw how really accomplished and successful leaders were faltering and how traditional approaches to training leaders in one-off classroom events simply wasn't working. You develop your leadership skills by leading – not from a binder or a leadership lecture. I felt there was an opportunity to meet the needs of ambitious leaders better by harnessing the power that happens when smart people come together with a shared focus and an opportunity to work together overtime.
What problem does this solve?
Leadership is lonely. By leveraging group coaching, leaders develop networks of supportive colleagues which leads to increased job satisfaction and career engagement, which results in better retention and productivity for employers. The Roundtable programs provide opportunities for leaders to learn and practice new behaviours in an environment of continuous feedback. This repeated practice and built-in support network makes the new behaviours more likely to stick and builds each leaders capacity for empathy and vulnerability, which are critical ingredients for long-term leadership success.
Who are your clientele/demographics?
We work with emerging to enterprise organizations across sectors, and our clients tend to be the high-value employees in their organization. Often labelled 'high potentials', these individuals are ambitious and driven and are usually being tapped to take on more scope or higher levels of responsibility within their company.
How does your business make money? How does it work?
We are a time and product-based business. Corporate clients pay for our programs typically through their learning and development budgets. We offer a variety of levels of programming that can scale with the companies' requirements as their needs evolve, making us an effective long-term partner. We also offer opportunities for individuals who may be investing in their own development to join our open-enrollment programs in Toronto.
Where in Toronto can we find your profession?
We are part of the coaching and consulting field. On a tactical level, you can find us online at goroundtable.com, or come visit our office at Adelaide and Sherbourne!
What is the best question a prospective customer could ask a member of your profession when comparing services?
If you are looking for leadership development programming, ask about sustainability. How does the provider measure success and impact? Look beyond the standard end-of-program 'smile sheet' responses and ask how they measure harder metrics like promotion rates, retention, productivity, etc. following program completion. At The Roundtable, we design all our programs around the strategic priorities of the business and administer program surveys 6 to 12 months after program completion to test the 'sticky' factor of the learning. And, if you're hiring a coach, ask them to provide the type of certification they possess and the name of their coach supervisor. This is becoming a critical must-have in our field because of the increasing complexity of work today.
What is the best part about what you do? What is the worst part?
The best part of what I do as a business owner is being able to see the big picture of the business and getting to spend time innovating our service offerings with our clients. I love collaborating with our members to come up with something that they really need. The worst thing about what I do is having to park 80% of my ideas (hard not to succumb to 'shiny object syndrome') and of course year-end budgeting (apologies to all the accountants out there!)
What is your favourite joke about your own profession?
"If at first you don't succeed… try doing what your coach told you to do the first time."
PAY IT FORWARD: What is another Toronto business that you love?
I love Fresh Paint Studio + Café on Danforth Avenue. It's such a great place to go and get creative with a brush and canvas. We had our company Christmas party there a couple of years ago and it was so much fun! Highly recommended.
***
For more information, please visit The Roundtable website.
*Update: 
Nov. 22, 2018 – The Roundtable is honoured to announce that President and Founder Glain Roberts-McCabe has been named the recipient of the Micro Business Award at the 2018 RBC Canadian Women Entrepreneur Awards. Presented by Women of Influence, and now in their 26th year, the prestigious awards recognize the country's leading female entrepreneurs who have made impressive and substantial contributions to the local, Canadian or global economy.