We love our shoes and boots but winter is around the corner which means the streets and sidewalks will be filled with salt, dirt and sludgy stuff, threatening the footwear we cherish with salt stains and the like.
We are in a bustling big city which means we need our weekend boots for casually running errands and for our beautiful hikes in the parklands. We also need our city footwear to look presentable heading into the office or on a night on the town.
We've already had our first dusting of snow, which has encouraged us to start preparing for the inevitable. Yes, we have our reliable boots to keep us grounded and warm. But we also have stylish high boots and the Western style ankle boots that are on trend for the season.  We also continue to adore the sneaker culture and while they aren't winter footwear, we'll be pushing those into the season as long as we can!
Like many of our readers, we have no interest in throw-away fashion. Good quality footwear is meant to last and a little care goes along way! This time of year, we take inventory and see what repairs need to be done. But we've also recently learned how to do our own  maintenance throughout the season that's not only cost effective but helps prolong our footwear for years to come.
What causes the most damage to leather and suede in the winter months? Sure the salt and chemicals eat away at leather and dry it out and cause cracking. But did you know that water can soak into leather and suede making them expand, stain and fade and drying out the natural oils? Neglecting to take care of these everyday issues is the primary reason our boots and shoes don't look so great or last as long. The rain, mud, snow and salt can cause permanent damage to footwear.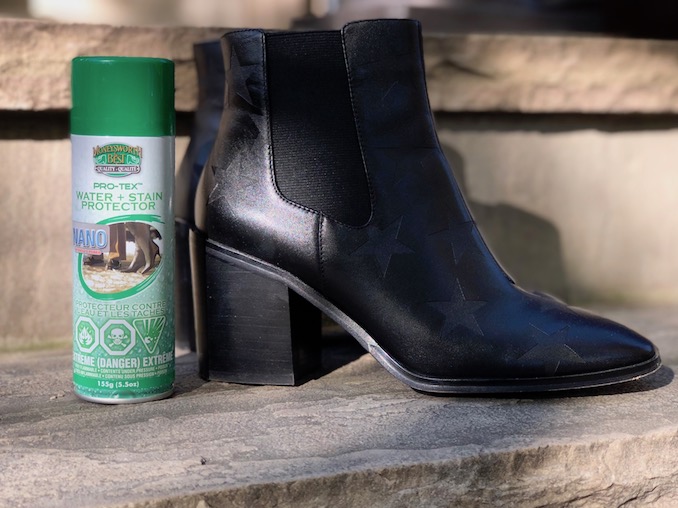 Here are 3 EASY STEPS from the shoe care experts at Moneysworth & Best Quality Shoe Care to help you extend the life of your leather and suede goods:
STEP ONE: CLEAN
Ideally you should be wiping off your shoes and boots after every wear so salt stains don't settle in. I've found  SHOE WIPES to be convenient to keep in my handbag to quickly do a once over to remove surface dirt while on the go. The wipes from Moneysworth & Best are double sided (smooth, raised soft dots that help scrub and remove scuff marks and stains). Moneysworth & Best WINTER WIPES are ideal for removing salt stains.  Great for keeping at the office and in the car too. For suede, it's a good idea to give them a once over with a brush. The 4-way DELUXE SUEDE BRUSH is designed to also remove dirt that gets trapped in the nap. Just remember to always brush in one direction to preserve the texture.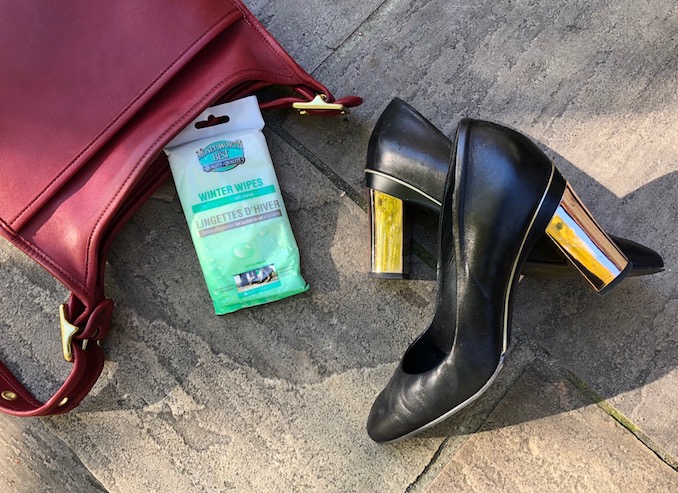 Salt eats away at leather when left at room temperature so to prevent permanent visual and texture damage, there is a SALT REMOVER Liquid with a built-in applicator for easy use. Great also for canvas and vinyl. TIP: It's also great for your pant cuffs and even car mats! A spray application is also available.
For tough stains on your leather and suede goods it's also a good idea to do a really thorough cleaning every couple of weeks to extend the life of your boots and shoes. The general CLEANER sprays a mist of foam that lifts tough dirt. The cleaner comes with its own built-in brush. Also worth keeping in your shoe closet is the LEATHER LOTION – a cream-based cleaner that not only removes dirt but restores moisture to help prevent cracks and fading. Apply it with a soft cloth and buff until the cream is absorbed.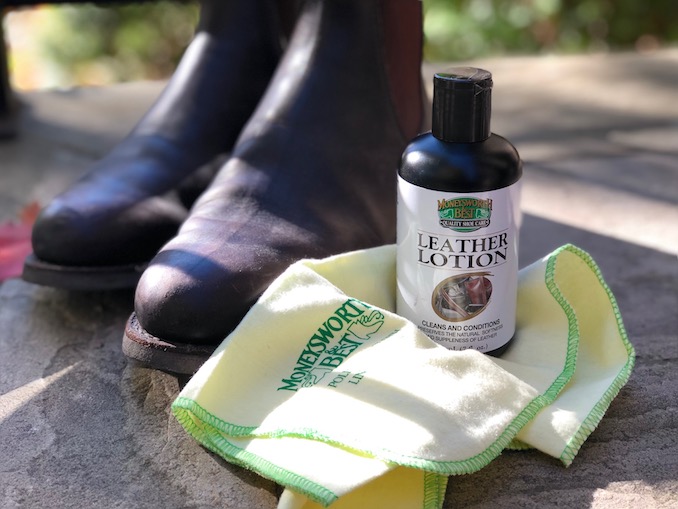 STEP TWO: POLISH
With the right product it's easy to renew the colour and shine  of your footwear. Pay attention to the material when selecting the polish. There are creams, liquid waxes, shine sponges, and paste polish that are ideal for leathers. However, suede and sheepskin are treated differently. They tend to fade and have a dull appearance faster thanks to the weather. You'll want to look for easy renew sprays to refresh colour and cover up scratches. They'll also preserve the delicate texture.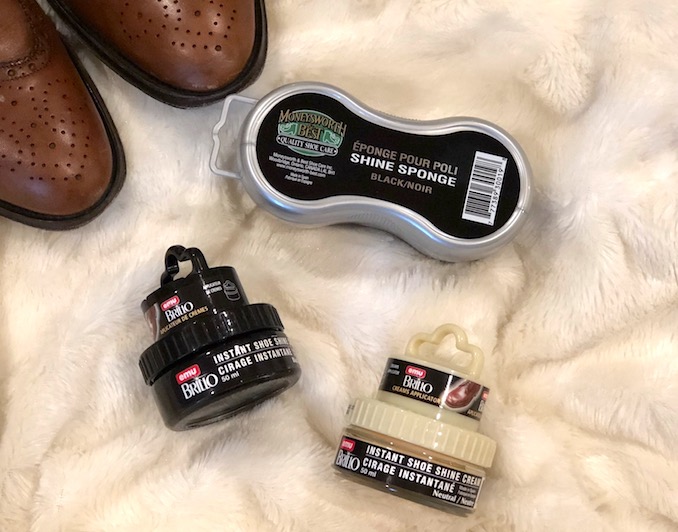 STEP THREE: PROTECT
This is considered the most important step as protection is key to preventing permanent damage to footwear. PRO-TEX™ WATER + STAIN PROTECTOR shields from water, dirt and chemicals by preventing snow, rain, oils, stains and salt from penetrating into the leather. Water will bead and roll off the surface keeping the material protected and preserved for longer wear. Not just for leather and suede but also sheepskin and fabric shoes as well.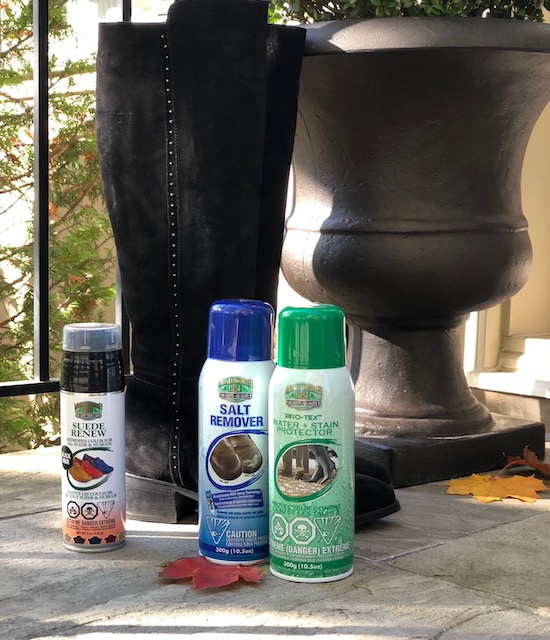 What other tips for winter?
For tall boots, it's wise to use BOOT SHAPERS to help prevent creases and wrinkles from forming. They also help the drying process in between wears.
That "smell" of winter boots (and skates and ski boots) is less than appealing. This ODOUR STOP™ SHOE + BOOT FRESHENER is a deodorizer that not only helps combat THAT smell but also helps prevent bacteria growth.
Keep a convenient SHOE SHINE SPONGE handy near the front door and at the office for a quick once over to remove surface dust gently and add colour and shine to your shoes.
And what about those SNEAKERS? Check out Moneysworth & Best for products created to clean and preserve them as well!
Moneysworth & Best is a Canadian company with 26 franchise shoe repair shop across the country. The line of shoe and boot care products are also available through thousands of online and store retail locations such as Canadian Tire, Amazon, Staples, and Walmart.. For more tips and details about what's right for your footwear, visit Moneysworth & Best.
CONTEST
Enter for a chance to win a MONEYSWORTH & BEST Winter Survival Kit for your Shoes and Boots! Help minimize salt stain and winter weather damage! Approximate value of the prize: $200 Canadian.
To enter on Instagram:
1. Follow @TorontoGuardian and @Moneysworth_and_Best on Instagram
2. Comment on this post with your friend on Instagram who could use this prize.
To enter on Facebook:
1. Like Toronto Guardian and Moneysworth & Best on Facebook
2. Share this Facebook Post OR Comment on this facebook post and tag a friend on Facebook who could use this prize.
To enter on Twitter:
1. Follow Toronto Guardian and Moneysworth & Best on Twitter
2. Retweet this Tweet OR Reply with a mention of a friend on Twitter who could use this prize.
Help your footwear survive the winter with these tips and protective kits from Moneysworth & Best (@MoneysworthBest).#CONTEST #GIVEAWAYhttps://t.co/wAtgHYuRdx

— Toronto Guardian (@TORGuardian) November 9, 2018
*Contest closes Friday, November 30, 2018. One winner will be selected at random from all eligible entrants. Prize must be accepted as awarded. Good luck!