The Civic restaurant at the Broadview Hotel is serving a highly curated rotating menu using local produce of Ontario with French + German inspiration as part of their hyper-seasonal menus that change monthly. Their Chef de Cuisine Dave Couse has shared with us his Crispy Skin Sablefish recipe so our readers can try one of his creations at home.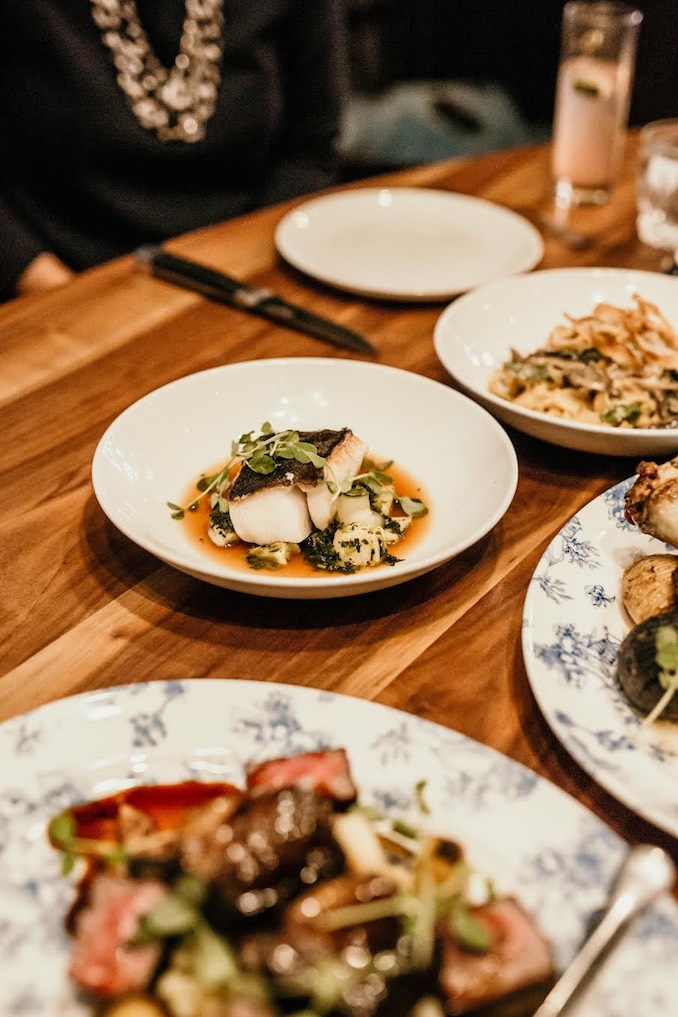 Pan Roasted Sablefish Recipe w/ Tarragon Gnocchi and Tomato Fume
5oz sable fish
Ingredients
potato gnocchi
-3 pounds large baking potatoes
-2 large eggs
-1 large egg yolk
-2 cups all-purpose flour
-2 tablespoons finely chopped fresh tarragon
-teaspoons kosher salt, plus more as needed
tomato broth
-sablefish heads and bones (5 fish per batch) 6 white onions
-1 head celery
-10 roma tomatoes
-1 head garlic
-2 anihiem chili seeded
-50ml vegetable oil
-30g tomato paste
-1/2 bunch taragon
-1 bay leaf
dandylion hache
-200g confited garlic cloves 600g blanched dandylion 20g lemon zest
-5g lemon juice
-salt
-150ml confit garlic oil
-200g confited garlic cloves 600g blanched dandylion 20g lemon zest
-5g lemon juice
-salt
-150ml confit garlic oil
Directions
1) Preheat oven to 400 F.
2) On a parchment lined sheet pan, lay out fish bones and heads, roughly chopped white onions, celery, roma tomatoes, garlic and chilies.
3) Coat lightly in oil and season with salt and pepper. Roast in the oven until bones and vegetables are golden brown, approx. 20 minutes.
4) Put bones and vegetables in a tall stock pot, cover with cold water. Add tomato paste, tarragon, and bay leaf and simmer on medium high heat for 45 minutes to 1 hour.
5) In the same 400F oven, cook 3 large baking potatoes until completely tender. When the potatoes are cooked and have cooled enough to handle, cut in half and scoop out all the insides into a potato ricer. Discard the skins. Working quickly while the potatoes are warm, add the eggs, flour, chopped tarragon and salt. Mix with hands or a rubber spatula until a firm, sticky dough forms. Add extra flour depending on the potatoes you're using. On a lightly floured surface, roll out thin logs and cut with the back of a floured knife.
3) Cover 200g peeled garlic with 150ml canola oil. Simmer slowly on the stove top stirring occasionally until garlic is completely soft. Allow to cool in the oil before straining and reserving the liquid.
4) In boiling, salted water blanche approximately 2 bunches of dandelion greens, transfer to ice water when leaves are tender and bright green. Press excess water out of greens when cooled.
5) In a food processor add dandelion, roasted garlic lemon zest and juice. While the processor is running slowly add garlic oil until the contents resemble a chunky pesto.
6) To assemble, strain broth and season to your liking.
7) Cook gnocchi 2-3 minutes in boiling water, transfer to a hot none stick pan with a little butter or oil and pan fry until edges are crispy and brown.
8) Add 2-3 tbsp of dandelion hache for every 15 or 20 gnocchi, just enough to coat the gnocchi. Season, then pan sear fish, leaving the skin side down in the pan. Move into the oven for an additional 4-6 minutes until flesh is tender.
9) Plate gnocchi into a shallow bowl, put the fish on top, and pour in broth right before serving.