Bert and Ernie are two bonded besties looking for a spot where they can get up to their sneaky tricks and silly midnight adventures. They're huge fans of getting into boxes, getting stuck in drawers (they call it "hiding"), and climbing things. When they're tired of knocking things off the counter and playing tag at 3 am, they'll call it a day with an adorable team nap. These two buddies do everything together.
Both Bert and Ernie are a little shy at first. They're also wary of unsolicited petting, meeting new people, and loud sudden noises. They aren't interested in human hands coming out of nowhere! They love people once they get to know them. But when they want the scratches, trust us, they'll come to you!
These guys were quite under-socialized when they came to us. They've since come a long way thanks to the hard work of our staff and volunteers.
They're an active, curious, and — at first — a shy little team of cuties who'd add so much fun and even more love to the home. They hope to find an adult only home together with a patient guardian who will continue to build on their success and help them to break out of their shell!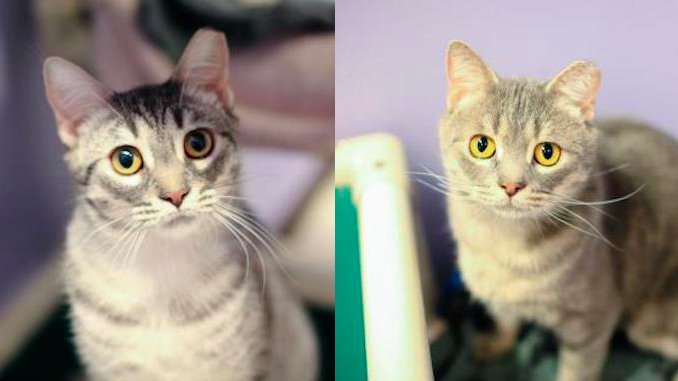 Bert & Ernie
Age: 4 years + 4 years 6 months
Sex: Male
Size: Medium
Colour: Grey
Spayed/Neutered: Yes
Declawed: No
In order to ensure a smooth and successful adoption, please remember to check all the basic requirements for adopting before coming in to the shelter.
About this column:
Each week we feature animals available for adoption from local shelters in the Toronto area with the hopes that our readers will assist in finding good homes for them. If you, or someone you know, has the resources to take care of one of these animals, please do get in touch with the appropriate shelter via the links provided.