During the recent Fashion Talks series at Toronto Fashion Week, attendees had a rare opportunity to hear Luis Sequeira, Oscar Nominated Costume Designer for The Shape of Water, and Ann Steel, Assistant Costume Designer, discuss what it was like working on this unforgettable film by Guillermo del Toro.
The film was set in 1960s and filmed in Toronto and surrounding areas including Hamilton. Yes, Guillermo loves Toronto! By the way, did you spot Massey Hall, Elgin Theatre and The Lakeview Restaurant amongst the locations?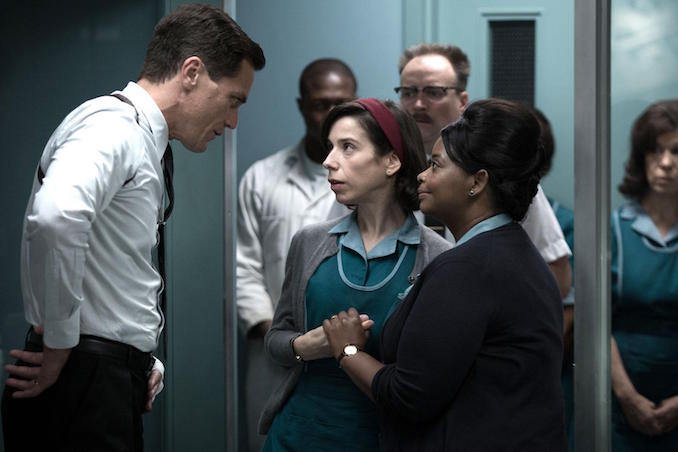 For Guillermo, costumes are instrumental to tell the story and that's something that has stuck with Sequeira. "When we walk into a set we see them from afar. But when we get into a close up the clothing becomes the set especially for the actor, so in the design work every angle is important. The front, back, and the side. For us it's all fundamental," said the costume designer.
He explains that working on the vision with any director involves reading the script. "When the script is really good, the images of design start to flow," says Sequeira. "Envisioning the world in Guillermo's screenplay was pretty good. It was odd thinking of a 'mer-man' but we started envisioning the world along side the director as well as the production designer to pull it all together."
Extensive research was done to prepare for this film and the costumes were all newly created for this period piece to help build the costume vision. Both Sequeira and Steel explained that a lot of catalogue referencing was done so everyone on the design team was clear on the wardrobe for that time. They also looked at a  lot of advertising and personal references of working class people of that time. "We probably had 200 pages of references that were divided between working class and scientists for us to really look at. Looking at period movies was also a great way for us to understand the interpretation of that period," said Sequeira.
The textile research was a huge part of the process. The team spent a week in New York and dug deep  through fabrics and swatches to gather their information. There were literally thousands in their library that was created for this film. Fabrics were sourced right from the vendors that often included wools, cottons and silks.
"I think what a lot of people don't know about this project is we built everything for the lead characters. The suits, ties, belts, shoes, undergarments, jewellery, and even hats were all created brand new and it's amazing. But we had to make everything look like it lived a life. So, to turn those costumes back into clothing  were a team of people that would over dye and create a patina, for example. That, I think, was the strength to help tell that story," said Sequeira.
The film's story line has many layers and so do the characters themselves. Luis Sequeira explained the character of Giles (Richard Jennings), for example was considered quite affluent in that time but he was also gay when it was not so acceptable. During this time, we were told that Giles had  lost his job. Styling him between a mid-50s look meant creating a look that was quite old but, at the same time, well taken care.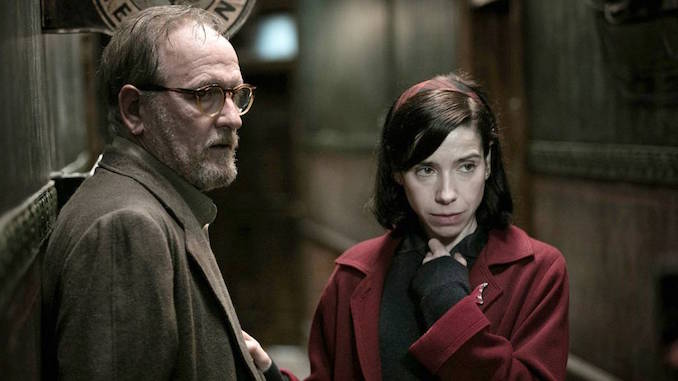 The film also had a cold-war, yet whimsical feel and Eliza's character appears to straddle the two. It's interesting as she's the only one projected in that light. "She is the princess in this picture," said Sequeira. "Every element has to have a little beauty and a little grace. I remember doing the undergarments and there was the most beautiful slip in the world made. I really wanted those  beautiful details."
Having to replicate the garments and having to age them had it's own process. Lab coats and cleaning uniforms were built and then sent out to be sand-washed, painted and saped. Everything was air brushed, specifically dyed and sanded to achieve the vision.
Were there duplicates? Yes, they had at least five cleaning uniforms for Eliza. There were several duplicates for the final set that took three weeks to shoot in the rain. It was October and it was freezing although Sequeira explained that there were liners fused inside to try and keep the actors as dry as possible.
The colour palate of The Shape of Water is subtle but the original film was envisioned in black and white. Luis studied the fabrics and how they would react to black and white. The design team took a look at the contrasts in black and white but a meeting with Guillermo and the studio changed convinced everyone to add shades in watercolours in one area and black and white in another. There was also an 'in future' colour palate that incorporated shades of of avocado, tangerine and cherise.
The colours noticeable shifted to the future palate in Richard Strickland's (Michael Shannon) home life. "Guillermo wanted us to see a completely different side of society," said Sequeira. "We were interested in seeing why everyone else was in this black and white world except for Michael Shannon's family. His world showed a modern man in this backwater world doing his tie and working for the government. I thought it was very affective. It was the real moment when we realized that there was a whole other world different from Eliza's."
Hints of red were also used in the significant moments in the film. "At the beginning of the film we see the character of Eliza with her red shoes in the window admiring and longing. Red really symbolizes her inner strength. She was a woman that was always in the background that couldn't speak but had so much to say if she had a voice, so the red symbolized the resolve. The red started with the shoes and then you might have noticed the headband and it went on from there," said Sequeira.
What about Eliza's shoes? Luis explained that she really only wore one style of shoes which he took the styling cue from his mom. "She was a fashion plate and would buy things. But  like many women of the time she would wear the one pair and save all those shoes for special occasions. That also brought us back to the red shoes. It was one of many pairs that Eliza had but it spoke to her resolve at the time especially wearing them to work."
The opening sequence is breathtaking. Sally Hawkins's character Eliza was literally underwater in the opening scene. So, how did they do that? Luis Sequeira explains that the beginning, and the ending, of the film we find Eliza underwater. Sequeira mentioned that often Guillermo will pick you up, tell the story and then drops you back down. You may have noticed this in his most recent works. Except this time it's in water. It was done in what the industry calls 'dry for wet'. The whole sequence was done with  techniques using the lighting and slowing the camera frames down. Sally was on wires and Sequeira explained they had to construct the garments to encompass the harness and achieve that flowing sequence.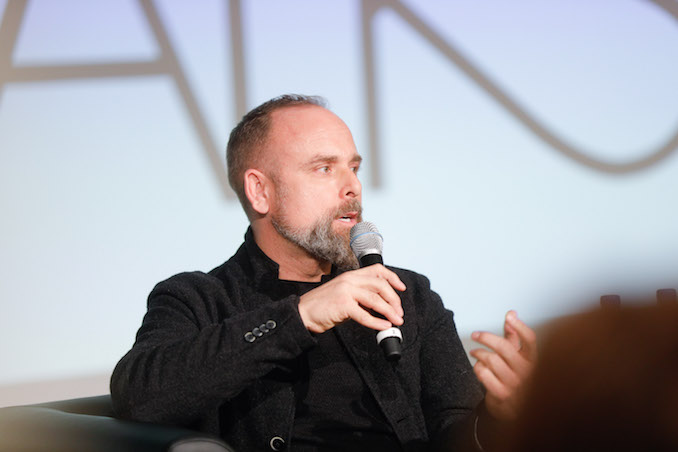 How do they feel about all the award season and Oscar buzz?
"The set dressing and art direction was exquisite. The performances were amazing," said Sequeira. "Sally Hawkins, for a person who cannot speak and the emotions that she could emit were unbelievable. I'm telling you it still brings shivers. I would say it's a once in a lifetime but I'm hoping it's not but it's something that everyone poured their heart and soul to."
"When Luis told me we were going to work on this film with Guillermo, I admit I was terrified," said Steel.  "But we learned so much working with him, I can't imagine working on any other film quite like this. It was special as we were on set all the time and saw every moment . It was lovely and a gift to work on this. It truly is."
Good luck to the Oscar nominees on The Shape of Water. The 90th Oscars ceremonies will air live this Sunday, March 4th, 2018.
Thank you to Fiji Water Canada for inviting us to this amazing discussion during Toronto Fashion Week!
Now that you've got a bit of insight into the costume design, here's another look at the trailer…