Even though you may consider yourself a DIY guru, certain projects need to be left to the professionals. Big home renovations such as adding an extra room, new kitchen installation or even electrical wiring require extensive skill and specialized tools which a DIY person is unlikely to have. Hiring the right people for a construction project can help you avoid costly mistakes. Keep in mind that tools and equipment used in most construction projects can cause serious injuries if not properly handled.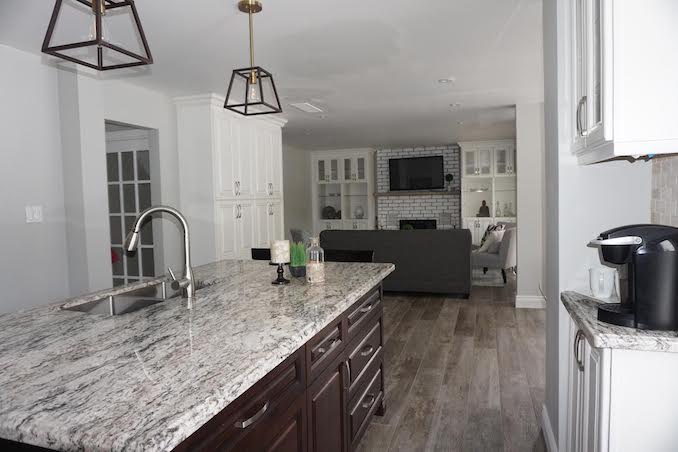 Licensed and certified contractor will make sure your renovation will comply with Ontario Building Codes and other regulations, which is quite important. Keep in mind that some home insurance companies may not pay you in case there is any damage to the house was made by uncertified technician. Therefore, it's important to hire professionals when the job demands.
Assuming you're convinced enough to hire a contractor for your home improvement project, the next important step is to decide on the kind of professional to hire. You have several options when it comes to contractors. From small sub-contractors to do the crown-moldings to large custom home builders who design and build a whole new house from scratch, you need to carefully select the most suitable professional for the job.
We'll take a look at 3 different vendors that you can hire for your home renovations to help you make an informed choice.
Working With Subcontractors
The common misconception is that contractors do all the work so why should you hire subcontractors? There are numerous subcontractors who specialize in small home renovation services such as painting interior walls, building a fireplace or installing a deck. Sub-contractors specialize in specific areas of a construction process. For instance, in large construction projects, they work with general contractors to handle a particular task such as concrete formulation or electrical work and carpentry and then leave when the task is complete.
When to hire subcontractors?
Subcontractors are generally good at handling smaller projects. They are independent business people, so you could ask for a good deal and save some money. They are best suited for tasks that require expertise and are not needed on a regular basis. However, when dealing with subcontractors, know that you assume liabilities for any property damage or injuries since you act as the general contractor. Also, you are the one to oversee the project so if something goes wrong and you lack the knowledge of industry standards or expertise in managing a project, you risk losing time and money in the process.
Home Renovation Companies
Your other option is to partner with a bigger company that specializes in home renovations. Most of these companies have hired a team that works on different projects for their clients. They have a showroom in Toronto or nearby areas where you can have an idea of the kind of renovation projects they are capable of handling. You get an experienced team that is able to work on different aspects of the project if you are performing a complete home renovation.
Why it makes sense to hire a home renovator?
To start with, you are likely to spend less on building materials and other supplies when you choose to work with a credible home renovation company. This is because many of these companies have established relationships with suppliers and manufacturers, so you can access all construction products you need at the best possible price.
Additionally, hiring a fully-fledged home renovation company gives you the assurance that your work will be done on time and with the expertise it deserves. These companies work with subcontractors who specialize in different aspects of home renovation, so you're almost always assured a great service. Most importantly, bigger companies that offer renovations usually have handled numerous projects before, so you can easily know what to expect by taking a look at their portfolio. It's also less risky to work with these home renovation companies because all their contractors are insured and licensed to offer a credible service.
Advantages of hiring contractors
–          They come with extensive knowledge of industry standards
–          The posses great project management expertise helping you save time and money
–          All their workers are licensed and insured so you don't have to assume any liabilities for injuries or property damage
–          They are responsible for the quality of work done by subcontractors because the contractor's job is to oversee the entire project.
Custom Home Builders
Finally, you can choose to have custom home builders handle your home renovation. Custom home builders often specialize in the construction aspect of a space. For instance, they can build foundations, walls, roofing among others. The normally tackle large projects such as renovating the entire house or building a new one, handling all phases of the project from design and blue-prints to planning and installation.
The main advantages of home builders include:
–          They are more flexible as opposed to general contractors
–          They can easily make additions or modifications to the original plan or design
–          They carry a wealth of experience and skill in managing construction projects hence they're paid more
–          They are specialists in home improvement, so you are likely to spend less on wastage.
However, builders are often unable to handle technical jobs such as electrical and plumbing work. They have to subcontract licensed persons as well as contractors in different stages of the home renovation process.
Whom Should You Choose?
The reality is that the best person suited for your home building project will depend on your unique needs. A custom home builder would be the best option if you need a large renovation to be conducted in your home such as in-law suit additions. Subcontractors, on the other hand, are most useful when you have a specific project that you need to be handled by an expert such as plumbing work or painting.
Most importantly, you need to think of the big picture. Think through the professionals you choose to work with through the entire project. If you decide to hire a reliable home renovation company, make sure they have the skill and experience in the type of renovations you want to be done. A good home renovation expert will assure your peace of mind because they possess the industry knowledge and skill to get the job done right the first time.