Ghost is a warm-hearted, sensitive little sweetie who loves people watching on a perch as much as he loves getting scratched on a snug sofa. This guy seriously loves affection. If you sit down, you better make room in your lap because that'll soon become his home away from home! Nestling, nuzzling and cuddling are his favourite things. But his real kryptonite is the chin. Give his chin a little attention and the purring will be heard miles away!
While he is cuddly, calm and collected when he's comfortable, he has been known to act out when he's a little unsure about certain situations. Unfortunately, he has at times expressed his fear through hissing, biting and scratching. It just takes him a little bit of time and space to acclimatize. When he first arrived here at the Toronto Humane Society, he was not a happy camper. But he soon adjusted and has since become a favourite amongst staff and volunteers thanks to his sweet demeanour and love for laps!
Like many cats, he needs to be introduced to new things slowly and gradually. Sudden changes of environment can make him afraid, and he could express this with forms of aggression. It's important that he's given time and space in a new home so that he can adjust accordingly. When he does warm up, his sweet and sensitive nature comes out in full force. Giving him this time and space to adjust to you and his environment would be totally worth it for any cat lover!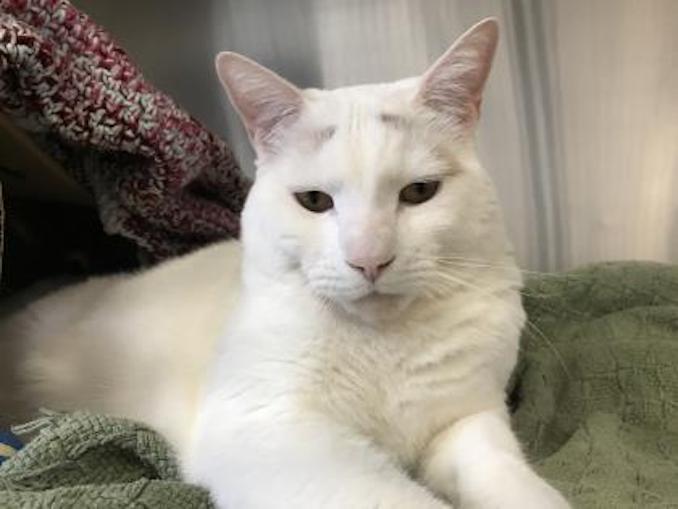 Age: 5 years 3 months
Sex: Male
Size: Medium
Colour: White/Golden
Spayed/Neutered: Yes
Declawed: No
In order to ensure a smooth and successful adoption, please remember to check all the basic requirements for adopting before coming in to the shelter.
About this column:
Each week we feature animals available for adoption from local shelters in the Toronto area with the hopes that our readers will assist in finding good homes for them. If you, or someone you know, has the resources to take care of one of these animals, please do get in touch with the appropriate shelter via the links provided.