Mbongwana Star, a brilliant and original African band from Kinshasa, made their first Toronto appearance Wednesday at The Great Hall on Queen West. The high energy band had everyone grooving and dancing to their unique sonic sound; a mashup of traditional Congolese vocals and rhythms with eclectic percussion, soukous guitar and spacey electronics. Their music melds punk undertones with smooth psychedelia, making the music feel like its both from the past and the future simultaneously. Including this show, world music fans in Toronto are being treated to a windfall of Afro-music this summer, along with Afrofest and Habari.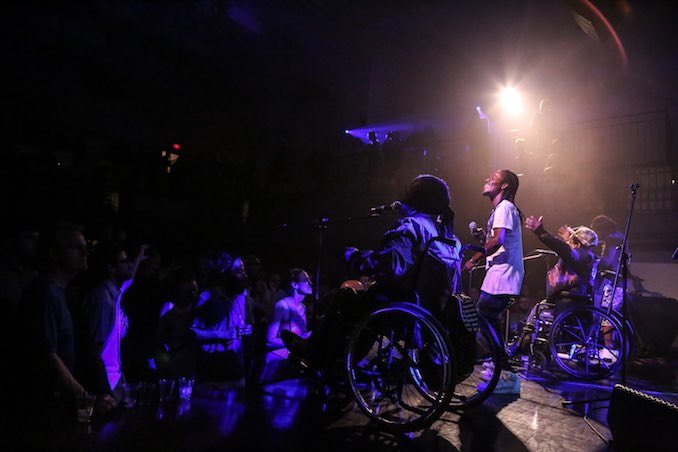 Mbongwana Star's roots are in the streets of Kinshasa, the capital of the Democratic Republic of Congo. Star came out of another legendary group of street musicians, Staff Benda Bilili. The lead singers and founders of Mbongwana Star, Coco Ngambali and Theo Nzonza, who are both wheelchair enabled due to polio in their youth, connected with music producer Liam Farrell (aka Doctor L) and some younger musicians and voila! a fresh new African sound emerged. If you missed the show you are recommended to YouTube or stream Mbongwana Star's first CD From Kinshasa – named one of the albums of the year in 2015 by the Guardian, Globe and Mail and Toronto Star. The band have also performed at Coachella to rave reviews.
Wednesday's band lineup included: lead vocals, Coco Yakala Ngambali and Théo Nsituvuidi Nzonza; vocals, Rodrick Matuzolele Dialungana; electric guitar, Jean Claude Kamina Mulodi; electric bass, Cubain Kabeya Tshimpanglia ; and on drums, Randy Makana Kalambay. Presented by the Small World Music Society, the Mbongwana Star show took place on July 19 at The Great Hall, in association with Batuki Music Society, Wavelength Music Series and Music Africa.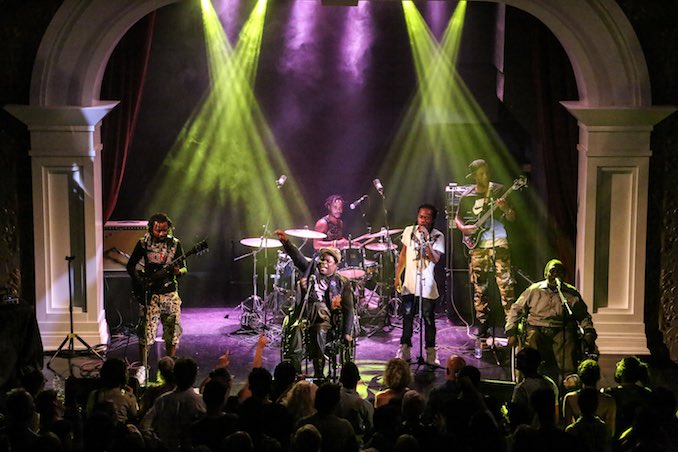 Also have to add, the recent renovation to the historic Great Hall is fantastic! The Toronto event space still feels retro, but looks much sharper and more modern: http://www.thegreathall.ca/the-main-hall/
***
Upcoming for Small World Music is their annual Fall music festival – September 14 to 17, 2017 – at various Toronto venues. This music festival will coincide with the inaugural presentation of the POLYPHONIC GROUND double bill series.
POLYPHONIC GROUND is a new Small World Music Society initiative to strengthen Toronto's culturally-diverse music industry.
Polyphonic Ground will launch with a series of double-bill concerts on the second Thursday of every month at Revival Bar, 783 College Street. Two distinct partner organizations will be paired together to collaboratively program a night of musical discovery. The inaugural concert on September 14 pairs Ashkenaz Foundation and Small World Music Society. A fresh juxtaposition will be on stage with Batuki Music and Uma Nota presenting October 12, Link Music Lab and Good Kind Productions offering November 9, and Lula Music & Arts and Music Africa co-presenting December 14. For more information on artists, and to sign up for the newsletter, please visit: http://polyphonicground.com
Also follow Small World Music Society on Twitter for concert and event updates: https://twitter.com/smallworldnotes