If you're an art lover or someone who's looking to be inspired, The contemporary art fair, The Artist Project each year showcases over 250 Canadian and international artists at the Better Living Centre in Toronto.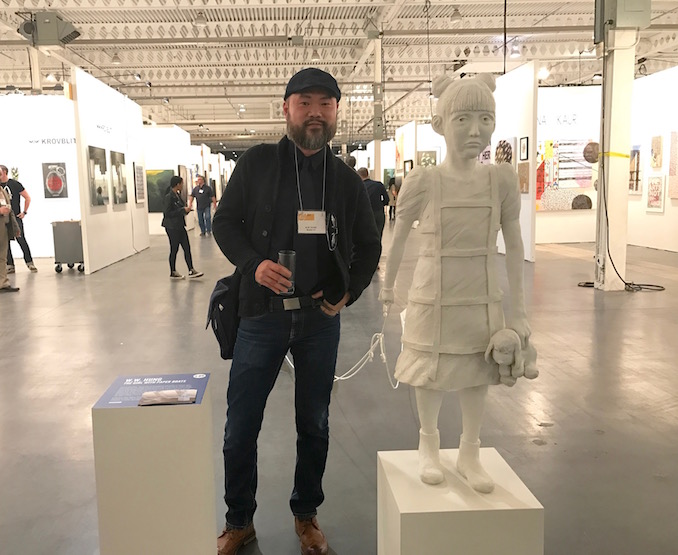 Having just finished it's 10th year, the show offers visitors a chance to meet with artists, curators, gallerists in one large inspiring space. Aside from checking out the paintings, sculptures, photography, mixed media, and performance art, several "Art Chats" took place. A wide range of interesting topics were covered including how to buy art, social media and the art market and much more.
There were many great works to explore at your leisure but we've always enjoyed speaking with artists directly to learn about their work and inspirations. Here are a few artists that we had a chance to visit with on Opening Night.
***
W.W. HUNG's "Girl with Paper Boats" greets us as we head down the main aisle. A hauntingly beautiful sculpture of a young girl. Hung tells us that this installation centres on the theme of loss. "She has a tattered toy dog in one hand and she's pulling the boats. In my mind, these are symbols of loss," says Hung. "They are lost dreams, lost childhood, and perhaps, lost loved ones." In the back of the girl this is a cut-out that projects a video of the sea at night. Hung explains that with all the elements it represents the personal choices we all have to make in life – negotiating, navigating in the past, present and future. This is Hung's third showing at this exhibition. wwhung.com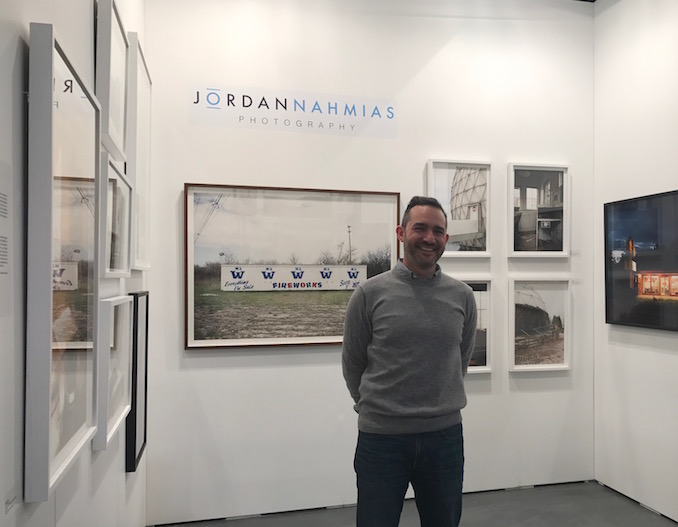 JORDAN NAHMIAS is exhibiting at  Artist Project for the fourth year and returns to showing his photography that offers a sense of playful nostalgia and recollection. "This year I decided to go back to my roots and this series has really done well so far this year." There's a subtle sense of playful and fun as though he's stumbled upon by chance. Last year, Nahmias's exhibition of vintage toys focused on some of our fondest playthings growing up including Trolls and Lego figures. jordannahmias.com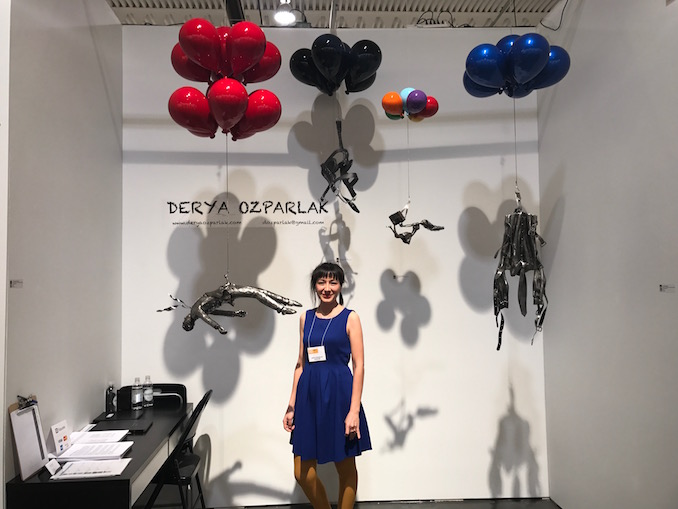 DERYA OZPARLAK came to Toronto seven months ago from Istanbul. As an accomplished and international recognized artist she explains that her work produces a sense of identification through the use the emotional aspects of societal issues by drawing attention to their messages. "My art includes a lot of metaphors and statements." Her piece titled  'Your Ego is My Lego'  represents a driven and ambitious business man who strives for success at any cost. Ozparlak explains that he dreams of reaching the height of success even if he's unaware of using the talents and skills of other people. They are like the building blocks to his success.  Her metal sculptures show the conflict of life and the illusion of emancipation from struggle through being tied to balloons. deryaozparlak.com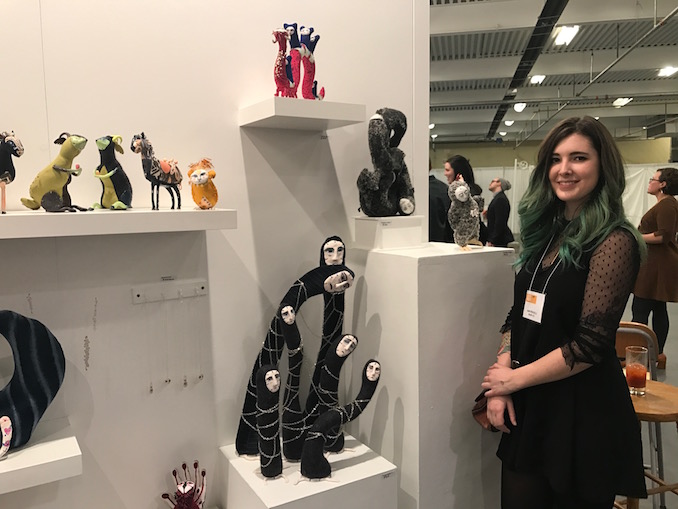 SAM PEDICELLI studied painting and drawing at OCAD. While she was studying she began embroidering her paintings and became very interested in textiles and after that she received a residency at Harbourfront Centre that opened up more opportunity to explore working in other art forms. "I started taking the art that I had done for years and deconstructing them in different ways to make them into 3 dimensional shapes." Her curious and whimsical work incorporates fabrics she's created as well as vintage pieces for the body forms. Pedicelli explains that she then creates porcelain faces and other body parts with the fabric forms to shape them before placing that element into the kiln. Her work can be found in the UNTAPPED emerging artist area at this show. sampedicelli.com
MICHAEL RENNICK brought us back to childhood memories with his piece "Forage". While we didn't catch him at the show, we did imagine wandering through a forest on a warm day and collecting nature's treasures through his installation. Our imaginations were free to roam. In Renwick's sculptured piece we are led to also imagine that something peculiar is about to happen. We're so curious! michaelrennick.com
ORIT FUCHS is an artist from Tel Aviv and works in a variety of mediums. The former advertising agency art director shows her work in paintings and sculptures at this year's exhibition. We were particularly drawn to her humorous sculptures of standing Pinocchio-like figures, sumo wrestlers and her series of 'Sofia' swimmers — all fun and full of life. oritfuchs.com
JEANNIE PAPPAS is someone we enjoy visiting year after year. The ceramic artist grew up in Cabbagetown and works with porcelain clay to create what she describes as a cross section between grotesque and the beautiful. Her unique figures appeal to many for her honest and raw depiction of what it means to be accepted, normal and to belong. jeanniepappas.com
***
Check out The Artist Project website for more info.