JFL42 first kicked off in Toronto in September 2012. It was a simpler time. Barack Obama was about to be re-elected to the White House. ISIS was still just a Bob Dylan song from 1975, instead of a globally feared league of super villains. Here in Toronto, Rob Ford (R.I.P) had yet to become the focal point of every open mic in the city. And we finally had our own answer to Montreal's iconic Just For Laughs festival – the biggest comedy festival in the world.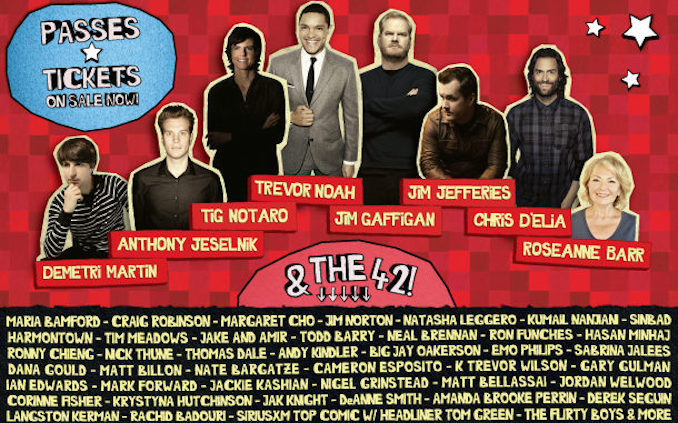 Toronto's comedy festival returns for its 5th installment, September 22-October 1. Biggerer and betterer than everer before. With a lineup of 42 of the finest comedians from across North America – including festival favourites and local crowd killers from right here at home. With an extra few special guests just added to the bill. The festival takes over club venues and theatre stages across "The Six" (I throw up in my mouth a little every time I call Toronto that). Featuring 8 headliners performing major galas at the Sony Centre. Like returning festival favourite and all-around comedy force of nature Tig Notaro (one of my own personal favourites) Oddballs Demetri Martin and Jim Gaffigan. Trevor Noah who famously took over the reigns of The Daily Show after John Stewart's departure. Remember when that was first announced, and Twitter blew up in a momentary hailstorm of mock controversy for about 5 minutes, before post-Millenials found something new they were supposed to pretend they were offended about? LOLZ!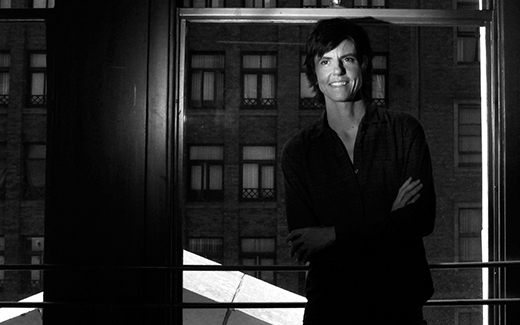 And let's not forget the raw, uncensored standup of Anthony Jeselnik and Jim Jeffries. Crowd work king Chris D'Elia. And comedy icon Roseanne Barr. Who's cult classic sitcom Roseanne ranks among one of the most influential sitcoms in network TV history (pre-shark jump of course). Also if it wasn't for Roseanne, John Goodman might not have teamed up with the Coen Brothers for some of my all-time favourite movie roles. And I might not have grown up in the 90s watching him on TV, and then later met a very sweaty post-rehearsal John Goodman at a deli on the main floor of a midtown Manhattan YMCA and we wouldn't have exchanged a very cordial sir-off and sweat-soaked handshake. So, I have a deep admiration for Roseanne's work for that alone. Not to mention her rendition of the Star Spangled Banner at that 1990 San Diego Padres game. Even at 7 years old, I knew comedy genius when I saw it.
This year's #JFL42 boasts an incredibly stacked bill of headliners and a wide array of shows across the city where the 42 featured comics can (and should!) be seen in all their alternative glory!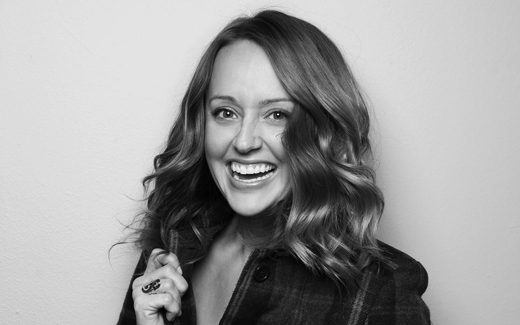 Also added to the bill, Sarah Tiana – who festival goers might know best as a regular panelist on Chelsea Lately and her turn on Reno 911. I caught Tiana in her return to this summer's Montreal festival on Kevin Hart's LOL tapings
And Joe DeRosa who recently appeared on the hit AMC spinoff Better Call Saul and comedy purists might know from his regular appearances on Louie, Chelsea Lately and the Artie Lange Show
On the home-front, Montreal export turned Toronto mainstay DeAnne Smith is featuring amongst the 42. Our own Amanda Brooke Perrin, who's tearing up the JFL stage again before she makes the move to L.A this fall. Canadian crowd killer Mark Forward – another Canadian crowd favourite who appeared again this summer, cutting a wide swath across multiple stages in Montreal. Matt Billon's coming in from the west coast. Not to mention Toronto's own Sabrina Jalees, and Quebecois comedy machine Derek Seguin (who took the top prize in last year's Sirius XM Canada's Top Comic) With JFL42 and Just for Laughs regular K. Trevor Wilson making his return (after tearing it up on Jeff Ross' Roast Battles yet again this summer) And this year marks the debut of first-time festival headliner Nigel Grinstead, who's been working his way up the Canadian comedy food chain these past few years
Sirius XM's Top Comic finale also takes place during the festival. Featuring headliner Tom Green (yes, that Tom Green). Where Top Comic's MC Ben Miner (Sirius XM Canada Laughs) will crown the champion while the rest of the comics on the bill pretend they're all super happy for the winner!
We also got on the line this week with Andy Kindler, on a JFL42 edition of Inside Jokes on AM640 Toronto. Kindler is practically an honorary Torontonian. He returns yet again with his 'Alternative Show' – a festival favourite and always one of the hotter tickets on the lineup. Kindler's also the defacto master of ceremonies at the Montreal festival. Delivering his annual "State of the Industry" address, that takes a scathing and satirical inside look at all the double talk, star f*cking and glad handing that makes up the business part of comedy. Canadian and otherwise.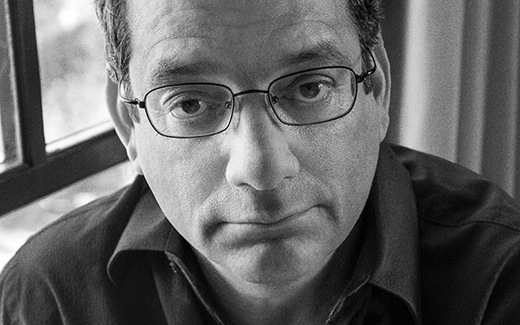 JFL42 is a different animal than its French Canadian predecessor. You won't find any main streets in downtown Toronto closed off for Viktor the mascot and an assortment of poutine stands (not that there's anything wrong with that!) Instead, the Toronto festival is spread out across a multitude of venues and stages across the city. From club stages like Absolute Comedy, The Second City and Comedy Bar. To intimate live music hubs like The Garrisson and The Ossington. Cult comedy lounges like The Rivoli (home of Toronto's iconic 'Alt Dot Comedy Lounge') And theatre stages of every size and assortment, including of course the Sony Centre. Home stage for those 8 incredible headliners we mentioned earlier.
This festival is completely customizable. Pass holders check into shows and gain access to even more of the 42. It's unorthodox. It's distinctly Toronto. And dammit, it works!
#JFL42 offers up a massive buffet of standup, sketch, alternative and independent comedy. It's a chance for casual fans and comedy die-hards alike to catch comics we don't normally see here in Hogtown. Not to mention, a big bright spotlight showcasing some of our finest comedy talents here in Toronto and across Canada. After all, isn't that what we're known for?
Comedy is arguably our biggest national export. Without it, there would be no SNL. No Kids in the Hall. No Just for Laughs (the world's biggest comedy festival). Even Second City would be pretty second rate without us.
So, we'll see you next week?
Toronto's comedy festival runs September 22-October 1. Check out the full lineup, and take a look at the 42 and more at JFL42