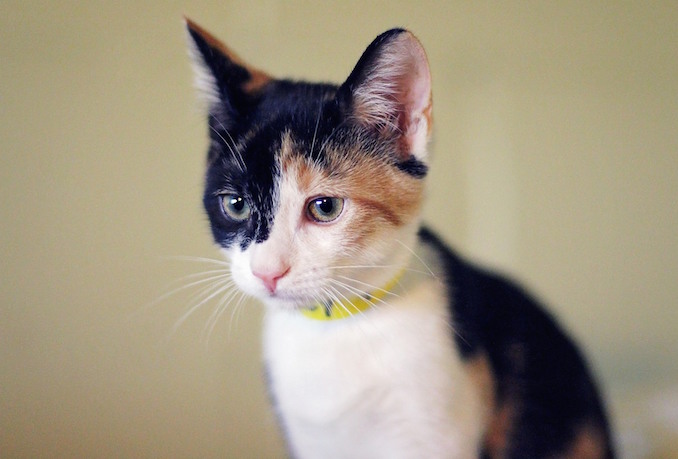 Miss Molly – DOB: April 2016
Miss Molly was rescued from a barn situation along with several other kittens. Placed in foster care immediately, she thrived and quickly adapted to living the good life. Absolutely adorable with her distinctive calico markings, cute pink button nose and magnificent purrsonality, Miss Molly is a master of snuggles and affection. She is a confident, purr machine, attention seeking love bug who will give you her "gopher stance" (stand on her back legs and reach for your arms) until you bend down and pick her up for luvins. When is not where she prefers to be (in your arms) she is a fearless, inquisitive, adventurous, playful girl who loves to chase her tail, play with her toys and investigate everything that is going on around her, but be warned she has been known to be drawn and has been labelled the "tissue thief" by her foster mom! Amazing with all her roommates Miss Molly would need to be adopted as a pair or to join a family that already has a friendly cat she can befriend and bond with. If you know how to hide your tissues and want to make Miss Molly the newest member of your family and gibe her a "furever" home, please fill out an adoption application and contact NTCR.
***
About North Toronto Cat Rescue
This column features Toronto pets available for adoption.
Our current features come from North Toronto Cat Rescue which is a no kill, no cage shelter in Markham, Ontario, Canada. They have saved over 2000 cats over the years from both the harsh environments of life on the streets and from kill shelters in Ontario and Québec. They care for both kittens and adult cats. I always like to promote getting an adult cat as it is a lot easier to pick the cat with the right temperament for you.
The NTCR shelter is run by volunteers with no government assistance. They currently have around 200 plus awesome cats that would love a good home. Go and visit them soon!
For more info, Visit the NTCR Website.
***
Fundraiser
On another Note, NTCR is in trouble as they are losing their home in 2016 for development of the area. If you can offer any help in finding a new home for the almost 200 cats at the shelter, that would be amazing.