Our city seems to always have something going on. Some of the best ways to tackle our city efficiently are with mobile devices and Toronto apps. Here are a few that we've been using to keep our lives relatively sane…
WAZE: Free (Apple App Store, Google Play)
Traffic can be hell in the city if you're driving, especially during the summer (aka season of construction). This app is the best source for real-time info for traffic, road closures, accidents, and even police traps. The app gives you an estimate time and route while you're moving along to get you where you need to go. What's great about the app, is that it has the ability to collect data from other local Waze users to help map out the best route available. Add favourites like your home or work address and Waze will learn your preferred routes. Desperate need for a Timmy's or a bank machine? The app will show them too.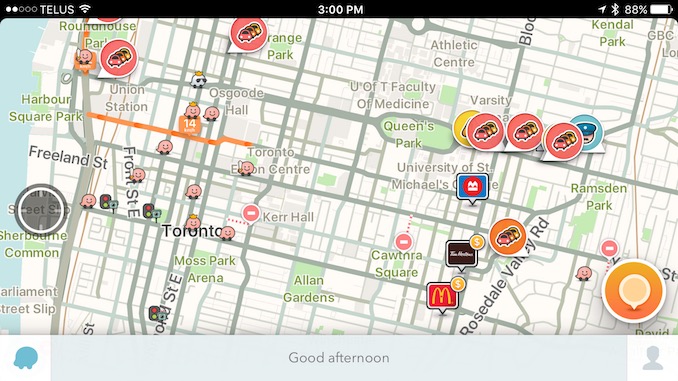 ROCKET MAN Transit and Bike Sharing: Free (Apple App Store, Google Play)
No more guessing when the next bus or streetcar is due to arrive. This app gives you real-time arrival times as well as schedules of subsequent TTC vehicles. You can also locate the nearest transit stops and add favourites/most frequented stops to personalize your ride schedule. Get alerts to delays and what routes are affected to help determine your public transit journey. The app also extends to GO Transit. The Bike Sharing app locates bike station locations nearest to you.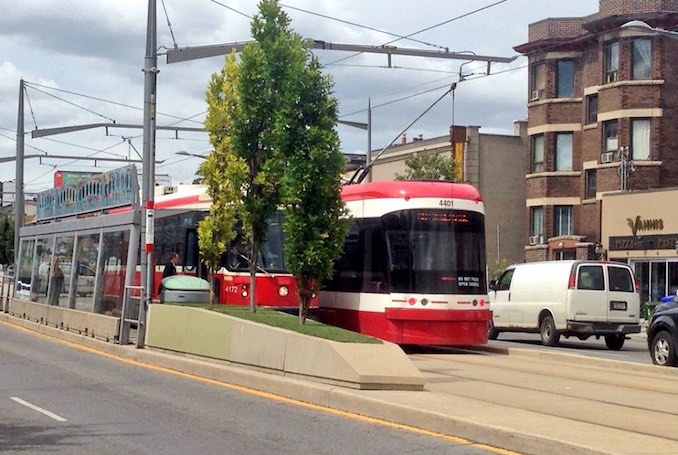 GREEN P MOBILE PAY: Free (Apple App Store, Google Play)
Finding a vacant parking space is one thing, but then you need to pull out a credit card or change to get your valid tickets. For those who aren't comfortable doing so, the app allows for you to pay cashless, easily, in the comforts of your own car. No more hassles of correct change or pulling out wallets in quiet parking lots. The app requires a credit card that tops up $20 on the app, then starts debiting when being used. But looking for the Green P is key. Look for the sign that indicates the mobile pay accessibility. Simply type in the lot number, your license plate, and duration of stay. Currently available at non-gated, off-street lots.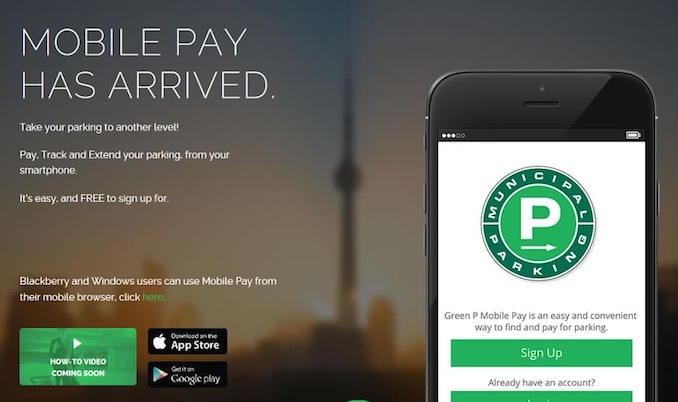 FREE WiFi Maps: Free (Apple App Store/Google Play)
Using GPS, the app helps locate cafes, restaurants and other spaces that offer free WiFi hotspots near you. Store your favourites on your devices so you can find them even without internet access. Check feedback on details like signal strength and power outlets.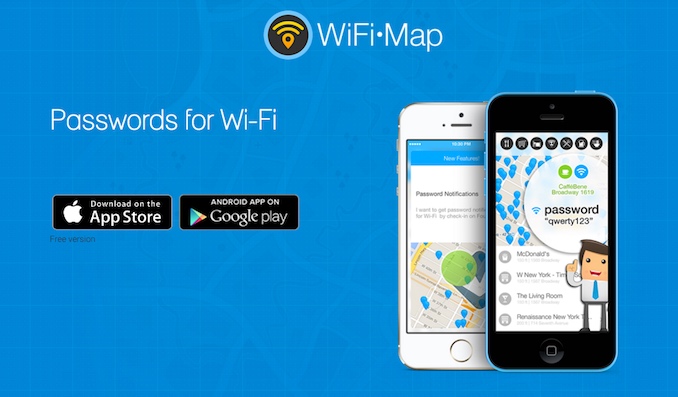 TORONTO MAP AND WALKS: Free/Full Version $6.99 (Apple App Store/Google Play)
Explore the city by foot on these self-guided tours featuring landmarks, attractions and local neighbourhood gems. Download themed walking maps ahead of time and you won't need internet access or cellular data. Pick a theme like Cabbagetown Walk, Art Lover's, Historical Tour and more.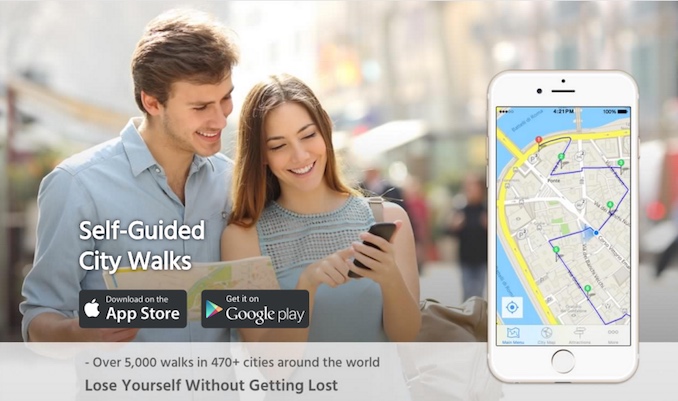 FEAST: Free (Apple App Store/ Google Play)
You're in the core of the city and want your food to be inspiring? Order chef-made meals that will make you the envy of the office or neighbourhood lunch or dinner. The service believes in good honest food using locally sourced ingredients. Browse the app to see what's being offered fresh daily and it will be delivered by bike or electric car. Led by well-seasoned chefs including Curt Martin, Trish Magwood, Randy Rojas and more.
YELP: Free (Apple App Store/Google Play)
Trying to locate a new hair salon? Wondering if that taco place is any good? What about that tourist attraction is it worth it? Or want to add your say? This review based app gives real customer opinions on their experiences of shops, hotels, restaurants, theatres, nightlife, services and virtually anything you would consider spending money on. The site vets for real reviews. Viewers can let writers know if their reviews are useful or not.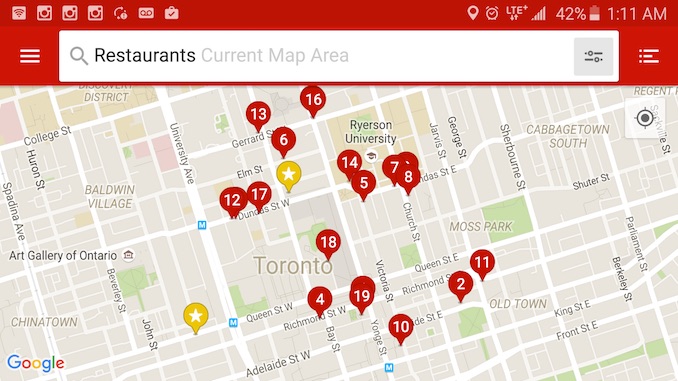 OPEN TABLE: Free (Apple App Store/Google Play)
Needing a lunch or dinner reservation? Toronto is overflowing with choices but no surprise that many are filled during busy hours and weekends. Avoid disappointment of showing up and waiting. Find out what seats are open for the days and times you need. Here you can filter with number of guests, type of cuisine, and area you'd like to focus on. Personalize your dining preferences to include your favourite restaurants and even include personal notes on allergies and dietary restrictions. Someone's birthday? You can tell them that too. The app also offers links to restaurant menus to see more and will give you an idea of price range. Earn points with their frequent dining rewards program that can be redeemed for a gift or gift card.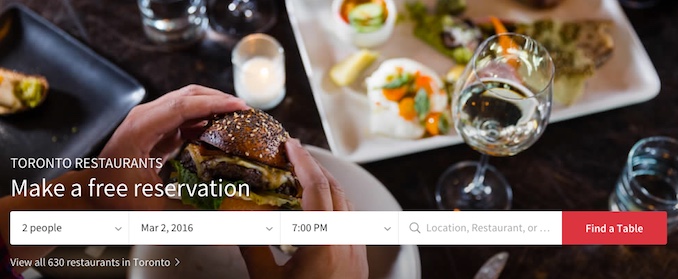 TORONTO IN TIME: Free (Apple App Store/Google Play)
Simon Fraser University in Vancouver, British Columbia has recently launched a new app that aims to make history exciting and accessible. Toronto In Time was released at the end of October and was made by 7th Floor Media at SFU, a Lifelong Learning educational web-development team. The app is the Toronto version of the already available. It uncovers stories from the city taking you visually from the present into the past.
The app allows one to get geo-targeted information about historically significant locations and landmarks and plan routes to visit them. Curated walking routes and location services make it effortless and fun to learn about Toronto's past.
QUENCH: Free (Apple App Store/Google Play)
The Water Brothers QUENCH app is a great way to find a friendly location in the GTA to (re)fill your personal reusable water bottle (everyone has one these days, right?). This Toronto specific application was developed in partnership with BlueW, and sponsors Brita, TVO and the Bell New Media Fund.
Grouping participating retailers and restaurants into two categories, the app will point you to a refill station (R) or a easily accessible water fountain (F) which are then displayed in your general area. Finding the closest free source of water has never been easier. Keep an eye out for the Quench logo at nearby locations to verify official supporters of the free water program, but also note that additional suggested locations, often times crowd-sourced, are also listed in the application – these locations indicate that another Quench user was able to get a refill at this location but they are not (yet) official supporters of the Quench program.
Our editor Joel has been using this application for about 2 months now, on his iPad, to successfully get free water refills all over the city, which has the benefit not having to fork over $2 transactions for bottled water or sugary drinks every time he needs a drink on the run.
The Quench app and the Water Brothers want people to have barrier-free access to clean, healthy water. The QUENCH mobile app aims to do this by connecting the user with the most convenient location for FREE water at water fountains and Re-fill locations throughout the Toronto area. For those that enjoy the outdoors for exercise, and for the urban adventurer, this mobile app is a great companion to keep you hydrated while your out enjoying the city. This app would also be a great addition to visitors looking for some local restaurants and businesses that they may not find through the regular tourist channels.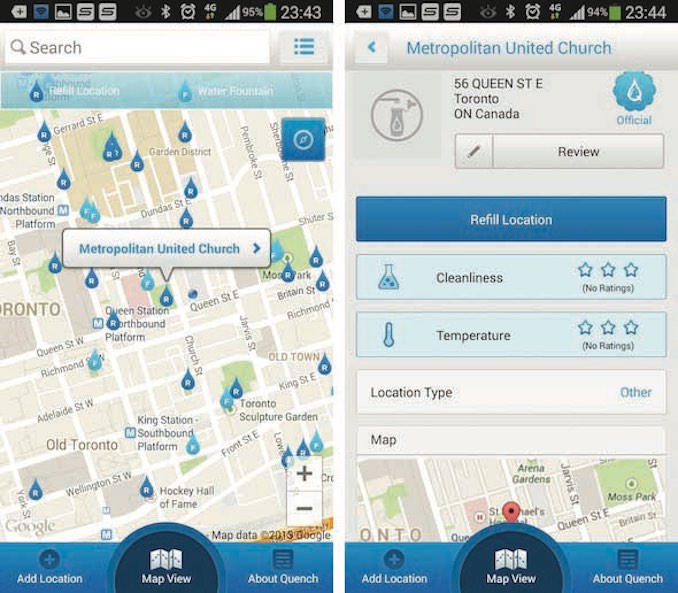 EVE TAB: Free (Apple App Store/Google Play)
Eve Tab and allows you to start a tab at a venue before you arrive. When you arrive at the venue, you can show the bouncer your pass, add drinks to your tab, and pay for your tab right from your phone.
The app also has a map that show bars that have the capacity sensors, as well as the bars that have the bar tabs enabled. You can easily select a venue near you that you wish to book and then enter your guests before you head to the club.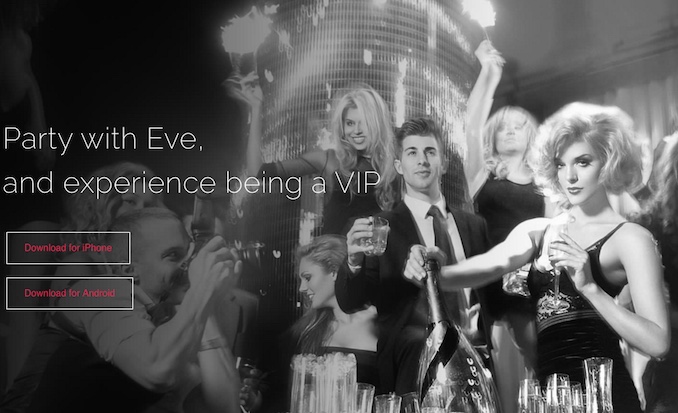 DINR: Free (Apple App Store/Google Play)
You're so last minute when it comes to dinner reservations and you're a mega foodie? You already know that many book up weeks in advance but the new DINR app may be your best kept secret to nabbing one of the hottest tables in the city. This mobile reservation service matches same day availabilities to some of Toronto's most sought after restaurants (including OMAW, Alo, DaiLo, Edulis, Bar Isabel, The Chase) with last minute diners. Lucky you.
If the desired time and restaurant is not available you can select the "notify me" tab if you are willing to wait it out and don't mind jumping at a moment's notice. Risk takers know it's worth the gamble.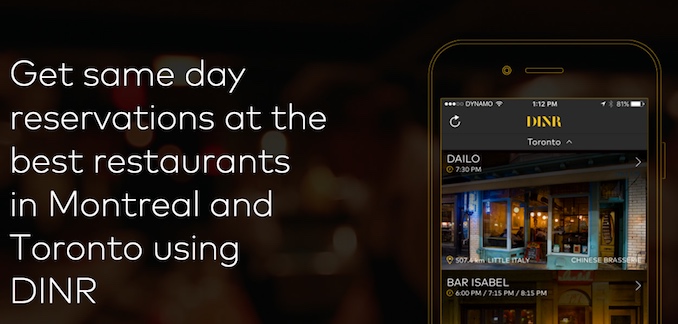 DoStuff: Free (Apple App Store/Google Play)
The Do416 website now has an app for iOS and Android. The app allows you to track upcoming events as well as buy tickets, make an event calendar and track your favourite bands and venues.