Hot Docs is one of my favourite Film Festivals in this city. At the press conference this week, organizers announced that 232 documentaries from 51 countries will be screening at this upcoming 23rd edition of the Festival, Hot Docs 2016.  So, where do you begin?  I'm already overwhelmed  and starting to make plans. The Festival will run from April 28 to May 8, 2016.
We will be screening a few films ahead of time to give you our thoughts but there are already some stand outs that you may want to nab tickets for as the box office is now officially open. Here are a few interesting notes I jotted down that may help you out when planning which films to see.
Scotiabank Big Ideas Series is definitely a highlight of the Festival with notable guests in attendance. I'm eyeing The Apology, The Happy Film and Tony Robbins: I Am Not Your Guru to name a few on this list.
The Opening Film has been announced as League of Exotique Dancers (Canada, World Premiere) directed by Rama Rau. It's a provocative and eye-opening "backstage tour" of the golden age of Burlesque through the colourful lives of unforgettable women who made it glitter. The women who guide us through this film are inductees into the Burlesque Hall of Fame including icons Kitten Natividad and Judith Stein. Rare and never-before-seen archival material will be seen and the film's original music and soundtrack promises to capture the mood of the era.
There are two general program themes at this year's Festival: "The Pursuit of Happiness" and "Command & Control". The themes are chosen from the programming team's awareness of trends happening globally in documentaries.
"In the theme of Pursuit of Happiness, it isn't necessarily about people who are happy exactly…it's sort of about the journey of how we get there," said Sarafina DiFelice, associate director of programming. The films in this theme will include The Happy Film, The Pearl, as well as Paul Refsdal's Dugma: The Button which captures the final missions of two martyrdom-seekers, and others. By the way, you can take part in a live and interactive group therapy session after the May 1st screening of The Happy Film.
Within the theme "Command & Control" the films  group together the forces that try to keep everyone under control and the people fighting against them. Films include Holy Hell which is about a man who joins a spiritual community and then finds a cult — and caused a lot of buzz at Sundance recently, Tickled which is a disturbing investigation into a strange "sport" and At Home in the World, an intimate story on finding home while seeking asylum.
What's also worth noting is the new edition to the Festival titled DocX which explores documentaries beyond the screen and ties in performances and art installations. An example is Brent Green and Sam Green: Live Cinema that combines performance, cinema and rock and roll to create a "live" documentary experience accompanied by a band.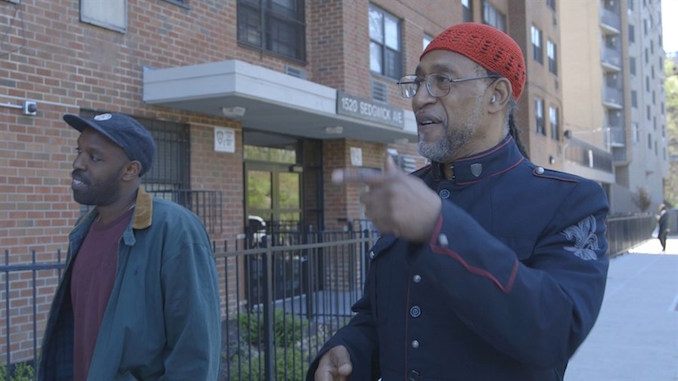 We've also noted Hip-Hop Evolution where Canadian rapper Shad travels to the Bronx and Harlem to take with hip-hop's originators and stars to trace it's evolution from underground to global phenomenon. this documentary is co-presented with Canadian Music Week.
There are nine NFB documentaries that will be featured at this year's Hot Docs with a focus on women filmmakers including as mentioned, The Apology, a feature documentary debut by Toronto-based director Tiffany Hsiung that follows the personal journeys of three survivors (comfort women) who were among the 200,000 girls and young women forced into military sex slavery in Japanese-occupied Asia. Won-ok Gil, a survivor and activist, and Mee-hyang Yoon, of the Korean Council for the Women Drafted for Sexual Slavery by Japan, will both take part in a panel discussion following the screening.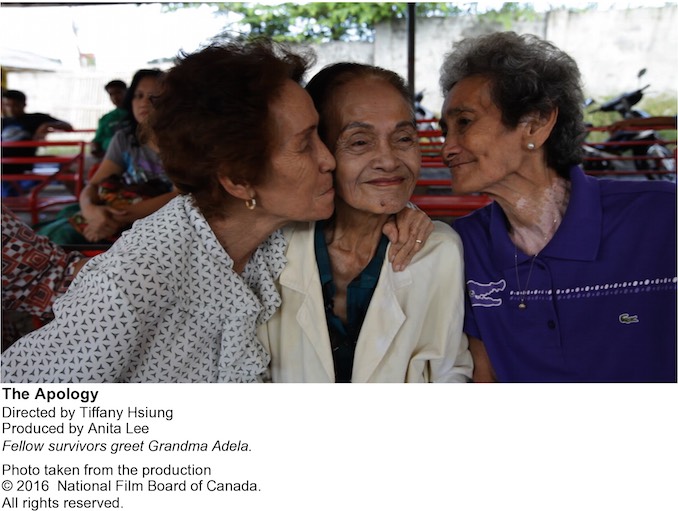 Ants on a Shrimp is one that is high on my priority list of must-sees. For anyone who's fascinated with the culinary world, this documentary follows internationally renowned chef Rene Redzepi as he decided to move his team of the award-winning restaurant Noma in Copenhagen to Tokyo. The documentary is directed by Maurice Dekker and explores the process, creativity, and frustrations of one of the world's most fascinating minds in the food world. Worth noting is the premiere screening on May 1 that also extends to a special dinner experience with Chef Justin Cournoyer (Actinolite) in collaboration with eatablefilms.com
Tickets are now on sale online and at the CraveTV Box Office at Hot Docs House, located at 610 Markham Street in Toronto.
Visit the Hot Docs website for more info.