If you haven't heard of them already, The Veldt are a 90s shoegaze band from New York who last Saturday descended on The Silver Dollar Room. The venue, which was once the old cocktail lounge of the Waverley Hotel, has a great history and reputation, but with the majority of the floor space and seating situated to the left and right of the stage, the place is a little odd.
Ready to penetrate the dark ambience and ominous smoke seeping across the stage, Hot Garbage arrived to open the night, bringing with them a unique blend of psychedelic pop. The immediate impression is that they're pretty chilled with slow grooving beats, strummed guitars, thick organ chords and solid bass lines – all with a distinct Pink Floyd style. But don't let them lull you into a false sense of security because BANG, they change the rhythm and tempo and it's like seeing a different band altogether. The chord sequences take unexpected turns, giving the whole sound an edginess and originality.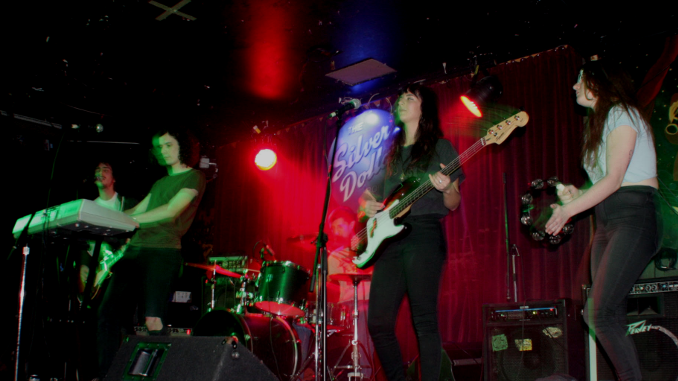 Suddenly, all eyes focussed on the band's tambourine extraordinaire who danced around in starred shades and brought the atmosphere up. I'm not sure if you know about the 90s Manchester rave scene, but the Happy Mondays are a band with a now infamous maracas player called Bez. If you've got a moment, look him up – Wikipedia comically has him listed as a 'Dancer'. Anyway, Hot Garbage's tambo player was ten times the musician he ever was and certainly brought some visual entertainment to what was a thoroughly engaging set.
Next, cue Baby Cages, another Toronto band with an intriguing sound. With synthetic drums and slow gliding guitar riffs, Holloway Jones's haunting and laid back vocal style managed to creative quite the atmosphere.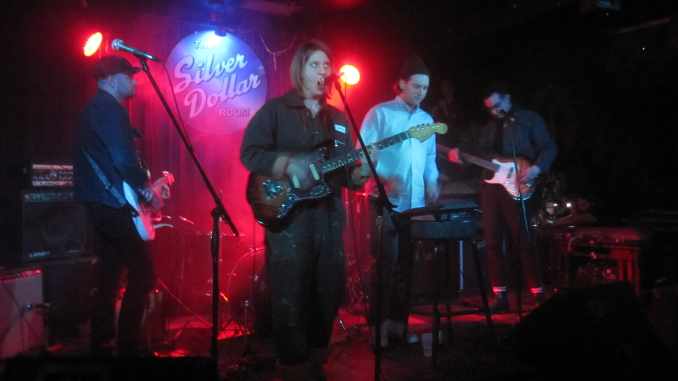 As they progressed, the lyrics were at times a little hard to make out. To me they felt like a chilled but more serious version of Let's Wrestle, a recently disbanded indie group that had a cult following in the UK. Listening to Baby Cages online, there is no doubt that if they can keep producing tracks like All U Want, they've definitely got the potential to gain serious traction, like a steam-powered engine, well, in a melancholy way.
Third came shoegaze veterans, The Veldt. Underpinned by a backing track of huge reverb drenched drum and bass loops, they are actually far more ambient than I expected. When I say ambient, I'm not talking about Brian Eno ambient; The Veldt are so, so much heavier and in your face than that. They are more like a happier GodSpeed You! Black Emperor.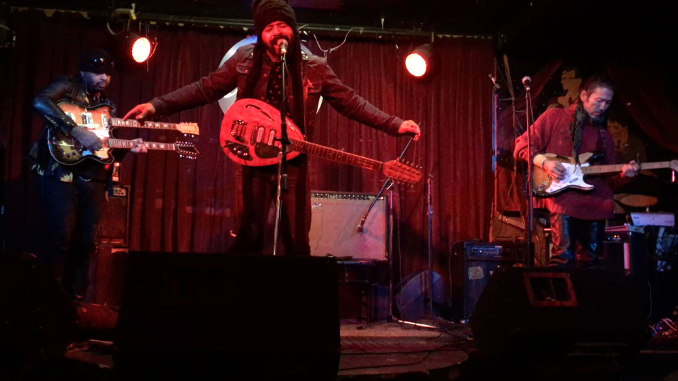 Occasionally the drum loops clicked into hip-hop style grooves, whilst at other times they got a lot more indie. Daniel Chavis, the lead singer, has a soulful vocal style and as they drove determinedly through the set, you almost had to grind your teeth to cope with the screaming guitars; the sound was that big.
Finally B-17 came on to close what was quite the musical party. They're the masters of keeping a strong straight groove going before clicking into looping groovy bass riffs and generally rocking the hell out. Sometimes the guitar and bass played off of each other in a call-and-response style that was aesthetically pleasing.
B-17 have two lead singers, one who adopts a rock approach, with the other opting for what I would term a monotone holler. The way they mixed it up with the vocals helped to keep the set from stagnating; it's unusual to see a band with two lead singers who have totally different styles but actually complement each other really well.
So all in all, another solid evening of live music entertainment in Toronto.