Since attending a public alternative school in Toronto myself, I have been interested in learning about the different educational systems and schools that are available in our city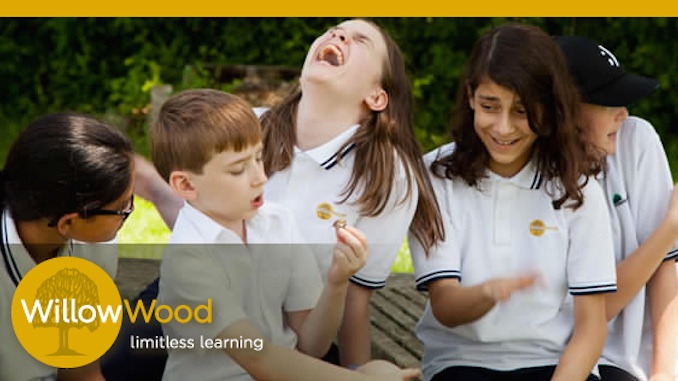 I recently heard of the school called WillowWood which is an alternative private school in North York. The school runs under the motto that "one size does not fit all" and aims to have more personal time with students as well as having the ability to target students' varying skills and passions to garner their strengths.
WillowWood was opened in 1980 by Joy Kurtz and Heather Spear
These two teachers worked at the same school together in the 1970s before starting WillowWood in 1980 with only 30 students. In 1983, the pair bought the building on Willowdale Avenue where the school was stationed until it moved to the current building at 55 Scarsdalein, North York in 1997. The 43,000 square foot lot sits on three acres and holds a population of around 250 students.
I got the chance to chat with Joy Kurtz about the school and how it works with individual students' needs.
How can parents identify if their kids would be best suited for WillowWood?
All students are suitable for WillowWood, because of our individualized programming. We often attract students who have been let down by mainstream education, as we can and do support a huge variety of learning styles and needs.
What are some strengths and weaknesses that WillowWood has identified and worked with in the past?
We've helped identify needs, and provide support, for a huge variety of kinds of learners. Strengths and weaknesses combine differently in everyone, and so our approach with each person is different – although, in one way, it is always the same: identify strengths and needs, and then teach skills and strategies for addressing needs and capitalizing on strengths.
What are some methods for identifying students strengths and weaknesses?
Some, we learn about right away from the students and parents (and documentation from schools, etc); this gives us a basis. From there, our small classes and school population allow and encourage students to work with teachers intimately, which allows for discovery of both strengths and areas of need. Our team approach to helping students allows us to share approaches and observations quickly and effectively. As students get older, we encourage metacognition, so that the student is as "in charge" of their own learning and progress as they can be.
How much individual time with teachers does each student receive a day?
It really depends on the individual student, but all students have access to individual help with teachers – before school, at lunch, breaks, after school, or scheduled into the week. Many students and teachers interact online with homework questions etc, as well. Individual time is also available during many classes, as the [small] size of classes allows for this.
Who do WillowWood students become?
WillowWood students become healthy, happy, conscious and socially minded people! Alumni range from lawyers to dentists to welders, artists to educators to homemakers. Several WW students have returned to teach here, and many keep in touch over their lives. Some schools promise goals like "100% university acceptance" – but they do this by refusing students who don't meet that goal. WillowWood believes that futures are as individual as learners, and that all roles are needed and valuable to society.
What types of facilities are there? Gym, Art Room, Science Labs, etc.
We have really great facilities for such a small school: a full gymnasium with a stage; a music room replete with instruments; a workout room with treadmills, elliptical trainers, universal weights, and free weights; a recently updated state-of-the-art Science Lab; an Art room; two computer labs; a library; and a cafeteria with hot meals.
Costs? Private/ public/ funding from where?
Costs range from 14,500 for the Foundation program to 20,000 for High School classes.
***
If you would like more info on WillowWood school, you can visit their website or attend an info session.
See our post on Inglenook Alternative Public School Here.