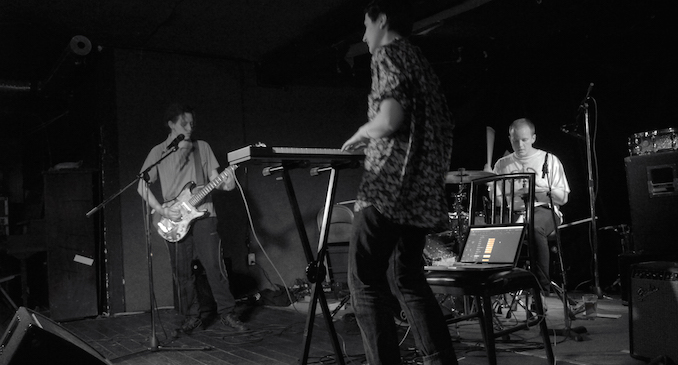 It's been some time since I last saw Micachu and the Shapes. Back then, the band were playing at a festival curated by Animal Collective in an old British seaside holiday resort – the kind that thrived post-war, but since the invention of cheap flights has had to widen its appeal to stay afloat. Tonight, the setting would be very different. The Garrison in Toronto's city suburbia is big enough to pack an audience that can generate a great atmosphere, but also small enough that you can virtually stand right by the stage if you wish. They also attract some great international bands, which helps!
Support on the night was duly provided by JOYFULTALK, a three piece hailing from Halifax, Nova Scotia. Manning a vast set of electronic contraptions and homemade equipment, the instrumental trio immediately set out to transport the audience somewhere experimental. Given the talk of Animal Collective, they would not sound out of place on one of their bills either.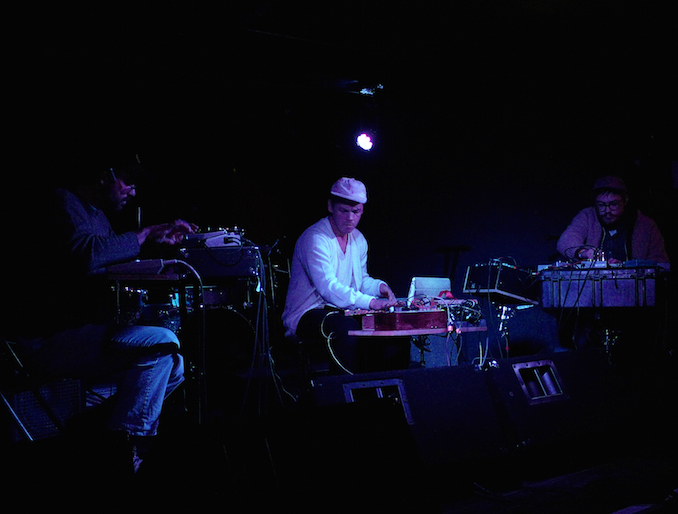 There is something very tribal about JOYFULTALK in tracks like "Buschbabies", where the music pulses and attacks you in waves. Other songs draw influence from around the world like "Pommel Horse", which has a gamelan vibe. If like me, your interests sit on the edge of indie, experimental and electronic/dance music, I would definitely recommend giving their 2015 album "Muuixx" a listen.
With anticipation building, Micachu, dressed in a full tracksuit, hits the stage alongside the Shapes. Opening the show with a rip-roaring instrumental before diving head first into "Sad", the audience immediately jumps into life. Micachu certainly has some swagger – I wouldn't say like Liam Gallagher, but you can draw comparisons with swoony uncompromising vocals, a strong regional English accent (even if Micachu is from Surrey rather than Manchester) and an air of authority… a force to be reckoned with.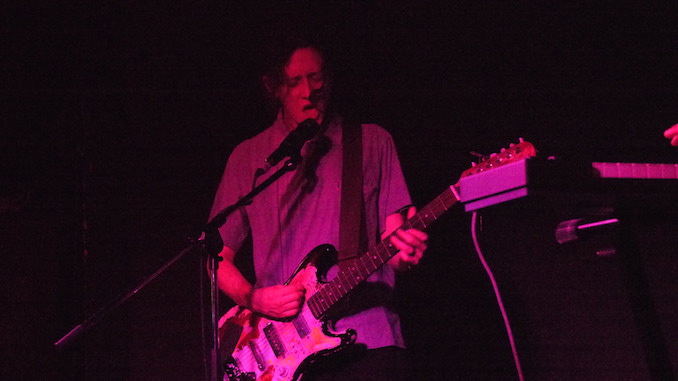 The music itself is edgy and fun as the band tear through a set featuring many tracks from their latest album "Good Sad Happy Bad". Micachu and the Shapes, completed by Raisa Khan on keyboard and Marc Pell on drums, crack occasional jokes, make each other smile and give the overwhelming impression that they are enjoying themselves. It is intimate, simple but captivating.
Micachu and the Shapes have gained a lot of respect since the release of "Jewellery" in 2009, and this is exactly why – Micachu is undoubtedly a unique and non-commercial talent. By the end of the show the audience are jolting from side to side too, which I've found cannot be taken for granted in Toronto. She earns it.
Micachu and the Shapes played The Garrison, Toronto on Friday 20th November 2015. "Good Sad Happy Bad" is their 2015 album and was released on Rough Trade Records.