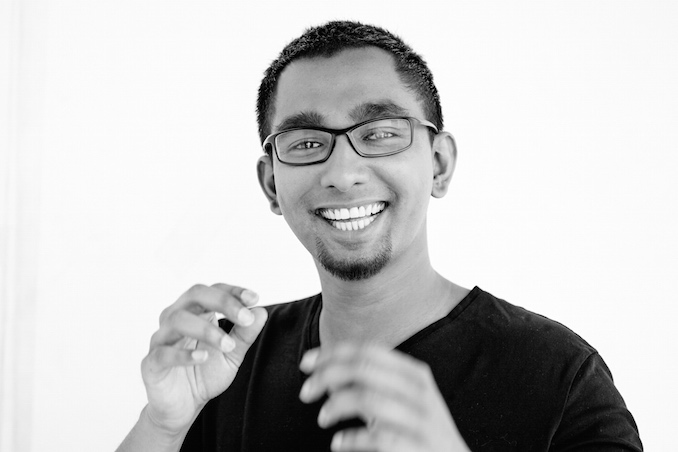 Drawing from his extensive global travels & an unhealthy obsession with politics, award-winning comedian and producer Danish Anwar's material is often described as "smart", "political" & "really, really funny", sometimes without air quotes. A comedian with impressive range, he's just as funny with his material as he is improvising off the cuff, moving effortlessly from heavy topics like gender equality and racial discrimination to the holy grail of sex, relationships and impersonating people on the internet.
On December 4th, Danish is opening up for acclaimed international comedian Gina Yashere and he's currently in working on his upcoming comedy event "Your Hood's A Joke"…an event that brought together Toronto's top stand-up comedians for a comedy battle between neighbourhoods to determine who's the funniest.  After the wildly successful edition last year, the "East vs. Vest Toronto Comedy Battle" debuted to rave reviews so the all-star comedians have decided to have another showdown on December 12th.
We had a chance to catch up with the hilarious Danish to find out more…
How did the idea of the East vs. West Toronto neighbourhood comedy battle start?
As Torontonians we all take our relative position to Yonge & Bloor really seriously. It's a huge part of our identity, like your favourite music genre. It was only a matter of time till we pitted comedians from either side against each other.
There are many well known comedians who have come from the 'hoods of Toronto. Who comes to mind?
The list is impressive & really long, but some of my favourites include Will Arnett, Russel Peters, Samantha Bee & Mike Myers, all of whom are GTA natives. Comedians who honed their craft here include Colin Mochrie, Jim Carrey & Eugene Levy
OKAY, let's have some fun…your first thoughts that come to mind…and totally random!
East siders be like…
"Have we reminded you about our beach in the last 4 minutes?"
In all fairness…the west siders be like…
"Watch out, he has peanuts!"
What about the north and south?
Pretty sure the world stops existing north of Bloor.
The CN Tower is…
Really pointy, like Gulliver's toothpick
Torontonians need to ….
be less perfect. I mean, we're making the rest of the world look bad.
Best place to escape in the city…
the harbourfront. It's nice now!
If I wasn't a comedian I would be….
annoying my coworkers & boss on a daily basis
What's your fuel?
Burritos!
Winter in Toronto is…
not too bad, and we'd like to keep it that way thanks. I don't pay Toronto rent to live in Subdury weather.
Describe your show in three words…
crazy fucking funny
More details on Danish Anwar and his upcoming shows visit www.DanishAnwar.com as well as his site torontocomedyallstars.com