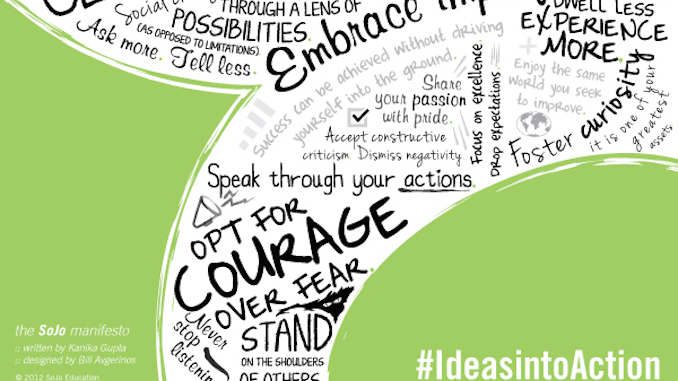 You want to make the world a better place. SoJo wants to help you.
The field of social entrepreneurship is growing. An increasing number of individuals are working to create innovative solutions to address problems within their community and achieve a desired social change. While business entrepreneurs measure success in terms of profit and return, social entrepreneurs take into account a positive return to society and focus on social, cultural, environmental, as well as potential revenue goals.
How can we help facilitate a greater opportunity for these individuals to achieve their objectives? Where can aspiring social entrepreneurs go to find the answers, inspiration, resources, and support they need to develop a strategy around their ideas? Kanika Gupta was asking these very questions when she realized there was no centralized platform to guide prospective entrepreneurs in their efforts to develop an effective strategy and implement their ideas. This is when SoJo was born and Kanika, now the Chief Catalyst at SoJo, began to work towards creating a knowledge hub for entrepreneurs.
SoJo's vision is to be the leading online resource that social innovators reference to turn their ideas for social change into action. Kanika highlights that "Google is a highly inefficient way of gathering information because it is so crowded. What SoJo does very well is curate information and deliver it based on relevancy." SoJo is creating a customized online experience for its users. The team is focused on gathering content from a variety of partners, categorizing it to make it easy to find, and republishing it in a format that makes it easy to digest. With the help of a number of individuals and partners, including OCAD, SoJo has created a platform that is welcoming, engaging, and encouraging. As Kanika explains, "if you are committed and passionate, you can make it happen. You don't have to have all the answers, you don't have to have a perfect plan, you are going to figure it out along the way." SoJo is here to guide you.
Kanika and the SoJo team are committed to supporting their community of users. "We do not have a single competitor. We need to work with everyone to make SoJo work. That is what the end user needs. The everyday, early stage social entrepreneur is our boss. We are continually asking ourselves: What are their needs? How can we best serve their needs?" The team has built out a network of 50 partners, from bloggers to large scale organizations such as Imagine Canada and Do Something.org, that produce relevant content and allow SoJo to not only put their content on their site, but also re-purpose it to make it more simplified. "We often receive dense PDF documents. Sometimes language gets changed to kill the buzz words and jargon, or if there are five elements in an article we may break them up into five separate articles to let the key messages shine on their own." Each of the partners decides the degree of flexibility that allows SoJo to play with the content and works to provide a resource hub with the end user in mind.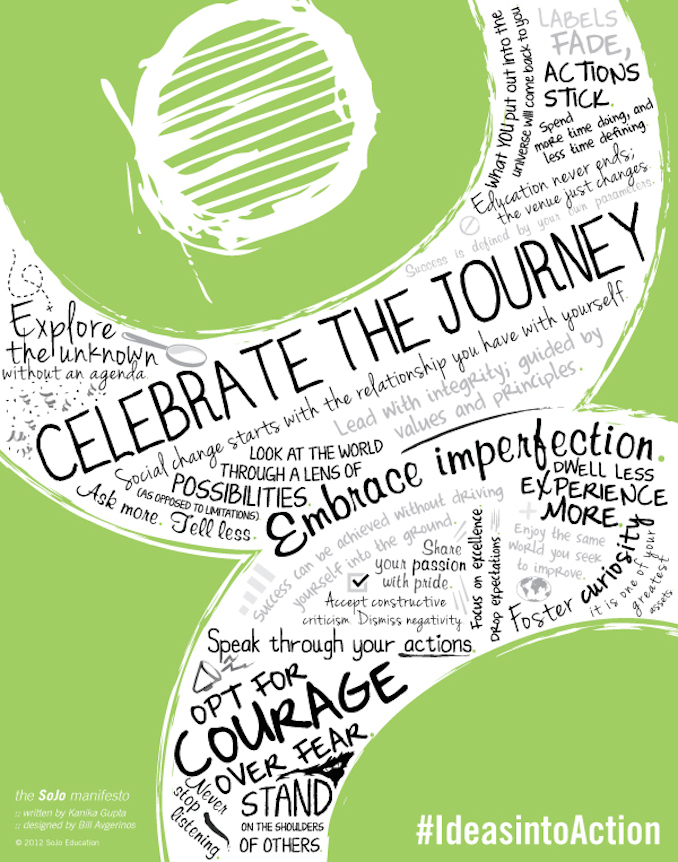 SoJo demonstrates the exciting intersection of technology and social change. Working from Ryerson's Digital Media Zone, Kanika feels fortunate to have found such a supportive and innovative space to implement SoJo's vision. "What I love about Toronto is the growing startup tech community that exists. They have welcomed SoJo with open arms and have provided us with so much advice."
It is wonderful to see the collaboration that exists across the SoJo network. In order to create real social impact, individuals and organizations will have to let go of their ego and their pursuit for empire. We cannot operate in silos and fear that our efforts to move forward are part of a zero-sum game. Without collaboration, not only do the organizations suffer in moving their missions forward, but also the individuals and community they claim to serve suffer in finding the right resources and support. By leveraging technology, SoJo creates an opportunity for content to gain wider visibility and creates real value for the budding social entrepreneurs out there who need help in creating innovative solutions to the most pressing problems that exist, both locally and globally. "There are a lot of people with great intentions and there are a lot of problems, and we need to help those working to find solutions. The current ecosystem is not equipped to help people in the early stages find the resources they need to raise their idea out of infancy." SoJo is working to transform this ecosystem and create the infrastructure to help social entrepreneurs succeed.
To further help people along the lonely entrepreneurial journey, SoJo has worked hard to document its own efforts to establish a social enterprise. Their blog, the Social Journal, is a transparent and candid account of the various ups and downs of a start-up. SoJo is keeping track to be a role model, and to share with its audience how they have overcome challenges and how they have seized opportunities along the way.
Despite the challenges, Kanika is looking forward to the journey ahead. "SoJo is working to change the way people think. Right now it is only being manifested by a website." RedefiningTO hopes Toronto is excited to watch the seed of SoJo flourish right here in our city, continue to redefineTO, and shape the growth of the community of social entrepreneurs in Toronto and beyond.