Acoustic Joint began in Burlington, Ontario Canada with the joining of the singer and bassist at a karaoke bar in 2017. Love blossomed between the two and after a few drinks, the two would bring out the acoustic guitar and fool around with some chords and lyrics.
Recordings of these nights took place and after a few years, the thought came to both that maybe there was something in these recordings that could form some great songs.
They decided to endeavour to bring together other musicians to collaborate with and create an album of songs they would be proud to leave as their legacy here, on this plane of existence. It may have taken longer than expected yet the humbled pair are proud to bring their first album to light in the coming months.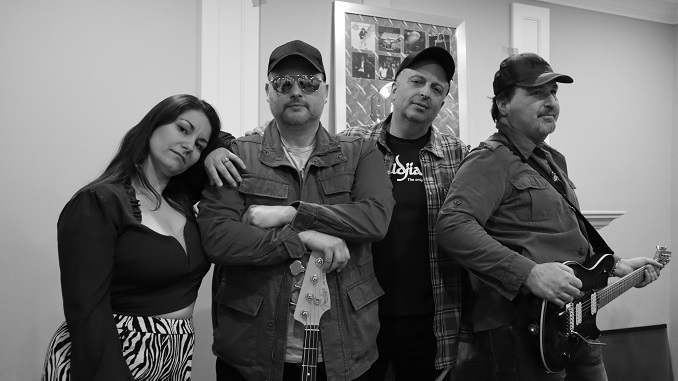 Name:
Acoustic Joint – Lead vocals: Carmen Juraic, Bass Guitar: Steve Juraic, Lead Guitar: Eddie Devcic, Drums: John Bukovcan, Producer: Dani Rosenoer
Genre:
Rock
Founded:
2019
# of Albums:
1
Latest Album:
A Whisper Away (currently in completion)
Latest Single:
Fire of Embers and Freeze
Latest Video:
Favourite musician growing up:
Carmen's was Shania Twain and Steve's was Def Leppard and Kiss. That's maybe why our songs seem to be mainly rock with other genre undertones
Favourite musician now:
Too many to count but ones we currently enjoy are The Interrupters and Nightwish.
Guilty pleasure song:
Mmmbop by Hanson!!! All the way! It was Carmen's favourite band as a preteen and she knows she's not the only one who still loves this song!!!
Painter Man by Boney M is Steve's guilter pleasure song! He doesn't intend to age himself here, but well, here we are!
Live show ritual:
Steve's ritual is to have a couple of shots to ease the nerves. Carmen hasn't done enough live gigs to really know but it def has to do with warming up her vocals!
Favourite local musician:
Walk off the Earth! Their style is so unique and they are from Burlington
EP or LP?
LP on vinyl. Has to be vinyl!
Early bird or night owl?
Night owl for Steve and Carmen is neither. She's kinda boring 😉
Road or studio?
Steve would say the road is more his style. He started touring with his old wedding band at 16 years old. Carmen doesn't have the experience of being on the road so it'd be hard to say!
Any shows or albums coming up? 
Currently, we have no shows in place until our 10-song LP is complete. We finished our first single Downtown last summer and recently aired our second song, Fire of Embers. Fire of Embers also aired this past April on CJAI 101.3 Canadian FM Radio in Eastern Ontario. You can hear the radio release here by scrolling to 9:24 or the CJAI archives.
On October 6 we are releasing the second song we ever wrote together. It's a ballad called Freeze. The song is about going through physical and mental abuse and finding it within yourself to conquer those inner demons. Which is very hard to do when all you've known is fear for your entire life. This abuse could have been in your childhood and early adult years. Something that's effected with you for a long time. Just trying to figure out how to empower yourself and being your number one fan and your number one supporter. Trying to take back the reigns of your life so you can prevent the same cycle in your future.
The second release is called Shadows, a pretty dark song about mental health and the quest of trying to pull yourself out of that dark hole. Something we all struggle with from time to time.
Where can we follow you?
***
Rapid Fire Local Questions:
What is your favourite local restaurant?
Croatia Restaurant. Their meat platter and salads remind us of home!
What is your favourite street in your city and why?
Guelph line north of Dundas in Burlington, most beautiful view of the city and surrounding areas
What is your favourite park in your city and why?
Karlovac Park on 1860 Thompson Road South in Milton. Roasted lamb and pig on the spit, picnic tables, soccer fields, beautiful green forestry, outdoor bar and surrounded by family and friends. Do we need to say more?
What is your favourite music venue in your city?
Budweiser Stage cuz that means summer is here in Ontario!!! Cold beers, live music and good vibes!
What is your favourite music store in your city?
Long and McQuade Burlington. Staff are super friendly, knowledgeable, have patience and most of all are admirable musicians. Pretty easy to spend a few hours there.