As the leaves change colour and the temperature drops, it's time to embrace one of the most beloved staples of fall and winter fashion: knitwear. Versatile, comfortable, and undeniably stylish, knitwear offers endless possibilities for women looking to stay warm while making a fashion statement. In this article, we'll explore some fantastic tips and ideas on how to style women's knitwear.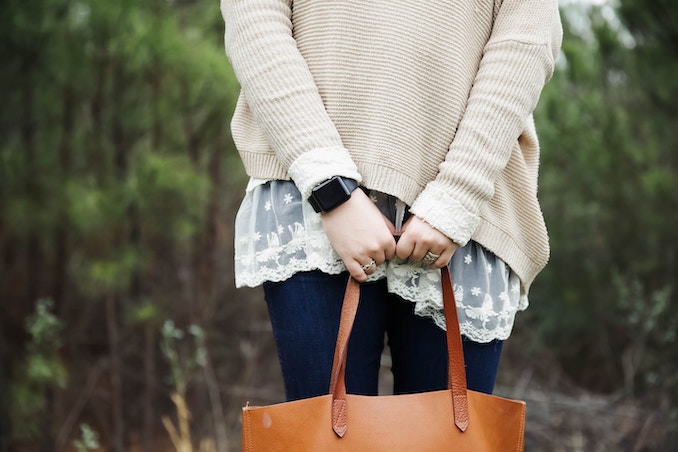 Invest in High-Quality Knitwear
Before diving into styling tips, it's essential to start with quality knitwear pieces. Invest in well-made sweaters, cardigans, and scarves that will stand the test of time. Look for natural fibres like merino wool, cashmere, or cotton for both comfort and durability.
Play with Silhouettes
Knitwear comes in various silhouettes, each offering a unique look and feel. Here are some silhouette options to consider:
Oversized Sweaters: Pair oversized sweaters with skinny jeans or leggings for a cozy, relaxed look.
Crop Tops: Show a hint of skin by pairing a crop top sweater with high-waisted pants or skirts.
Turtlenecks: Elevate your style with a turtleneck sweater, which can be dressed up or down for various occasions.
Layering with Knitwear
Layering is a versatile way to incorporate knitwear into your wardrobe. Here are some layering ideas:
Camisoles and Cardigans: Layer a lightweight camisole under a cardigan for an effortless yet chic ensemble.
Blouses Under Sweaters: Add a collared blouse under a crewneck sweater for a preppy, layered look.
Vest Over Long Sleeves: A knit vest worn over a long-sleeved shirt adds a touch of texture and warmth to your outfit.
Mix Textures and Materials
Create visual interest by mixing different textures and materials in your outfit:
Leather and Knit: Combine a leather skirt or pants with a knit sweater for a trendy contrast.
Denim and Knit: A classic denim jacket pairs wonderfully with a chunky knit scarf or sweater.
Silk and Knit: Layer a silky blouse under a knit cardigan for an elegant and cozy look.
Accessorize Thoughtfully
Accessories can elevate your knitwear game:
Scarves and Wraps: A colourful or patterned scarf can transform a plain sweater into a statement piece.
Belts: Define your waist by cinching an oversized sweater or cardigan with a stylish belt.
Statement Jewelry: Add some sparkle and personality with bold earrings or necklaces.
Experiment with Colour
Don't be afraid to embrace a wide range of colours in your knitwear collection:
Neutrals: Classic neutrals like beige, grey, and black are timeless and versatile.
Bold Hues: Experiment with bold and vibrant colours to stand out and make a statement.
Pastels: Soft pastel shades bring a touch of femininity and elegance to your winter wardrobe.
Accessorize to Elevate Your Wool Coat Look
While a well-chosen wool coat can stand out on its own, the right accessories can take your outfit to the next level. Here are some accessory ideas to complement your wool coat:
Scarves: A luxurious silk or cashmere scarf can add a pop of colour and texture to your wool coat. You can opt for a matching shade to keep it elegant or go for a contrasting colour to make a bold statement.
Gloves: Leather or woollen gloves not only keep your hands warm but also add a touch of sophistication. Consider gloves with decorative details like buttons or fur cuffs for added flair.
Hats: From classic berets to cozy beanies and elegant fedoras, the right hat can complete your winter look. Match the style of your hat to the occasion and your personal style.
Belts: Some wool coats come with belts, but you can also accessorize with your own. Cinching your coat at the waist with a stylish belt can create a flattering silhouette, especially with longer or oversized coats.
Boots: Your choice of footwear can make or break your wool coat ensemble. Knee-high boots or ankle booties can add a fashionable touch and keep your feet warm in colder weather.
Brooches or Pins: Decorative brooches or pins can add a touch of vintage charm or personalization to your coat. Pin them on the lapel or collar for an eye-catching detail.
Handbags: A well-chosen handbag can complement your coat and tie your look together. Consider a structured leather bag for a polished appearance or a stylish crossbody for a more relaxed vibe.
Statement Jewelry: Don't forget about jewellery. A chunky necklace or statement earrings can draw attention to your face and add a touch of glamor to your winter outfit.
Remember, the key to accessorizing your wool coat is balance. Avoid overwhelming your look with too many accessories; instead, choose a few carefully selected pieces that enhance the overall style of your coat and reflect your personal taste. Whether you're going for a classic and timeless look or a trendy and modern one, the right accessories can help you make a fashion statement while staying warm and cozy in your wool coat.
Conclusion
Styling knitwear for women is all about creativity and self-expression. With these tips and ideas, you can turn your knitwear pieces into versatile and stylish outfits that keep you warm and fashionable all season long. Whether you're dressing up for a special occasion or keeping it casual for a day out, knitwear is your go-to companion for cozy and chic fashion.