Playing at online casinos in Canada is great and the stuff of dreams. They offer you the chance to play from just anywhere you are in real-time. With online casino gaming, you can engage in your favourite casino pastime. You might be in your hotel room in a city in Honolulu or close to the peak of Mount Everest. Nevertheless, as long as you have access to an internet-powered device, you are good to play any online game in Canada.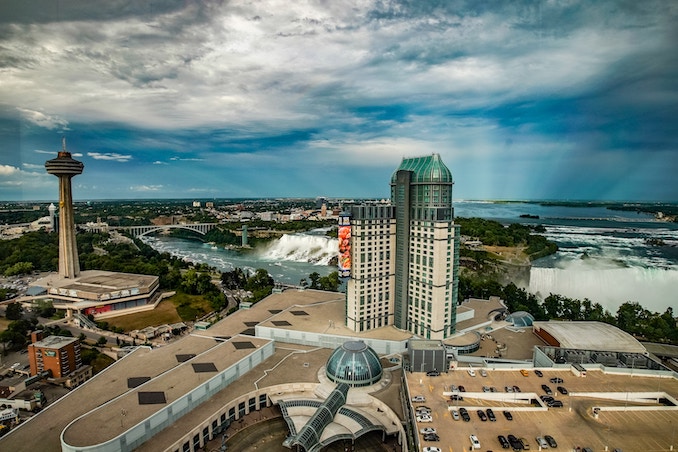 Real-life or land-based casino gaming, on the other hand, has its perks. Of course, you have to be in a physical location to play your favourite games. Nevertheless, the ambiance of the environment, coupled with the chance to talk to players face to face, is always a good experience.
From Alberta to Ontario to Quebec to British Columbia, there are numerous land-based casinos in Canada. But then, how many are actually there? Read on to know how many land-based casinos are in Canada. That way, you can know where to play your favourite casino games, be it poker, blackjack, roulette, or slots.
What Are Land-Based Casinos?
To provide a basic and thorough definition, a land-based casino is any physical casino building having the rights to offer casino games. Some of these games are roulette, baccarat, blackjack, punto banco, gaming machine gambling, and poker. However, when compared to online casinos, the number of games a land-based casino can offer at a time is limited. Online casinos also offer the latest games and gaming techniques, another advantage it holds over land-based casinos.
However, the one thing you get to enjoy in land-based casinos is the entertainment factor. Land-based casinos offer drinks, music, and fun in real life; the same cannot be said for online casinos. So, if you are planning a night out having the complete package, a land-based casino is the way to go.
How Many Casinos Are In Canada?
There are about ninety land-based casinos in Canada, and all of them offer the complete casino package, not excluding table games. Apart from these, there are about thirty-two gaming lounges that offer video lottery or slot machine services only. These allow you to play a limited amount of electronic table games. This means that there is a distinct difference between gaming casinos and gaming lounges or halls.
The former offers table games hosted by croupiers while offering other games. Nevertheless, all offer the same services, and you get right about the same amount of fun when you patronize them.
The Number of Land-Based Casinos in Canada by Province
Here is a breakdown of different casinos in Canada by region:
There are six land-based casinos in Quebec and many online casinos in Canada. All operate under the Act respecting the Société des lotteries du Québec and the Casino gaming regulations and are controlled by Loto-Quebec, an administration company. Note that the legal age to dabble in casino games in Alberta is 18.
There are twenty-four gaming casinos in Alberta, and all are licensed. Casino licensing is handled and controlled by the Alberta Gaming, Liquor, and Cannabis Commission, which was curated from the Gaming, Liquor, and Cannabis Act. The legal age to gamble in Alberta is eighteen.
There are eighteen land-based casinos in British Columbia. The legal age in this province is nineteen, and gambling is regulated by the British Columbia Lottery Corporation (BCLC).
There are just two casinos in this area, with only one offering dealer-driven tables. They are regulated by the New Brunswick Lottery and Gaming Corporation. The legal age to gamble here is nineteen. You can bet on horse racing, sports, and lotteries.
There are eleven casinos in this province, and they both belong to the Nova Scotia Provincial Lotteries and Casino Corporation. The legal gambling age is nineteen in this province.
Ontario has twenty-five casinos, with The Alcohol and Gaming Commission acting as the sole governor. The provincial legal gambling age is nineteen.
There are five casinos in the Greater Toronto Area and might be more depending on the regions attached. One of the best casinos in the country, Casino Rama, belongs to this province, although the location is not part of the province. The provincial legal gambling age is eighteen.
There are eight casinos in the Prince Edwards Island province, with the legal gambling age staying at eighteen. You can bet on horse racing, and play casino games, lottery, and slots.
There are eight casinos in the Manitoba province, with the legal gambling age being eighteen. The Liquor, Gaming, and Cannabis Authority of Manitoba governs this region. You can play bingo, table games, dealer live, poker, and slot machines at the casinos here.
You will find no more than eight casinos in this province. The legal age is nineteen, and you can play just about any option that goes with gambling at the casinos here. The Saskatchewan Liquor and Gaming Authority governs the casinos here.
Conclusion
Playing poker and other casino games online might seem fun, but a land-based casino surely gives you more than you expect. If you are an online casino aficionado, a visit to a land-based casino in your province in Canada might be the trip that gets you all you ever wanted for a casino experience. Check out a land-based casino today!